Ahead of Debate, Cory Booker Shaves Supporters' Heads in Exchange for Donating to Iowa Charities
Democratic presidential candidate Senator Cory Booker aimed to gain support among Iowans at a meet-and-greet Friday by persuading three backers of his 2020 campaign to shave their heads in exchange for $1,000 donations to charities in Iowa.
The event was hosted at Platinum Signature Barbershop in West Des Moines. It was not only a chance to meet the senator, but also for soliciting school supply donations for the city's public school system. The campaign said they were trying to, "live out Cory's value of service," according to CNN.
CNN's DJ Judd reported, "In a bizarre chain of events (and perhaps a bit of #IACaucushistory), Cory Booker has convinced 3 supporters here in IA to shave their heads in exchange for $1000 donations to an Iowa charity of their choice. The audience begins chanting, 'Cory Cuts Hair,' and indeed he does."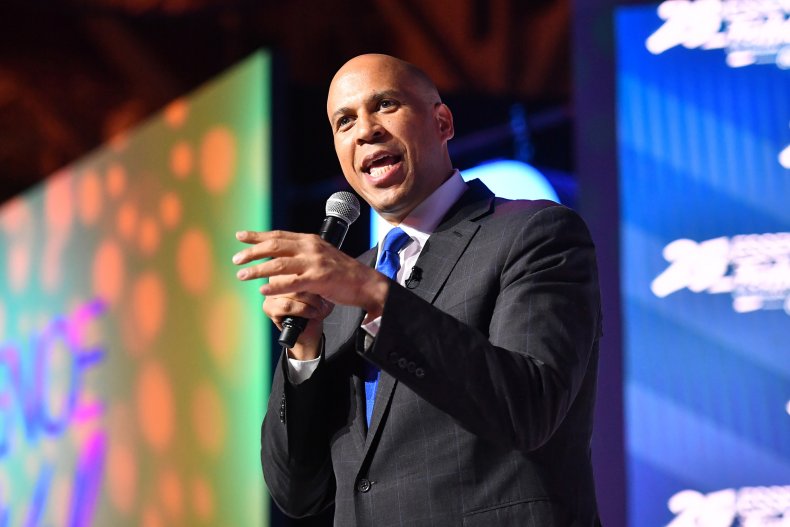 In a Youtube video of the event, posted by Iowa native Kevin Cavallin, Booker can be heard saying, "I cannot tell you how excited I am," as he poses with a pair of clippers for an off-camera photographer. After, he shakes hands with one of the soon-to-be shaved supporters and said,"You are a beautiful man, I've got to give you a hug."
Walt Disney Studios President of Production Sean Bailey, who was present for the event, reportedly said he would match donations to whichever charities the three volunteers chose.
In a Facebook post by Platinum Signature Barbershop, urging people to "Come and meet Corey Booker Tonight!", it said that Booker will be, "discussing issues that are important to communities across Iowa."
As Booker and the clean-cut volunteers all posed for a photo, the crowd chanted, "The bald brotherhood!" Booker thanked the audience for "not thinking it was a joke that a bald guy was having an event at a barbershop," according to CNN.
During his time in Iowa, Booker has not only made his case for getting a Democrat in the Oval Office, but in the Senate too: "It's not enough to get a president elected, we gotta make sure Mitch McConnell's not in the majority, and Iowa, you've got something to say about that, you've got a Senate race coming up."
Later on Friday, Booker shared a post on his Instagram saying, "These men got the best haircuts of their lives (maybe I'm biased!) AND earned $1,000 each for the charities of their choice for shaving their heads tonight in West Des Moines, Iowa."
"Ya man, I want the gold," He said, in regards to the color of the razor he used for the haircut. "I don't want the bronze in this presidential race, I'm coming in first."
Recent polls show former Vice President Joe Biden in the lead for the Democratic nomination, while other hopefuls follow close behind. Booker is placed around 6th place in the polls, behind Senators Bernie Sanders, Elizabeth Warren, Kamala Harris and Mayor Pete Buttigieg.
Booker's visit to the barbershop comes just days before he and several other 2020 Democrats will take the stage in Detroit for the next presidential primary debates.