Ahead of Julius Jones' Execution, State Board Questions Humanity of Death Penalty Protocol
The Oklahoma Pardon and Parole Board on Wednesday discussed issues it has with the method planned to be used for Julius Jones' execution, including if the protocol is humane.
The questions arose when the board had gathered to recommend clemency for inmate Bigler Stouffer. The board expressed concerns about the three-drug cocktail that would have been used for Stouffer, which is also the method planned for Jones' scheduled execution at 4 p.m. local time Thursday.
The Pardon and Parole Board voted 3-1 on November 1 to commute Jones' sentence to life in prison with the possibility of parole, but Oklahoma Governor Kevin Stitt has yet to grant clemency for Jones.
"That process is obviously flawed," said board member Larry Morris, according to local NBC affiliate station KFOR-TV.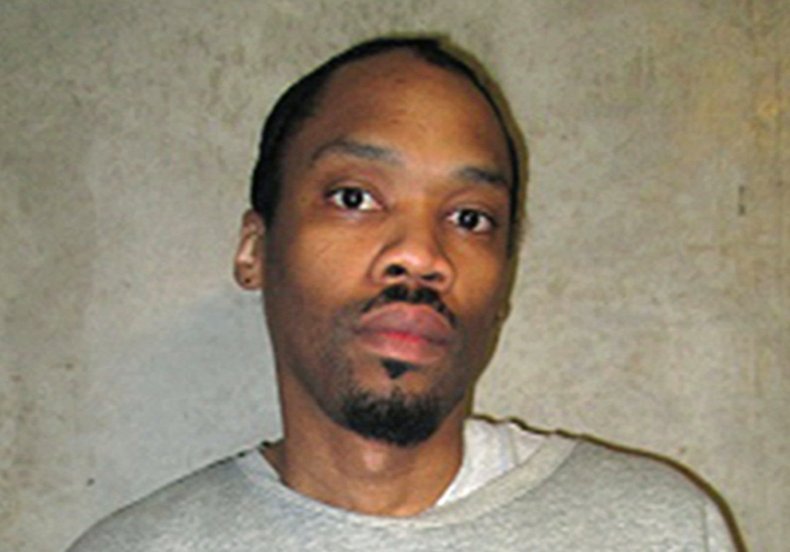 Jones has been on death row for almost 20 years in connection with the 1999 murder of Paul Howell. Jones has maintained he is innocent, as do many of his supporters.
The ABC documentary series The Last Defense covered Jones' case in 2018, and his cause has garnered more publicity in the years since. A "Justice for Julius" petition has been signed by more than 6.5 million people. It says Jones is on death row because of "fundamental breakdowns in the system." The petition further blames inexperienced defense attorneys, alleged prosecutorial misconduct and racial bias among the jury members for his conviction.
A number of Jones' supporters have protested near the governor's mansion in Oklahoma City in recent days, demanding that Stitt spare Jones' life.
KFOR reported that the majority of the board voted 3-2 to recommend clemency for Stouffer, even though a majority also said it believed he was guilty of shooting and killing two people in 1985. The TV station said most of the board's discussion before its vote centered on the three-drug cocktail.
"It leaves a lot of doubt in my mind as to whether or not we should continue to even be doing any of these things, period," Morris reportedly said.
Morris expressed specific reservations about the drug midazolam, which is used in the cocktail. Some have argued the drug's 500-milligram dose administered in state executions lacks sufficient evidence data to support its effectiveness.
Midazolam serves as an anesthetic in the execution cocktail, while vecuronium bromide works as a paralytic and potassium chloride stops the heart. A mixture of heparin (a blood thinner) and saline is given to prevent blood clots.
Kelly Standifer, a professor of pharmacology and chair of pharmaceutical sciences at the University of Oklahoma, recently spoke with the school's student paper, OU Daily, about her concerns regarding midazolam.
"It doesn't provide sufficient sedation so that you won't be aroused if there's some stronger stimulation going on," Standifer told the paper. She cited a recent execution that used the drug and suggested the recipient had experienced pain before dying.
"We've had individuals on a table suffering for 20 and 30 minutes apiece," KFOR reported Morris as saying at Wednesday's board meeting. "And I don't think that any humane society ought to be executing people in that way until we figure out how to do it right."
Following the board's clemency recommendation for Stouffer, the governor will make the final decision.
Newsweek contacted the Oklahoma Pardon and Parole Board for further comment but did not hear back in time for publication.