Ahead of Labor Day, CDC Says Unvaccinated Should Not Travel With Delta Variant's Spread
Ahead of the Labor Day holiday weekend, the Centers for Disease Control and Prevention (CDC) is advising unvaccinated people to avoid traveling while the Delta variant continues to spread across the nation.
"First and foremost, if you are unvaccinated, we would recommend not traveling," CDC Director Dr. Rochelle Walensky told reporters during a Tuesday White House COVID-19 briefing.
"People who are fully vaccinated, and who are wearing masks, can travel," Walensky said. "Although, given where we are with disease transmission right now, we would say that people need to take these risks into their own consideration as they think about traveling."
Throughout the pandemic, holidays have shown to cause upticks in COVID-19 cases, hospitalizations and deaths in the weeks that follow, due to an increase in gathering and traveling over long weekends.
Although no vaccines had been made available last Labor Day weekend, the Transportation Security Administration (TSA) screened more than 3 million passengers over the holiday weekend—a figure that had not been seen since the pandemic began in March 2020.
Now, with the rapid spread of the unpredictable Delta variant, officials said the upcoming holiday weekend makes getting vaccinated of the utmost importance.
"As people across the country prepare for Labor Day weekend, it's critical that being vaccinated is part of their pre-holiday checklist," White House COVID-19 Response Coordinator Jeff Zients said. "Getting vaccinated is free. It's easy and convenient. It's safe and effective. And it's never, ever been more important."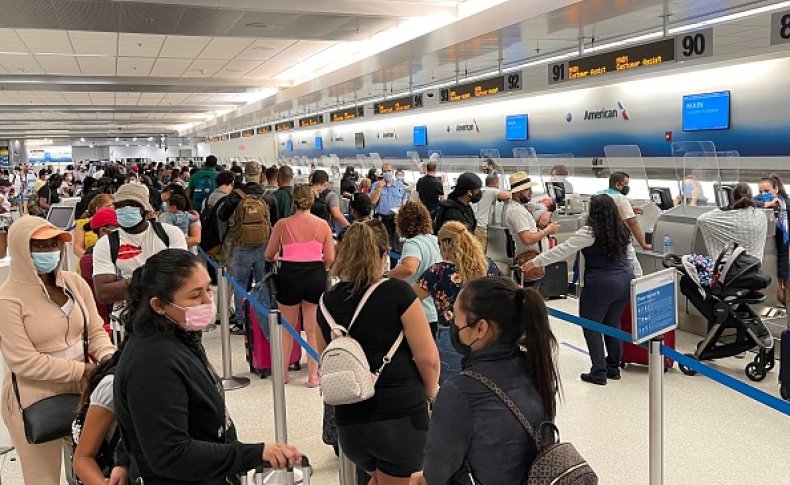 Guidance from experts seems to reflect the growing concerns Americans have about traveling while the Delta variant spreads.
Last week, the TSA reported its lowest air travel numbers of the summer as COVID-19 cases continued to surge, with 1.5 million travelers going through TSA checkpoints on Wednesday, compared to the 2.2 million reported early in August.
A new survey from Cars.com also found that a fifth of those planning to fly are canceling their tickets due to "rising concerns" and are opting to drive to their destinations instead.
The surge in cases and hospitalizations has not only been found in the U.S. but in other countries around the world, leading federal agencies to upgrade travel advisories to places like Canada and Switzerland in recent days.
Officials are calling on those who have not yet gotten their shots to get vaccinated in order to not only travel but to avoid severe illness from the virus.
A new study released by the CDC last week found that unvaccinated individuals are 29 times more likely to be hospitalized with COVID-19, compared to those who are fully vaccinated.
On Tuesday, Walensky offered recommendations for Americans to stay safe over the long weekend, including gathering outdoors rather than indoors, mask wearing in public, indoor spaces and encouraging unvaccinated friends and family to get their shots.
She said she hopes the recent FDA approval and CDC review of the Pfizer COVID vaccine will be enough to convince vaccine-hesitant Americans to finally get immunized.
"For anyone who's been waiting to get vaccinated until we had more evidence on safety and effectiveness, I hope yesterday's announcement will have you join the more than 170 million people who have decided to protect themselves against COVID-19 by getting vaccinated yourself," Walensky said.