Ahead of Labor Day, Dallas County Lowers COVID-19 Threat Level for First Time Since Memorial Day
Dallas County officials lowered its color-coded coronavirus threat level from red to orange on Wednesday, after a decrease in hospitalizations, intensive care unit admissions and deaths over the past two weeks.
The announcement comes days before the Labor Day weekend, and it is the first time the county has lowered the threat level since May, when it was instituted.
Health experts and government officials have pointed to the Memorial Day weekend as the beginning of Texas' alarming surge in coronavirus cases over the summer.
Despite the downgrade to a lower-risk zone, Dallas Mayor Eric Johnson warned that failure to continue practicing safety measures over the long weekend could threaten the county's new status.
"I am thrilled to see that Dallas County today lowered its threat level for the first time since May, but we also know this isn't over yet," Johnson said at a Wednesday news conference. "We are approaching another holiday weekend.… My message to the people of Dallas today is that we can't let up now. You are still at risk. We are still in a pandemic."
Johnson urged Texans to continue wearing masks and to socially distance over the holiday weekend.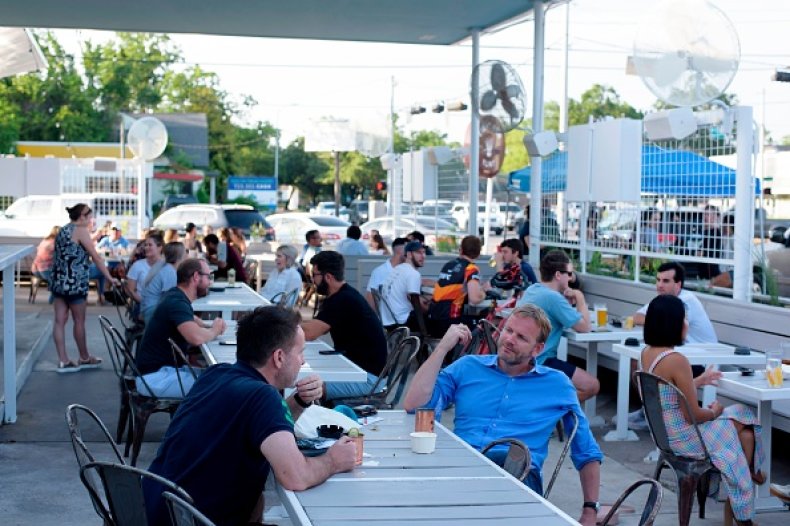 Dallas County's Human Services Director Dr. Philip Huang also emphasized the importance of practicing safety measures, which have allowed for the county to lower its COVID-19 threat level.
"The universal masking, the closing of the bars, people still staying home, washing their hands, teleworking when they can, has made a difference," Huang said at a Tuesday commissioners meeting ahead of the county's announcement.
Huang has previously warned Texans of the threat that holiday weekends pose to containing the spread of the virus.
In July, Huang said, "We cannot have another Memorial Day over this July Fourth weekend. If this happens, it will really be catastrophic."
The move from "Stay Home Stay Safe" red to "Extreme Caution" orange means that it is safer to dine indoors, shop in retail stores, get haircuts and attend in-person religious services, according to the guide written by several public health, epidemiology and infectious disease leaders shortly after the Memorial Day weekend.
Although parades had been canceled during the Memorial Day weekend, Governor Greg Abbott continued to move into his second phase of reopening, allowing bars to reopen at 25 percent capacity and restaurants to resume operations at 50 percent capacity.
Two weeks after Memorial Day, infections began to rise. On June 10, Texas reported 2,504 new coronavirus cases. The previous single-day high had been 1,949 cases on May 31, a week after the long weekend.
Abbott was forced to roll back on reopenings, shuttering bars in late June as cases continued to surge in the state.
On Tuesday, September 1, Dallas County Health and Human Services announced an additional 622 confirmed cases of COVID-19, bringing the county's total to 75,252 cases. Dallas County has also reported 920 deaths over the course of the pandemic.
The county has been hit particularly hard by the virus. Dallas County has the second highest number of infections in the state behind Harris County.
Newsweek reached out to Dallas County for comment but did not hear back before publication.