Ahead of Trump's Visit to Pennsylvania, Congressman Urges President to 'Stay at Home'
Representative Brendan Boyle of Pennsylvania implored President Donald Trump to reconsider a trip to his state planned for Thursday, warning that a visit during the coronavirus pandemic could potentially "put other people at risk."
Trump is scheduled to visit Owens & Minor, a medical equipment company in Allentown in Pennsylvania's Lehigh Valley. The company has been selected by the federal government to produce some 600 million N95 respirator masks over the next year and a half. But Boyle, a Democrat, alleged in a Wednesday interview with CNN that the president was carrying out a "thinly veiled" campaign stop.
"This is not a time for campaigning," the congressman said. "There'll be plenty of time for that in the summer and the fall. The focus of a president right now should be on solving this problem," he said, describing the White House response to the new coronavirus pandemic as "an unmitigated disaster."
"I'm calling on the president: Cancel the visit tomorrow. Don't put other people at risk, given how many people are involved in any presidential visit," Boyle said. "And instead, stay at home, do your job, get us closer to solving this unbelievable crisis," he added.
Deputy White House press secretary Judd Deere dismissed Boyle's criticism and criticized Democrats in a statement emailed to Newsweek.
"The Do-Nothing-Democrats who complain about the President's visit to celebrate a company and its employees who are helping supply the Nation with critical PPE stand in stark contrast with President Trump who continues to lead an all-of-America response to the pandemic," Deere said.
White House spokesman Hogan Gidley has previously pushed back against concerns that the trip could be a safety risk.
"President Trump's top priority is the safety and security of the American people, and the idea that during this pandemic he wants an event of any kind that would violate our own guidelines to opening up America again is categorically false," Gidley said in a statement, The Washington Post reported on Monday.
Pennsylvania is seen as a key battleground state in the November presidential election. Trump carried the state in 2016 after former Democratic President Barack Obama won there in 2008 and 2012. But polling conducted by Fox News in April showed presumptive Democratic presidential nominee Joe Biden leading Trump in the state by 8 points, with support from 50 percent of voters compared to the president's 42 percent.
"Looking forward to being in Allentown, Pennsylvania, on Thursday. I love the State, and for very good reason!" Trump tweeted Tuesday.
The president hopes to demonstrate that it is safe to begin reopening the economy during his trip to Pennsylvania. Trump made a similar trip to a Honeywell plant in Arizona last Tuesday. However, he drew criticism from some after that trip because he was not wearing a face mask in photos and videos taken during the visit.
Others in Pennsylvania have raised concerns about Trump's planned trip as well.
"Overall I support the president, but nobody really has a handle on this. Nobody has a plan. We need to trust our doctors," Nathan Brown, a Lehigh County commissioner, told NBC News on Wednesday.
"Is he campaigning? Is he saying thank you to the medical facility out of the sincereness of his heart? I don't know," Brown added. "I just know he's coming here, and hopefully it doesn't create a mass hysteria."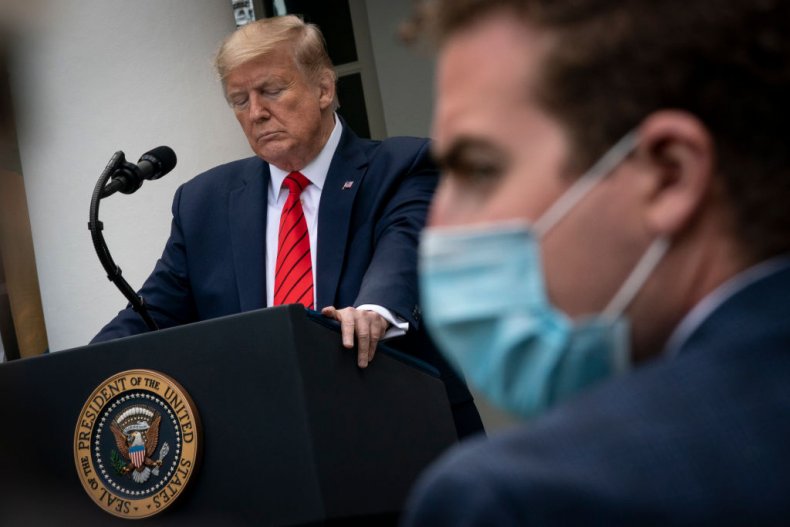 Trump also backed anti-lockdown demonstrators in Pennsylvania this week.
"The great people of Pennsylvania want their freedom now, and they are fully aware of what that entails," he tweeted on Monday. "The Democrats are moving slowly, all over the USA, for political purposes. They would wait until November 3rd if it were up to them. Don't play politics. Be safe, move quickly!"
Boyle, in his interview with CNN, questioned the president's messaging, pointing out that reopening Pennsylvania now would go against the guidance to governors already laid out by the White House. Those guidelines say states should not begin to reopen unless they have seen a decline in new cases and deaths for at least two weeks. They should also demonstrate that they have adequate testing and tracing capabilities to curb new outbreaks that could emerge.
"The mixed messages from this White House only add to the level of confusion that is out there," he said.