Ahed Tamimi, the Palestinian Teen Who Slapped an Israeli Soldier, Goes on Trial
A Palestinian teenager who was filmed slapping and hitting two Israeli soldiers at her home in the West Bank went on trial at an Israeli military court on Tuesday behind closed doors. She could be sentenced to years in prison.
Tamimi, who turned 17 years old in prison last month, has been imprisoned since December for what Israel says was a series of offenses that included assault and incitement to violence. The footage shows her slapping and lashing out at two Israeli soldiers who the Tamimi family say were standing on their property.
Israel alleges that Ahed Tamimi frequently has been used as a prop in filmed and staged altercations with Israeli soldiers in the West Bank.
But Palestinians have hailed her as a symbol of resistance against Israel's military occupation of the West Bank, and pointed out that she was reacting after her 14-year-old cousin had been shot in the face at close range by an Israeli soldier after clashes nearby the incident in the village of Nabi Saleh.
The Israeli military says the soldiers were there to stop stones being thrown at Israeli motorists. More than 600,000 Israeli settlers live in the West Bank in outposts the majority of the international community consider to be illegal under international law.
Tamimi arrived at Ofer military court on Tuesday. She was pictured smiling before the judge ordered the courtroom closed. Family members could stay, but diplomats and journalists were asked to leave.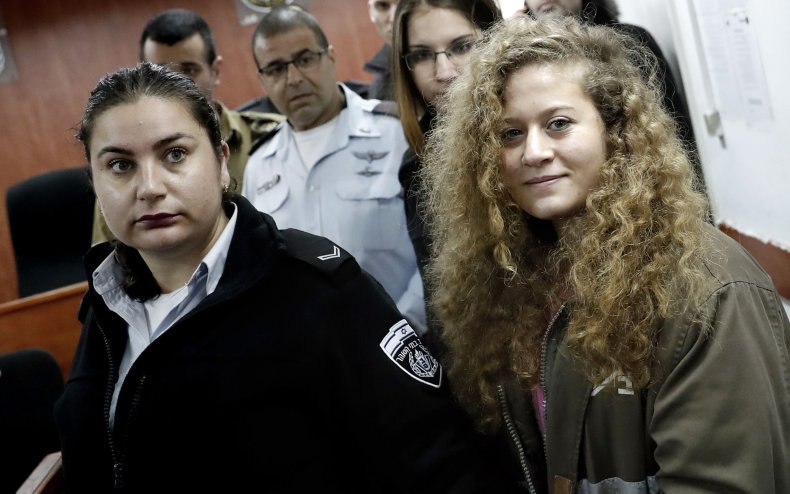 "I didn't think it's good for the minor that there are 100 people in the courtroom," Lieutenant Colonel Menachem Lieberman said, according to the Associated Press.
Tamimi's Israeli lawyer said the family wanted the proceedings to be open and that the Israeli military was preventing scrutiny of the trial.
Her mother, Nariman, and cousin, 20-year-old Nour, are also set to go on trial on Tuesday.
Approximately 300 Palestinian minors are currently held in Israeli prisons, two of them in administrative detention, where no charges are given for their being detained, according to Israeli rights group B'Tselem.
Amnesty International has decried the arrest and incarceration of Tamimi and called for her immediate release. It said her "continued detention is a desperate attempt to intimidate Palestinian children who dare to stand up to repression by occupying forces."