Ahed Tamimi, the Palestinian Teenager Who Slapped an Israeli Soldier in Viral Video, to Be Jailed for Months After Accepting Plea Deal
Ahed Tamimi, a Palestinian teenager who was locked up for four months after a video of her slapping an Israeli soldier went viral, accepted a plea deal on Wednesday. She will spend eight months in prison.
Tamimi, who has been transformed into a symbol of Palestinian resistance against Israel, will plead guilty to four charges, including assault, incitement and two counts of obstructing soldiers. She will spend eight months in prison, including the four months she has already served, according to her lawyer.
The 17-year-old is from a well-known activist family whose West Bank village, Nabi Saleh, has been the site of numerous protests and confrontations with Israeli soldiers. Tamimi allegedly began hitting and kicking an Israeli soldier after her cousin was shot in the head with a rubber bullet. Her mother and another cousin were also arrested, and signed similar plea deals on Wednesday.
Tamimi spent her 17th birthday in prison on January 31.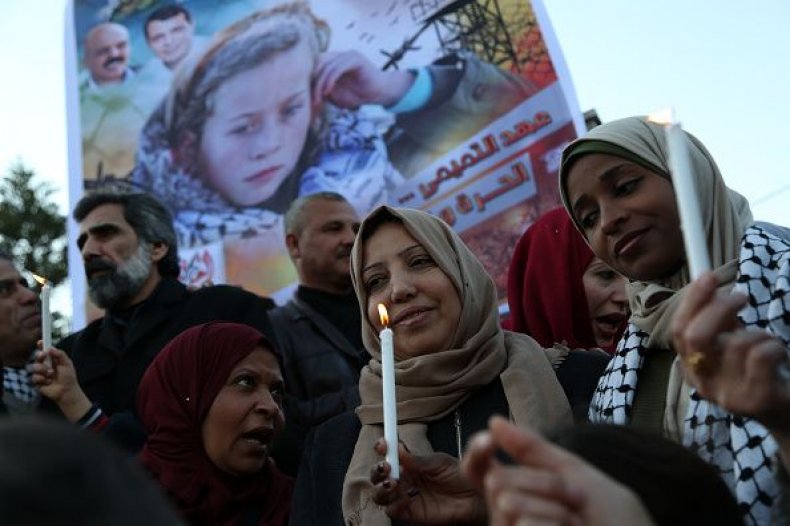 Despite her young age and slight build, Israel has taken the offense seriously. Israel's culture minister Miri Regev has called Tamimi a terrorist, and an Israeli military court thought she was so dangerous that she was denied bail. All hearings in her case have been held behind closed doors.
But during the hearing for Ahed's mother, Nariman Tamimi, an Israeli activist slapped the military prosecutor and screamed, "Who are you to judge her?"
Israeli military juvenile courts have a conviction rate of around 95 percent, and roughly 70 percent of juvenile defendants accept plea bargains.
Some human rights advocates argue that the court is biased against Palestinians.
"Ahed Tamimi, a teenage Palestinian girl who slapped a machine gun-toting Israeli soldier that came to her house as part of an occupying army, will spend eight months in Israeli prison for 'assault.' At the same time, an Israeli court shortened an already short sentence for Elor Azaria, who executed a prone Palestinian in cold blood, so that he will only serve nine months in prison," Yousef Munayyer, executive director of the U.S. Campaign for Palestinian Rights, told Newsweek.
"The perverse Israeli legal system, in all its forms, functions to protect abusers as they trample on those who the state looks down upon," he continued.