Ahed Tamimi, the Real Wonder Woman? Artist Behind Historic Che Guevara Poster Turns His Brush to Palestinian Teen Jailed by Israel
Fifty years ago, Irish artist Jim Fitzpatrick first shared his now-famous black-and-red poster print of Marxist revolutionary Che Guevara with the world. The image quickly became a universal symbol of resistance and anti-oppression following Guevara's death in 1967 and is recognized across the globe. Now, Fitzpatrick is poised to do it again.
This time, the subject of his art isn't a revolutionary leader, like Guevara. It's a 17-year-old Palestinian girl: Ahed Tamimi. A new print published on Fitzpatrick's site—which is available to download for free—hails her as the "real Wonder Woman," and the artist hopes it becomes as far spread as his earlier work.
Tamimi is the young teenager currently on trial at an Israeli military court in the West Bank, where she faces 12 charges, including incitement to violence and assaulting Israeli security forces. The youngster went viral in December when footage emerged of her slapping an Israeli soldier during a protest outside her home in Nabi Saleh in the West Bank. Israel maintains a military occupation of the territory.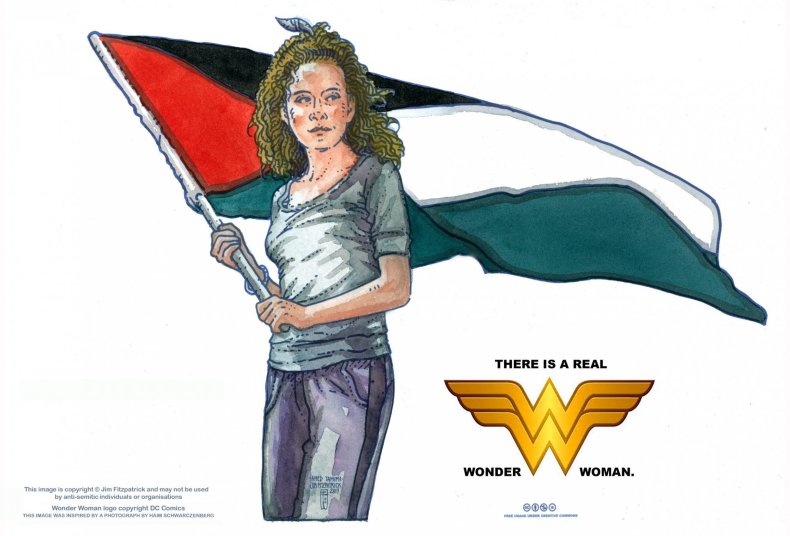 Tamimi's family and supporters have said she was reacting to an earlier incident in which an Israeli soldier shot her 14-year-old cousin, Muhammad Tamimi, in the head with a rubber bullet at close range. Muhammad had to be placed in a 72-hour medically induced coma. He survived the gunshot but remains badly injured.
Tamimi's arrest and subsequent trial have gained international attention, with the likes of Amnesty International and campaigns backed by A-list celebrities Rosario Dawson and Jesse Williams calling for her to be freed. The youngster's activism and resistance to the Israeli occupation of the West Bank has led to her being heralded as a hero by Palestinians.
Fitzpatrick told Newsweek that he has been closely following Tamimi's plight and felt compelled to lend his support, in his own way, just as he galvanized an artistic opposition of injustice with Viva Che 1968.
"Ahed Tamimi, to me, signifies nobility in the face of oppression. This is a kid, a child," said Fitzpatrick. "When I was 15, I think I would have been petrified. Wherever she's getting her courage from, there's a resonance of it echoing across the world. I'm just a part of it. There are organizations doing more than I could do, but I do think the pen—in my case, the brush—is mightier than the sword."
"A minister suggested [Tamimi] should be locked up forever. You have very powerful voices calling for her execution," Fitzpatrick said. "What's happening there is truly appalling. What's [behind it] is that old thing from the Talmud, 'Whoever saves one life saves the world entire.' I'm afraid they're going to kill her. And that's why I'm doing what I'm doing."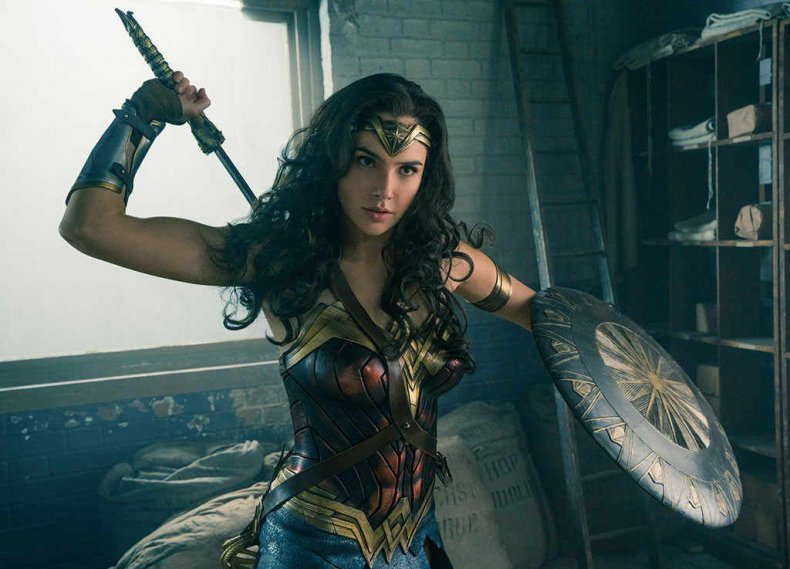 In Fitzpatrick's print, Tamimi is depicted raising the Palestinian flag. The image is inspired by a photograph of Tamimi taken by Israeli photographer Haim Schwarzenberg. In the corner of the print, Fitzpatrick wrote, "There is a real Wonder Woman," alongside the logo for the popular DC Comics character.
The Wonder Woman reference, said Fitzpatrick, is directed at Israeli actor Gal Gadot, a former Israeli Defense Forces soldier who has previously been criticized for her pro-IDF views. Gadot was the star of Wonder Woman, one of 2017's highest-grossing movies.
"That's deliberate. Gal Gadot was a member of the IDF, and she has come out against Palestinian rights. I think: Hold on, there is a Wonder Woman, and it's this kid," said Fitzpatrick. "I've been collecting comic books all my life. I've been a guest at San Diego Comic Con. I would not say anybody in that [comic book] community has an idea that she was an IDF soldier and supports the persecution of Palestinians as young as Ahed Tamimi. I think they'd be shocked if they knew that. I'm not blaming Gal Gadot for any of this, but it's not pleasant that she supports stuff like this."
Fitzpatrick opposes the occupation of the West Bank and East Jerusalem—territories Israel captured from Jordan in the 1967 Six-Day War. He also stands against anti-Semitism and is adamant that his print of Tamimi should not be used for anti-Semitic purposes.
"I'm a pacifist. I don't want to see a single Jewish, Israeli, Palestinian, Arab... I don't want a single hair on their heads hurt," said the artist. "I want this to be pure and simple: Ahed Tamimi's life is at risk. I do not want her murdered."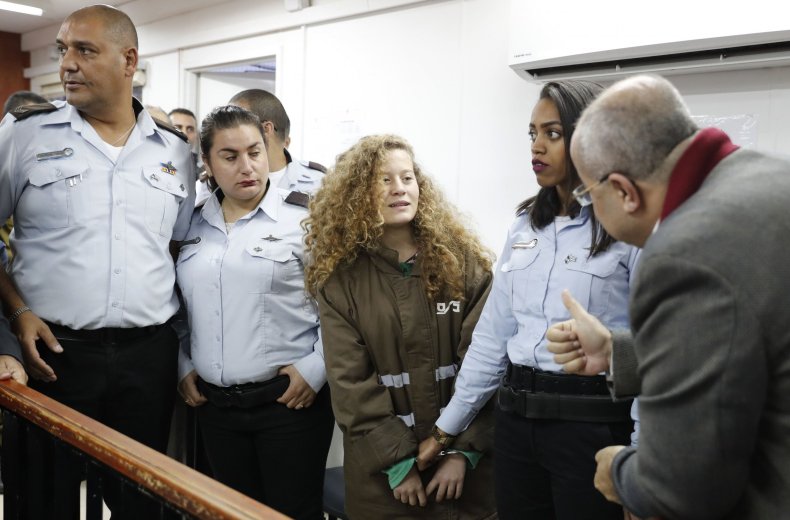 Tamimi's case has sparked a greater focus on the treatment of Palestinians in the West Bank, and Fitzpatrick hopes that her story will lead to effective and positive change for other Palestinians in the disputed territory.
"There's plenty of good Israelis—we should remember that. [But] this government, the way it treats dissenters and people not of the same race...it's virtually turning into an apartheid state," said Fitzpatrick.
"This girl is memorable, her face is memorable, she seems a courageous, dignified girl—she captured my imagination. And I think she's capturing the imagination of the world. She symbolizes resistance. She slapped that soldier after her cousin had been hurt. Are these acts of violence? Hardly. It's like being hit by a rabbit," the artist said.
"But, more importantly, she's bringing to attention the dreadful persecution of ordinary people living peacefully but having their land and water taken."