The 16-year-old Palestinian girl who was filmed assaulting Israeli soldiers outside her home in early December has now been indicted on five counts of assaulting security forces. Her mother, who filmed the event, was charged with assault and incitement after posting a video of the teen on social media in which she urges others to protest against Israel with stabbing attacks or suicide bombings.
On December 15, 2017, Ahed Tamimi, 16, and another female identified as her 20-year-old cousin were filmed in the West Bank village of Nebi Salah threatening two Israeli soldiers and then hitting them in the face. According to the soldiers' accounts, they were standing by Ahed's house when she pushed them and verbally threatened them, Haaretz reported. Ahed is reported to have said: "Get out or I'll punch you," before carrying out her threat by pushing the soldiers as well as kicking them, hitting them in the face and throwing stones at them. Ahed is also charged with interfering with the soldiers' duties by preventing them from returning to their post. In the video, the soldiers do not react to the assaults by the young women, the BBC reported.
The event was filmed by Ahed's mother Nariman Tamimi, The Jewish Press reported. After the initial attack on the soldiers, Nariman continued to film Ahed deliver a message of resistance, in which she urges others to join in protests against Israel.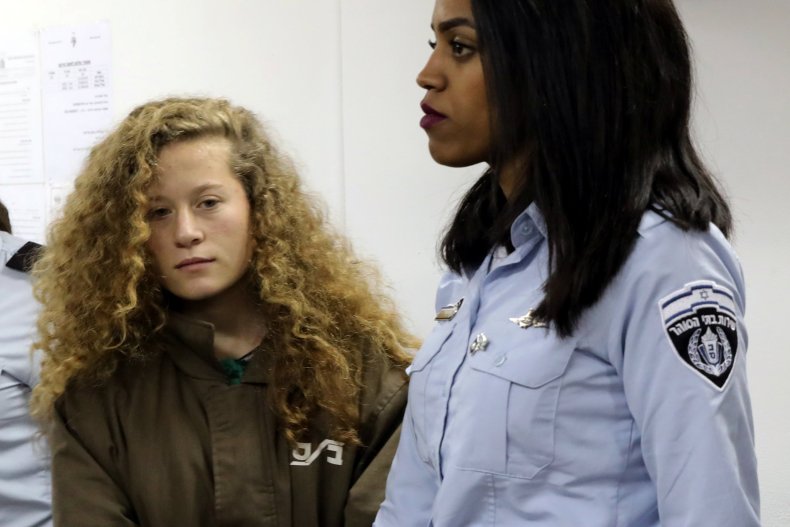 "Our strength is in our rocks and I hope that the entire world will unite to liberate Palestine because Trump announced a decision and they need to bear responsibility for every response that will come from us," Ahed is quoted saying in her indictment, Haaretz reported. "Whether it is a stabbing attack or suicide bombing or throwing rocks, everyone needs to do something and unite in order for our message to reach those who want to liberate Palestine."
This is not the first time Ahed has been in the public eye this year. In May she was charged with interfering with soldiers who were trying to arrest a protester throwing stones, Haaretz reported. In addition, in June, Ahed was criticized after she praised the three men who killed border policewoman Hadas Malka outside the Damascus Gate in the Old City of Jerusalem as "heroes," Haaretz reported.