Ahed Tamimi's Case Proves We Palestinians Will Always Be Seen As Guilty
On Wednesday (March 21), 17-year-old Ahed Tamimi entered Ofer military court with bright pink socks tucked underneath the metal shackles that held her feet together. In a prison-issued jacket that was too big for her, she smiled from cheek to cheek.
The Israeli judge presiding over her case accepted a plea bargain that would mean she will serve an eight month prison sentence. Her mother, Nariman Tamimi, will also serve eight months, and both must pay a fine that would total to 11,000 Israeli shekels ($3,154). Nour Tamimi, who was arrested just after Ahed, also signed a plea that includes her time served and an additional suspended sentence with a 2000 shekel ($573) fine. The average income in a Palestinian household is around 1500 shekels a month.
Wednesday was the final trip Nariman and Ahed will have to make from Hasharon prison to Ofer military court. It's a trip that takes hours, with the prisoner shackled and seated in a small cell built into a bus filled with filth and cockroaches. That evening, however, was the first time some of Ahed's girlfriends and cousins were able to enter her hearing, and the first time some of them have seen her in months.
If I closed my eyes and tried to block the sounds of prison guards shushing the young girls as the prosecution named the charges against the young girl, I can almost pretend they were in a small bedroom experiencing all the cliches that come with being teenagers.
While Israeli guards tried to block Ahed from the young girls' view, they still managed to speak to Ahed in gestures and short phrases. They gossiped, poked fun at one another, updated Ahed on her loved ones and friends. The young girls were proud of themselves. It was as though they were rebelling against a system that tries so hard to strip them of their right to be absurd and young and reckless by unabashedly being the teenagers that they are, further exposing the absurdity of the court.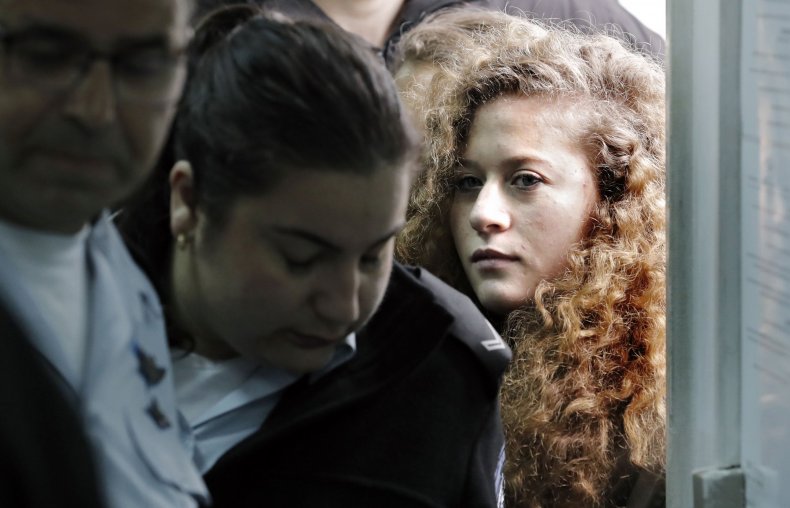 The accepted plea deal meant that the prosecution had most of the charges against Ahed dropped. Only four out of the original 12 charges were actually used for her conviction. More importantly, it was many of the charges that were used to deny her release on bail that were dropped. The court backed down from many of the charges they used to paint the young girl as a threat. Her father Bassem tells me "our first charge is that we are Palestinian, and the rest is just filling in the gaps."
This rings true for most Palestinians. Plea bargains are just another way for the Israeli military court to promote the image of Palestinians as threats, to force a guilty plea by any means possible. It is a large part of the 99.7 percent conviction rate for Palestinians tried in Israeli military courts.
As Ahed said during her hearing on Wednesday, "there is no justice under occupation. We are in an illegitimate court." But when faced with the harsh reality of either serving years in a prison known for its ill treatment and human rights abuses, or a few more months, the latter becomes more appealing.
What Ahed said during her hearing exemplifies this young girl's awareness and defiance, despite the shackles. She is well-aware that no matter what she does or says, these courts are tailored to be against her, that she can never under any circumstance gain justice in that room.
Justice for Israel has a very different meaning. In 2001, Nachum Korman, who clubbed a Palestinian child to death served eight months, the same sentence Ahed and her mother must serve for defending their home from fully armed soldiers. Ahed was armed with her voice and small arms, and her mother with a phone. More recently, Elor Aazriya, the soldier that killed Abed al-Fattah al-Sharif in Hebron, had his 18 month sentence reduced and will be released in May.
These examples showcase what Israel deems a "threat to public security," as the judge noted of Ahed's charges. The courts of Israel equate between a 17-year-old girl slapping a fully armed soldier who was in her home, to Israelis that have brutally killed Palestinians. A shout is equivalent to murder if the assault comes from a Palestinian.
The reality is that Israel cannot bring justice, and the comparison between how it tries Israelis opposed to Palestinians is farcical on its own. Israel is throwing a masquerade with a charlatan justice system. It switches masks as it deems fit. Criminal, judge, jury.
The Tamimi case teaches us to not expect justice from Israeli courts and that we, Palestinians, will always be seen as guilty. The essence in all of this, is not whether we are truly "guilty" or not. The legality of it has made us lose sight of the more important discourse and that is our resistance is being criminalized. We are in fact guilty. Guilty of resisting oppression, guilty of daring to dream of a dignified life, and guilty of using any means possible to live in justice—even if it's by merely slapping and shouting. The system is built to shatter any undertaking aimed at fighting the occupation.
The endeavor was not simply for the release of the Tamimis. There are 356 minors still being held by Israel, some under administrative detention with no charges against them. The call is not to have Israel try Palestinians as it would Israelis, that still entails that they dominate our lives. The true effort is to mark the illegitimacy of these courts in its entirety, to no longer have oppressor playing justice keeper.
Ahed, Nour and Nariman's sentencing is not over with this hearing. Just as Ahed lived her entire life under occupation, she will be released to see the soldiers invade her home again. And she will probably never be able to gain a permit to visit the cities of Haifa, Jaffa, or Safad, because the Israeli army is in control of her every move. She recognizes that while she must try to survive within the contours of oppression, true liberation and justice will only come when the occupation ends. That is when she and others in her generation will be able to live with dignity and freedom.
Mariam Barghouti is a writer based in Ramallah.