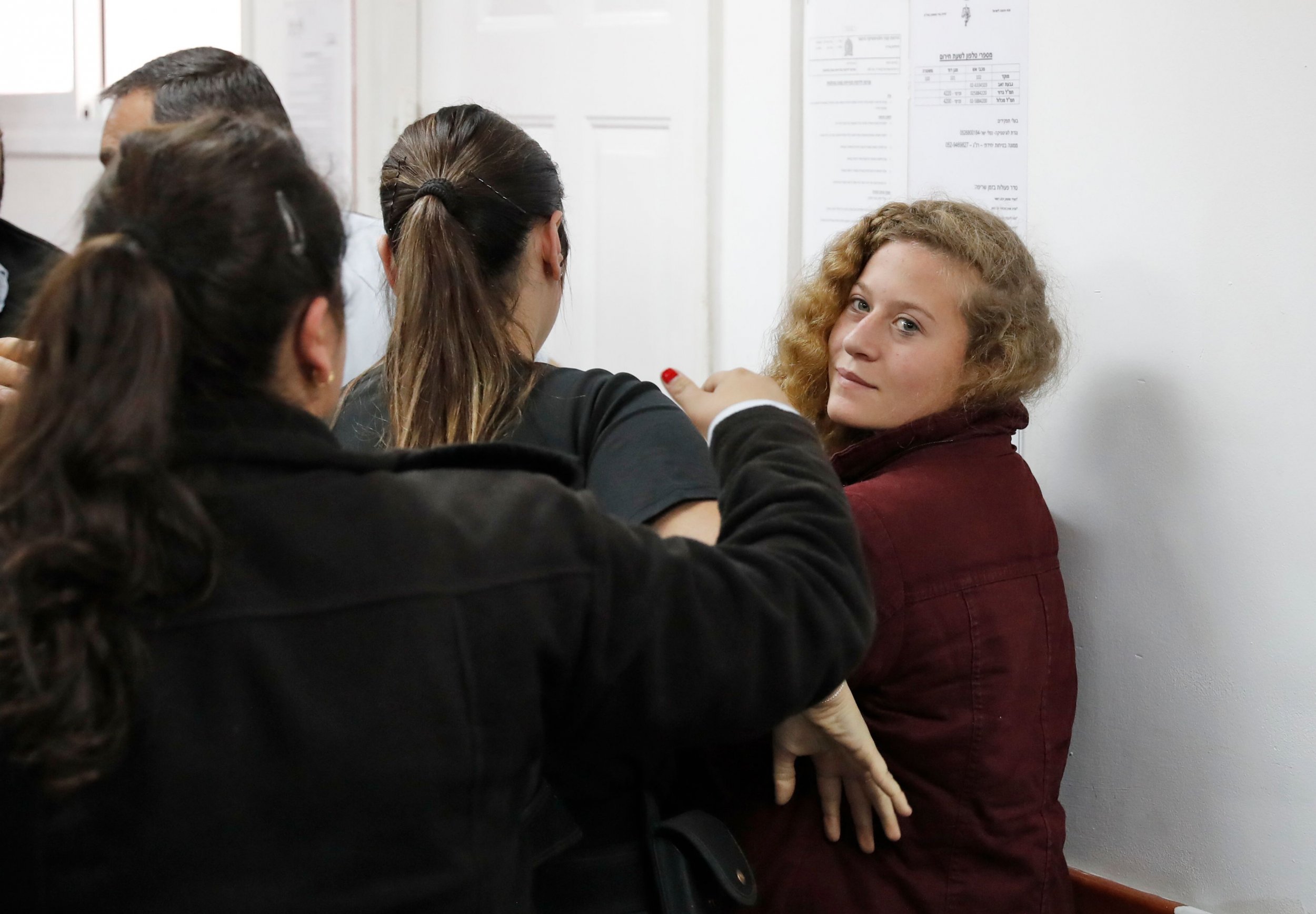 Last week, a video of my 16-year-old daughter Ahed resisting an Israeli soldier who was trespassing on our land in the West Bank village of Nabi Saleh went viral. The contrast could not have been clearer and was on display for the entire world to see: a heavily armed soldier from Israel's army of occupation and a young Palestinian woman armed with nothing but her courage and a righteous desire for justice and freedom. And for that reason, she had to be punished by Israel.
Less than half an hour earlier, a soldier shot Ahed's 14-year-old cousin in the face at close distance with a rubber coated steel bullet, causing severe injuries and leaving him in a coma. Then, two soldiers had jumped the wall of our backyard and forced their way on to our property when Ahed confronted them in an effort to make them leave.
A few days later, after the video caused an uproar in Israel, the army raided our home in the middle of the night and took Ahed. The next day, they arrested my wife Nariman when she went to see Ahed in jail. They have also arrested Ahed's 21-year-old cousin, Nour. They remain imprisoned inside Israel, in violation of international law, with Ahed being held in a jail with Israeli criminals. One senior member of the Israeli government has even called for Ahed to be imprisoned for life for her act of defiance.
Meanwhile, my son Mohammed is in shock. The cousin who was shot is also his best friend, and now his sister and mother have been taken away and imprisoned.The problems we face in Nabi Saleh today started several years ago, when Israel stole a large part of our village's land to establish the illegal Jewish settlement of Halamish. The settlers then took our fresh water spring for their own use, preventing us from accessing it. We have refused to accept these abuses of our rights, and so every Friday for the last five years, we gather to march in protest.
Under Israel's now 50-year-old military occupation over Palestinians in the West Bank and east Jerusalem, we have no rights, including the right to protest peacefully. And so the Israeli army meets our marches, which frequently include Israelis and internationals, with tear gas, stun grenades, "skunk water," and rubber coated steel bullets. Often, people are injured. Sometimes, they are killed.
Earlier this year, a 20-year-old young man was shot in the stomach and killed during a demonstration in support of Palestinians on hunger strike inside Israeli prisons. Five years ago, my wife's brother Rushdie was shot in the back and killed by a soldier during a demonstration against Israel's bombing of Gaza. Two years later, on the anniversary of his death, my wife was shot in the leg. Nariman has also developed asthma as a result of breathing tear gas.
Ahed is a strong, fearless girl, and I am proud of my daughter's steadfastness, but when I saw her sitting in the Israeli military court I felt helpless and scared for her. I am a parent and everything I do is to protect my children and to make sure they can live happily and freely one day. No matter what I believe about perseverance and pride, in the end, I'm a father and it pains me greatly to see my beautiful child imprisoned in a military court that sees and treats Palestinians as less than human.
Each year, Israel imprisons hundreds of Palestinian children like Ahed in its military court system. As human rights groups like UNICEF have documented, Palestinian children are subject to systematic abuse by the Israeli army. Like my Ahed, they are often taken from their homes in the middle of the night by armed soldiers, torn from their beds and parents' arms. They suffer threats and physical violence.
They are interrogated without a lawyer or their parents present, and pressured to sign confessions in Hebrew, which most don't understand. Even members of the U.S. Congress recognize the seriousness of the problem and are currently sponsoring a bill urging the U.S. government to make sure the aid it gives to Israel isn't used to abuse the rights of Palestinian children.
Israel's military occupation is in contrast to all that is just and humane, from the abuse of our children to the abuse of our land. As parents, we try to shelter our children against the occupation and all its violence, inequality, and lack of freedom, but there is only so much we can do to protect them.
But despite the traumatic moments that we experience, I will always believe in justice and in our right to continue our peaceful resistance against Israel's brutal military rule and theft of our land. We will continue to resist as a family, and as a community. Together we carry the torch of freedom and equality towards our dream of a better life for our children.