Nigerian Military Denies 'Arrest' of Boko Haram-Linked Reporter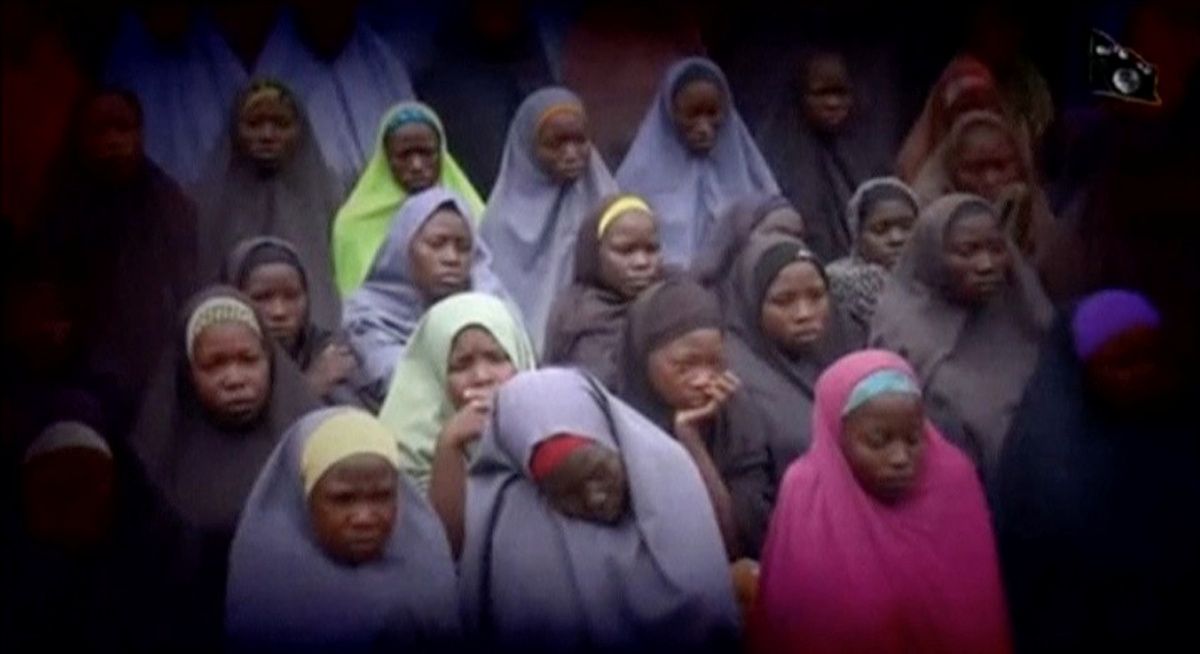 A Nigerian journalist accused of having information about the whereabouts of the Chibok girls abducted by Boko Haram has been arrested according to multiple reports, though the Nigerian military has denied the claims.
Ahmad Salkida was declared wanted in August by the Nigerian military, along with two other persons, after Boko Haram released a video purporting to show scores of the girls, who were abducted from their school in Chibok, northeast Nigeria, in April 2014. Salkida was one of the first journalists to circulate the video on social media.
Salkida was arrested upon arrival in the Nigerian capital Abuja on Monday, according to New York-based news site Sahara Reporters. Salkida reportedly told a fellow passenger that he received two video clips from Boko Haram ahead of their public release, but that he did not know the whereabouts of Boko Haram leaders or the Chibok girls. Several other Nigerian media outlets and journalists have also reported Salkida's arrest.
The spokesman for Nigeria's Defense Headquarters, General Rabe Abubakar, told Newsweek that the reports were false. "I don't have any information that this man is either in Nigeria or that he came to Nigeria and he's been arrested," said Abubakar. "If there is any information about Ahmad Salkida's arrival to Nigeria and being apprehended, I think the first organ of government that will know is defense headquarters."
Abubakar added that Salkida was not under the threat of arrest and that the Nigerian military were "waiting" for Salkida to return to Nigeria from his home in the United Arab Emirates and share any information he had on Boko Haram, which pledged allegiance to the Islamic State militant group (ISIS) in 2015. "He can come over and shed light on what he knows and go back...there is no big deal in him coming," Abubakar maintained. "If you have information, give it to the right people, the right group, so that they can push ahead and do the needful for them to get rid of the menace of terrorism in the whole country."
A total of 276 girls were abducted from Chibok in April 2014, though 57 escaped shortly after their capture. One girl, named Amina Ali Nkeki, was found by a local vigilante in May near the Sambisa forest in northeast Nigeria and was handed over to the government for rehabilitation, but most of the girls remain missing.
After the Nigerian military declared him wanted, Salkida said in a statement that he had traveled to Nigeria from his home in the United Arab Emirates three times since May 2015 at the invitation of the federal government. He also stated that he had made "personal sacrifices" to try to secure the release of the Chibok girls.
Salkida has been backed by the Committee to Protect Journalists, who said that journalists "must sometimes rely on the trust of dangerous people" and that forcing Salkida to become an informant "risks putting all journalists under suspicion and in danger."
Boko Haram has killed tens of thousands of people since embarking on an armed insurgency against the Nigerian government in 2009. But the militants have shown signs of fracturing recently after ISIS appointed a new leader for the group—named Abu Musab al-Barnawi—a move rejected by Abubakar Shekau, who has led Boko Haram since the death of its founder Mohammed Yusuf in 2009.