The Justice Department Can Intervene in the Ahmaud Arbery Case. Here's How
An outpouring of grief, anger and confusion over the February killing of a black Georgia man has spurred calls for the U.S. Department of Justice to intervene in the case.
Ahmaud Arbery, 25, was fatally shot by a pair of white residents as he was jogging in the Satilla Shores neighborhood of Brunswick, a city on Georgia's coast. A cellphone recording of the killing was posted online this week.
Advocates say fumbled management of the case and the decision not to act earlier on gruesome video evidence amount to a dereliction of duty, requiring immediate oversight from the federal government. Moreover, Georgia law does not provide for specific hate crimes prosecutions, something that the Department of Justice is uniquely poised to accomplish.
"There are longstanding concerns about state and local authorities not acting energetically enough to investigate and prosecute crimes carried out against certain disfavored groups, particularly African Americans," David Alan Sklansky, a professor of criminal law at Stanford Law School, told Newsweek. "It's at the heart of the federal government's traditional role in cases of this kind."
From the time of the killing, the local investigation has taken multiple detours, winding its way through different prosecutor's offices before landing with the Georgia Bureau of Investigation amid heightened public scrutiny. The bureau arrested two suspects in the case, Gregory McMichael and his son, Travis, on Thursday.
It was not immediately clear if an attorney has been retained to represent them, and neither could be reached for comment.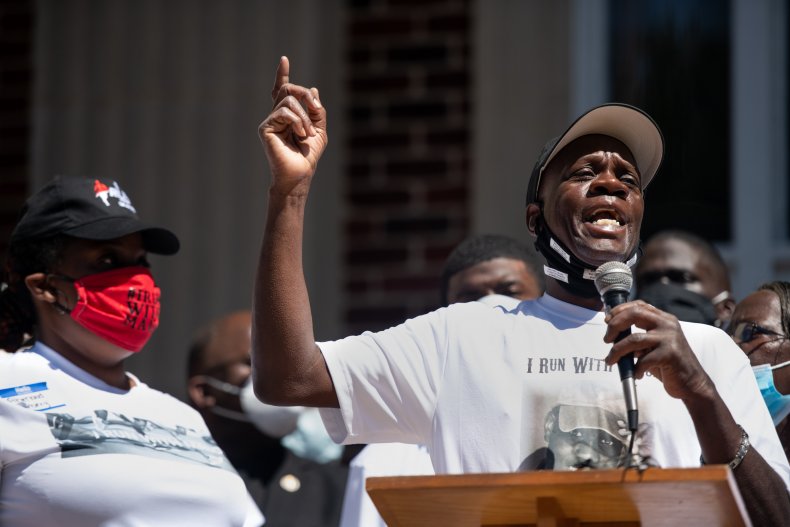 The first prosecutor to receive the case, Brunswick District Attorney Jackie Johnson, had to recuse herself once she learned that the elder McMichael was previously an investigator for her office.
The case then went to George Barnhill, the Waycross district attorney, who had to submit his own letter of recusal after it was noted that his son worked in the Brunswick district attorney's office at the same time as McMichael.
Barnhill is believed to have had the cellphone video in his possession for weeks, and the attorney for Arbery's family, S. Lee Merritt, says prosecutors had the video since the time of the shooting.
"It's unusual to have prosecutors recusing themselves because of their previous relationships with the subject of the investigation," Sklansky noted. "I have to say, this hasn't proceeded as a normal homicide investigation."
But one looming question, whether the federal government would have the authority to prosecute the Arbery killing, may frustrate immediate calls for a federal civil rights case.
A Department of Justice spokesperson told Newsweek that the Federal Bureau of Investigation "has said it's assisting" with the local probe and, "as is standard protocol," the department looks forward to "working with them should information come to light of a potential federal violation."
There are a handful of federal statutes governing civil rights that could conceivably apply to the Arbery case, but each present their own unique challenges to establishing federal jurisdiction.
The most likely candidate, according to Sklansky, is the Matthew Shepard and James Byrd, Jr., Hate Crimes Prevention Act of 2009, which makes it a federal crime to injure someone with a firearm because of racial animus, among other reasons.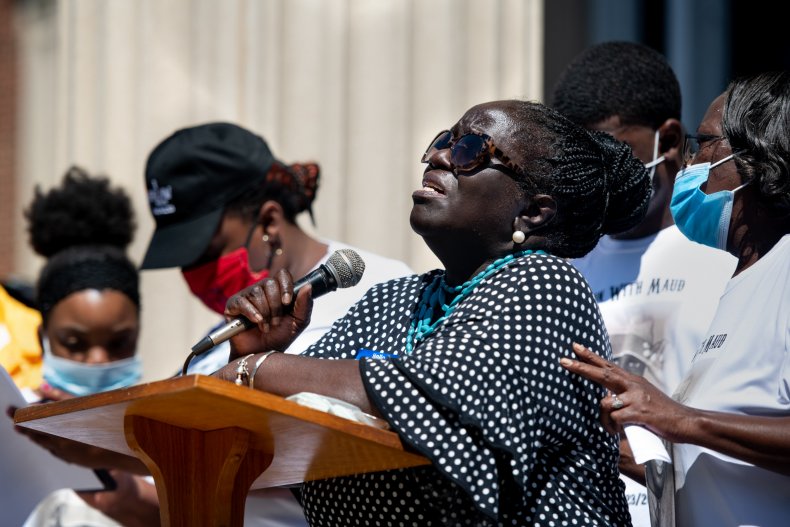 Arbery was black and the two perpetrators are white—advocates have likened the incident to a lynching—but little exact evidence has emerged thus far of a specific racialized motive. Though, the level of proof required to demonstrate a racial motivation, and where prosecutors might go searching to introduce that evidence, add additional leeway.
"You can use circumstantial proof as well as direct statements from the defendant to satisfy the element that the crime was motivated because of race," Sklansky said.
Becky Monroe, who was a senior counselor to the assistant attorney general for civil rights during the Obama administration, noted a wrinkle in how the Shepard-Byrd Act has been interpreted by the courts might make it more difficult to obtain a conviction.
At least one appellate court has found that this charge requires prosecutors to show that a crime would not have occurred "but for" racial bias.
Monroe now leads the Fighting Hate program at The Leadership Conference on Civil and Human Rights. Her organization supports legislation that would clarify the standard for Shepard-Byrd Act prosecutions, requiring that racial animus be only a substantial motivating factor.
Regardless of any prosecutorial barriers to achieving a conviction under this charge, the FBI would have ample room to conduct an investigation to consider whether current evidence, or the potential to discover new evidence, could warrant federal intervention.
Cynthia Deitle, an FBI special agent for over two decades specializing in civil rights cases, said that she believed the bureau was "within their legal rights to open a preliminary investigation" to resolve these questions.
She added that "there's a whole other bucket of assistance the FBI can give to local law enforcement agencies if they need help and the bureau doesn't have jurisdiction to investigate."
For the FBI to open and conduct a fully-fledged investigation, Deitle said, there would have to be some sort of "credible allegation" of racial animus, if investigators were pursuing the case under the Shepard-Byrd Act, for example.
The mere fact that Arbery was black and the defendants are white is not, in and of itself, a sufficient hook.
"They need that credible allegation before getting involved," Deitle added. "They have to have something."
But there are several other civil rights statutes that could allow the Department of Justice to assert federal jurisdiction, though perhaps not as compelling as under the Shepard-Byrd Act.
A pair of landmark civil rights laws enacted during the Reconstruction Era, in addition to one civil rights era statute, federalize crimes where there is a nexus to protections guaranteed by the U.S. Constitution or Congress.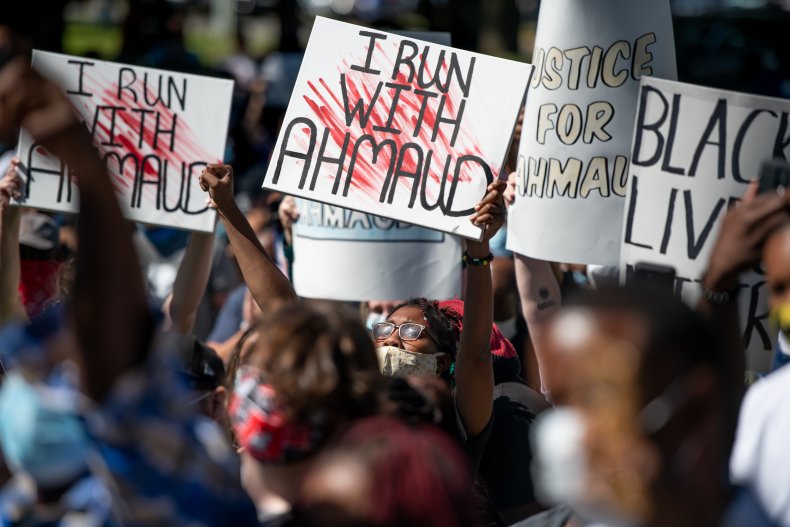 One of these statutes, derived from the original 1866 law, prevents anyone acting "under color of any law" from depriving someone else of their federally protected rights. A 2015 article in the Columbia Law Review notes that prosecutions under this law "provide an important public condemnation of abuse of power."
However, for a perpetrator to act "under color" of law, he must be a government official, such as a law enforcement officer, or coordinating with someone who is.
But what about a private citizen who invokes the quasi-judicial power of a citizen's arrest, as is believed to be the case in the Arbery shooting?
"Citizen's arrests in general are a murky area of law," Sklansky explained. "It is possible to argue that somebody invoking a citizen's arrest power is behaving as a state actor, but that is not generally the approach courts have taken. That would be a stretch to argue."
Deitle says that the unusual circumstances of the Arbery case present enough suspicion for the FBI to take a serious look at whether Gregory McMichael had any ongoing relation or communication with individuals in the Brunswick prosecutor's office, where he used to work.
"What is the dynamic between McMichael and the other prosecutors who did not bring charges? It would be very concerning to me that in this small town, one of the defendants was formerly employed by the law enforcement agency," she observed. "I would think the FBI would want to figure all that out. Why was nothing done for so many months? That's going to heighten the curiosity of any agent."
The 1866 law and its companion measure, a statute enacted four years later prohibiting conspiracies against federal rights, could add additional hurdles to any prosecution.
Chief among them: a requirement that the violation must be of a federal right, and not just the result of a generalized criminal act. In Sklansky's opinion, "few, if any," federal rights would be binding upon non-government actors such as private citizens.
But the civil rights era law could offer more latitude. It prohibits, among other things, race-motivated interference with an individual traveling on federal roads. Crucially, if an incident didn't occur on a federal road, such as an interstate highway, federal jurisdiction could still be triggered if it took place on a street feeding into a federal road.
The Arbery shooting occurred mere blocks from U.S. Route 17, which passes through Georgia as it runs from Florida to Virginia.
Regardless of how the FBI continues its probe, and whether or not the Department of Justice takes more assertive action, outside observers have vowed to remain steadfast in their oversight of the oversight.
Deitle said that if the Department of Justice uncovered evidence of lax investigatory practices at the local level, or other evidence suggesting bias, it could consider opening a "pattern or practice" probe. At this point, such evidence has not emerged.
These investigations are undertaken by the department to correct local policing practices that are biased, abusive or otherwise unconstitutional.
"That's not something they start off investigating, it's a byproduct," she said. "The FBI and Justice Department are very patient and methodical."