Ahmaud Arbery Family Lawyers Respond to Hate Crime Charges
Lawyers for the family of Ahmaud Arbery, an unarmed Black man from Georgia who was killed while jogging in February 2020, have called the federal hate crime charges brought against three white men "an important milestone" in the case.
On Wednesday, the Justice Department charged Travis McMichael, 35, his father, Gregory McMichael, 65, and William "Roddie" Bryan, 51, each with one count of interference with civil rights and one count of attempted kidnapping.
Father and son Gregory and Travis McMichael were also charged with using, carrying, and brandishing a firearm and the latter was additionally charged with discharging a firearm.
The indictment alleged that while Arbery, 25, was jogging on a public street in Brunswick, Georgia, the McMichaels "armed themselves with firearms, got into a truck and chased Arbery through the public streets of the neighborhood while yelling at Arbery, using their truck to cut off his route and threatening him with firearms."
Arbery was killed by three close-range shotgun blasts. He had been dead for more than two months when a video of the shooting emerged, sparking national outcry.
Because the three men allegedly "used force and threats of force to intimidate and interfere with Arbery's right to use a public street because of his race," the indictment said, all three have been charged with a federal hate crime.
The three men remain in jail on state murder charges and are due in court next month.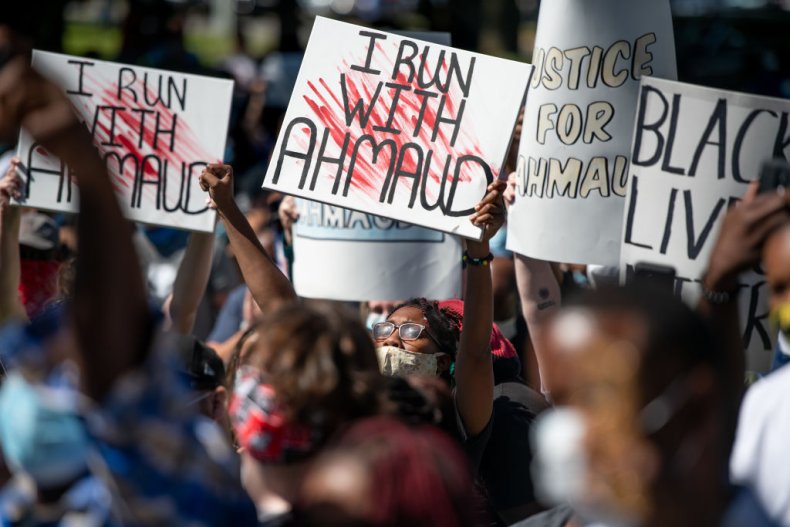 Commenting on the federal charges, lawyer Ben Crump, who is representing the Arbery family, said: "Today is yet another step in the right direction as we seek justice for Ahmaud Arbery and his grieving family by holding those responsible for his death accountable to the fullest extent of the law.
"This is an important milestone in America's uphill march towards racial justice, and we applaud the Justice Department for treating this heinous act for what it is—a purely evil, racially motivated hate crime."
In a separate statement, another lawyer for the family, S. Lee Merritt, said the charges were "an indication that racial violence will not be tolerated."
He said: "Hate cost Ahmaud Arbery his life and has done catastrophic damage to his family and community."
Lawyers for the McMichaels have said their clients pursued Arbery after suspecting he was a burglar. They said Travis McMichael shot him while fearing for his own life.
Prosecutors said Arbery had not stolen anything and was jogging when the fatal encounter took place.
Responding to the federal hate crime charges, one of the McMichaels' attorneys, Robert G. Rubin, told Newsweek: "We are deeply disappointed that the Justice Department bought the false narrative that the media and state prosecutors have promulgated.
"There is absolutely nothing in the indictment that identifies how this is a federal hate crime and it ignores without apology that Georgia law allows a citizen to detain a person who was committing burglaries until police arrive."