Ahmaud Arbery Jury Selection Could Be Complicated by Video, Fear of Retribution
The trial over Ahmaud Arbery's death began this week as jury selection kicked off in Glynn County, Georgia on Monday, but a slow start to finding 12 jurors and four alternatives could signal a difficult case centered around race in the South.
Three white men—Gregory McMichael, his son Travis McMichael and their neighbor William "Roddie" Bryan—are set to stand trial for the murder of Arbery, a 25-year-old Black man who was killed while out for a jog on February 23, 2020.
In an incident captured on cellphone video, Arbery was fatally shot by Travis McMichael in the unincorporated Satilla Shores neighborhood near Brunswick.
The McMichaels claimed they were conducting a citizen's arrest on Arbery, who they believed to resemble a burglary suspect from a video posted to a neighborhood association.
The father and son allegedly armed themselves with guns and chased down Arbery, with the help of Bryan, before Travis McMichael allegedly shot the jogger three times with a shotgun in self-defense.
A video of the incident recorded by Bryan is poised to be the most significant piece of evidence presented to the jury.
All three defendants have pleaded not guilty to charges of felony murder, aggravated assault, false imprisonment and criminal attempt to commit false imprisonment.
In addition to the state charges, all three men have been indicted on federal hate crime charges.
According to the Glynn County Clerk of Superior and Magistrate Court, 600 potential jurors were summoned to appear on Monday, with another 400 on deck to show up next week if necessary.
The general questioning of the first batch of 20 prospective jurors suggested that paring down the jury pool will be a difficult task, with 13 of Monday's 20 saying they had already formed an opinion on the guilt or innocence of the accused.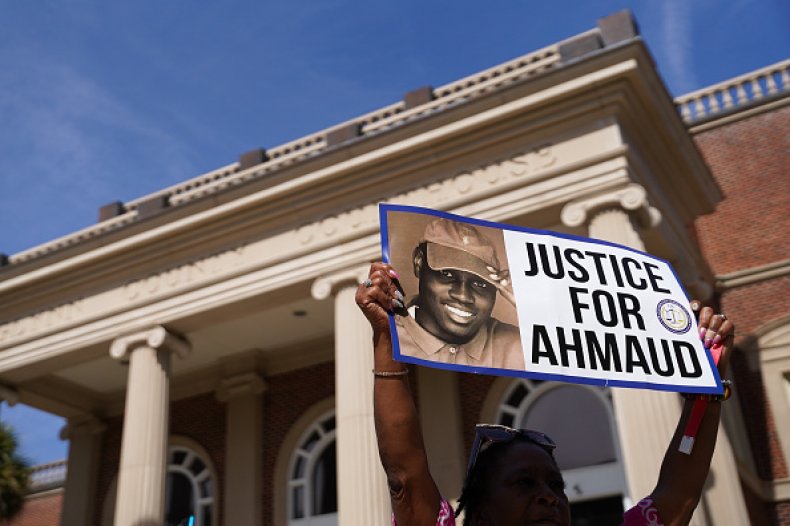 "This is a case that has garnered significant attention in this community as well as around the country, and I have no doubt that the 1,000 or so individuals that were summoned when they received that summons, reacted in some way to that," Chatham County Superior Court Judge Timothy R. Walmsley, who has been appointed to preside over the case, said on Monday. "This is not an easy thing for anybody."
One potential juror told attorneys he was sick about hearing of the case, which garnered national attention amid the Black Lives Matter protests last year, and another asked if she should fear for her personal safety should she be selected for the final jury.
In a hearing prior to the jury selection, prosecutors and defense attorneys argued over which questions they would be allowed to ask prospective jurors.
Linda Dunikoski, the lead prosecutor in the case, objected to more than half of the defense questions of which many centered around racism, the Black Lives Matter movement and opinions on the Confederacy.
Walmsley ruled most of the defense questions were too broad or had the potential to lead candidates to prejudge the evidence.
He also barred attorneys from asking if prospective jurors are "concerned about your safety, your reputation, your livelihood if you were to be a juror on this case"—a question Travis McMichael's attorney, Robert Rubin, said would be the most important.
Walmsley stopped defense attorneys more than once on Monday for blatantly asking panelists whether they already believed the defendants to be guilty.
"You do not ask a potential juror what their opinion on guilt or innocence is," the judge told one attorney.
The case bears some resemblance to the trial of Derek Chauvin, the former Minneapolis police officer who was convicted of murder in Floyd's death earlier this year.
Much like in the case of Arbery's death, video evidence was the main focus in Chauvin's trial, and concerns from potential jurors in Arbery's case echoed sentiments from the 11 days of jury selection in Minnesota, where some said they were worried for their safety and others said they couldn't handle the stress and trauma of serving on the panel.
On Monday, eight potential jurors for the trial of the McMichaels and Bryan were dismissed.
Court officials in Arbery's case have said that jury selection could take more than two weeks and Dunikoski said the trial could take until November 19 to complete.