Ahmaud Arbery's Mother Says George Floyd's Death 'Sent Me Back,' Calls for Killings to Stop
The mother of Ahmaud Arbery, who was shot dead while jogging in February, has spoken of how George Floyd's death has reopened emotional wounds as she continues to mourn her son.
Wanda Cooper-Jones said she was beginning to heal from the trauma of her son's death, but witnessing footage of the arrest of Floyd, who died after an officer put a knee onto his neck, has compounded her grief.
"Since the event of Mr. Floyd happened, I really took a dramatic change," she told Good Morning Britain.
"I was beginning to heal, beginning to feel better, and once I viewed the video Mr. Floyd being murdered, it sent me back back to think of Ahmaud when he was killed in February."
Cooper-Jones continued to add that U.S. citizens, especially African Americans, "feel like we don't have a voice."
"Ahmaud was just murdered back in February and here it is in May, we have the same type, same type of event to occur again.
"The people of America, we're ready for change. We need answers. And foremost, we need these killings to stop, we need it to cease and to cease immediately."
Newsweek has contacted Benjamin Crump, the attorney representing Arbery's and Floyd's families, for further comment.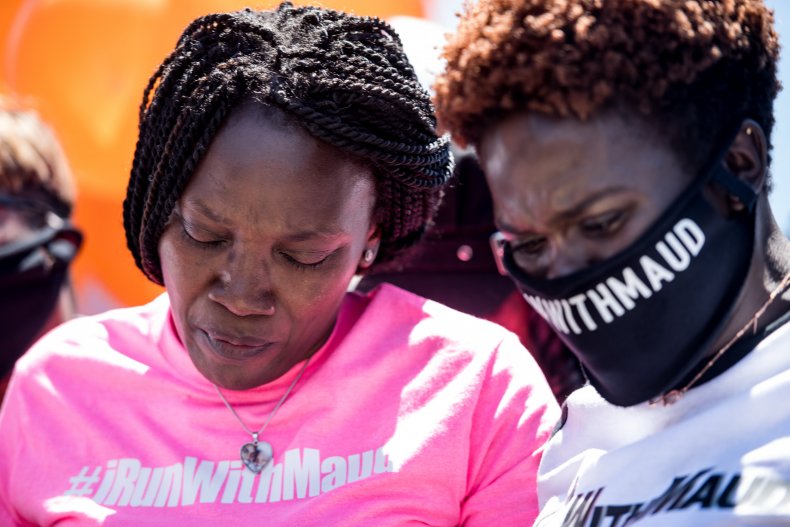 Arbery died after being shot earlier this year in Georgia, with footage of the incident circulating widely online.
Gregory McMichael, 64, and his son Travis McMichael, 34, were charged with murder and aggravated assault following the shooting.
According to Crump, the Department of Justice is also investigating the shooting as a possible hate crime.
Arbery's death sparked demonstrations, including the #IRunWithAhmaud, where people jogged 2.23 miles to commemorate his death, with the distance marking the date of February 23.
Cooper-Jones' comments come amid widespread protests following Floyd's death, after footage of his arrest in Minneapolis, following which he was pronounced dead at a nearby medical facility, spread on social media.
Four officers were fire from their roles with the Minneapolis Police Department following Floyd's death. One of them, Derek Chauvin, has been charged with third-degree murder and second-degree manslaughter. There have also been calls for the arrests of the other three officers.
Violent clashes have occurred at some of the demonstrations and more than 5,600 people have been arrested nationwide amid protests, according to an AP tally.
President Donald Trump has said he could deploy the military to restore calm, a suggestion that has been criticized by multiple state governors.