Ahmaud Arbery Murder Trial Cost Over $1M for Security as New Motions Filed in Legal Battle
Days after two new motions were filed in court related to the trial of the three men convicted of killing Ahmaud Arbery, county commissioners in Glynn County, Georgia, said in a Tuesday meeting that security in and around the courthouse during the trial cost taxpayers about $1.08 million.
The increased security measures were taken as a precaution because of the national attention the case received and the crowd of supporters and protestors that frequently gathered outside the courthouse, according to the Associated Press.
The money was used to pay overtime for the normal security at the courthouse and extra sheriff's deputies, police and other public safety personnel during the five-week trial, The Brunswick News reported.
For the upcoming federal hate crimes trial for Travis and Greg McMichael and William Bryan, the city of Brunswick, Georgia, will be responsible for security outside the courthouse. However, the federal government will handle security inside the courthouse, according to The Brunswick News.
A recent motion filed in the case argues that Travis McMichael should receive a new trial, and prosecutors filed another to ensure that the three men would not be able to profit by selling their life rights for a book or movie and that any money earned from any potential reenactment or contract with the defendants will go to Arbery's family instead.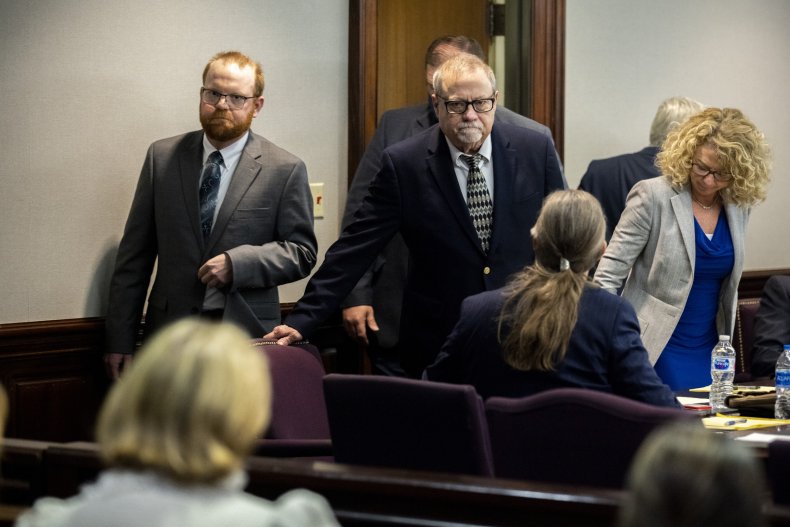 Georgia law states that motions like the one recently filed by McMichael's attorney requesting a new trial must be filed within 30 days of sentencing, according to WTGS.
The request states that Travis McMichael should receive a new trial on the grounds that the prosecution did not prove guilt "beyond a reasonable doubt," along with several other broad reasons, WTGS reported.
The McMichaels and Bryan were convicted of murder and several other charges in November for the February 2020 murder of Arbery, and all three were sentenced to life in prison earlier this month, with Bryan the only one to receive a possibility of parole.
The three men saw Arbery running through their Georgia neighborhood and pursued him in a truck with guns, allegedly on the basis that they thought he robbed a home in the area. They tried to perform a citizen's arrest, which ended with a struggle for Travis McMichael's shotgun, and he then shot Arbery in the chest.
Video of the incident was recorded by Bryan and leaked online two months later, where it gained national attention and led to the three men being arrested.