Ahmaud Arbery's Parents Outraged by Plea Deal, Accuse DOJ of Betraying Them
The parents of Ahmaud Arbery have accused the Department of Justice (DOJ) of breaking their trust by making an "unauthorized back-room plea deal" with two of the men who murdered their son.
A jury in November found three white men—Gregory McMichael, his son Travis McMichael and their neighbor William "Roddie" Bryan—guilty of Arbery's murder. They were sentenced to life in prison earlier this month.
All three men were due to stand trial in February on hate crime charges, accused of violating Arbery's civil rights and targeting him because he was Black.
But prosecutors filed notice in the U.S. District Court of Brunswick, Georgia, on Sunday asking a judge to approve plea agreements for the McMichaels. Specific details about the deal were not provided in the court filings and they do not name Bryan.
In a statement issued through their attorneys, Arbery's parents Wanda Cooper-Jones and Marcus Arbery said they were "vehemently against" the plea deal and had expressed their opposition on calls with DOJ officials on Sunday.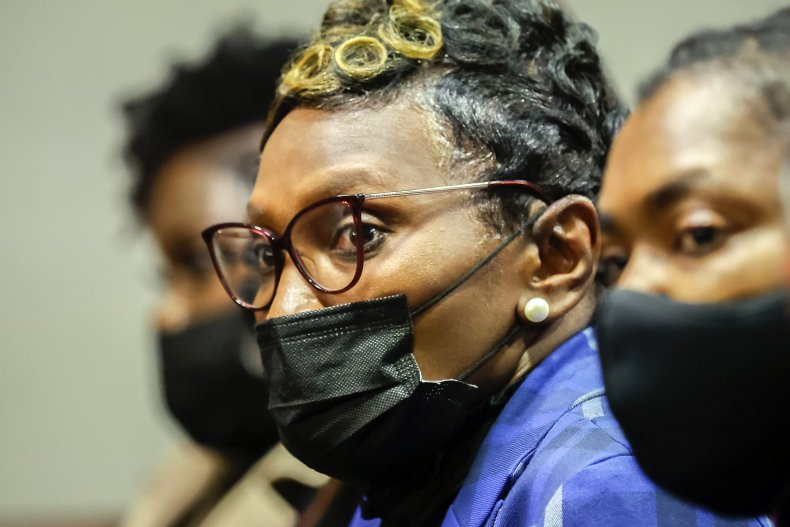 The statement, reported by WTLV, said the proposed deal would allow the McMichaels to enter federal custody and serve the first 30 years of their sentence in "a preferred federal prison."
"This proposed plea is a huge accommodation to the men who hunted down and murdered Ahmaud Arbery," the statement said. "The family is devastated at the latest development. Their wishes are being completely ignored and they do not consent to these accommodations."
Cooper-Jones was also quoted in the statement, saying: "The DOJ has gone behind my back to offer the men who murdered my son a deal to make their time in prison easier for them to serve.
"I have made it clear at every possible moment that I do not agree to offer these men a plea deal of any kind. I have been completely betrayed by the DOJ."
In court filings for the McMichaels, prosecutors asked the court to schedule proceedings and "accept the defendant's plea as set forth in the proposed agreement."
Cooper Jones will oppose the plea agreement in court during Monday's scheduled hearing.
Arbery, 25, was fatally shot on February 23, 2020, after the McMichaels armed themselves and pursued him in a pickup truck after spotting him running in their neighborhood outside Brunswick, Georgia.
Bryan joined in the pursuit in his own truck and captured Travis McMichael firing his shotgun at Arbery at close range. The footage sparked an outcry when it was leaked online two months later. Arbery's name was among those used as rallying cries during the widespread protests against racial injustice in the summer of 2020.
Attorneys representing Arbery's parents and the Department of Justice have been contacted for comment. A lawyer for the McMichaels has also been reached for comment.