South Africa: Ahmed Kathrada, Anti-Apartheid Giant, Dies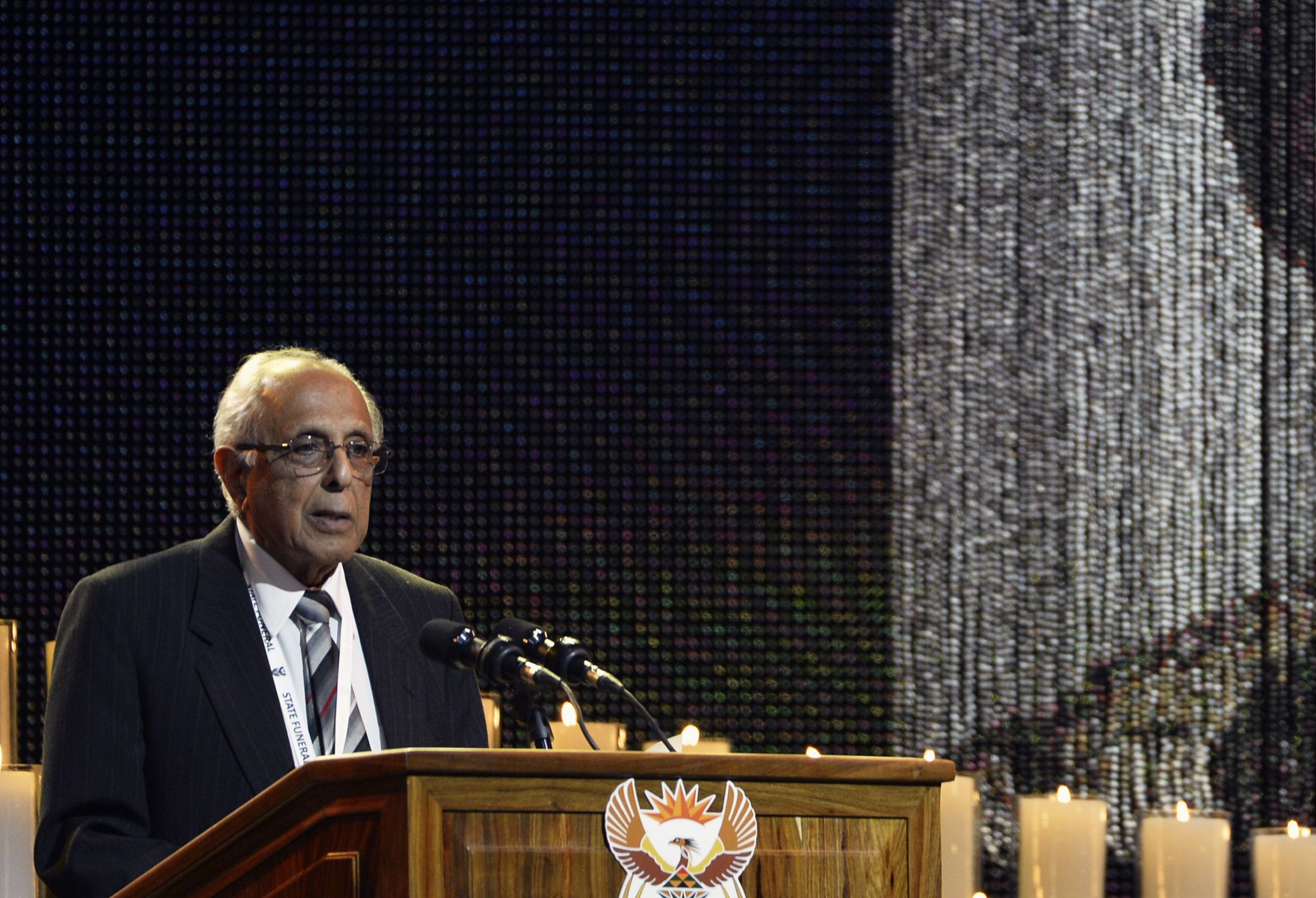 Ahmed Kathrada, a prominent South African anti-apartheid activist and prisoner alongside Nelson Mandela, has died at the age of 87.
Kathrada passed away in hospital in Johannesburg after a "short period of illness" following brain surgery, the Kathrada Foundation said in a statement Tuesday.
The African National Congress (ANC) veteran was one of eight activists, including Mandela, to be sentenced to life imprisonment in the 1964 Rivonia trial for trying to overthrow the white minority government in South Africa.
Kathrada was imprisoned for 26 years, 18 of which were on Robben Island. Following his release in 1989, Kathrada was elected to the ANC's national executive committee. He served as a political adviser to Mandela—who was elected president of South Africa in 1994 in the country's first post-apartheid government—between 1994 and 1999, and has remained a vocal advocate of non-racialism.
The ANC issued a statement saying that the country had lost "a titan, an outstanding leader and a great patriot—a man who stands apart for his service to the people of South Africa, and to the country."
While remaining loyal to the liberation movement, Kathrada had been critical of the ANC's direction in recent years. The activist called for Jacob Zuma to step down in a 2016 letter to the president, citing a "crisis in confidence" created by various scandals involving Zuma. These involved the use of state funds to add features including a swimming pool to Zuma's residence in Nkandla, and an ongoing probe into alleged political influence wielded by the Gutpas, a wealthy business family with close ties to Zuma.
Kathrada's passing was mourned by the Nelson Mandela Foundation. "We will remember him, fundamentally, as the embodiment of promise for a liberatory future. He worked for that future to the end," said the Foundation.
One of the two surviving activists convicted at the Rivonia trial, Andrew Mlangeni, told News24 that Kathrada was a "humble man, a person dedicated to the struggle for freedom."
Born into an Indian origin family in Schweizer-Reneke in northwest South Africa, Kathrada was involved in passive resistance movements against apartheid in his youth. He was arrested on multiple occasions before becoming involved with the ANC's armed wing, Umkhonto we Sizwe.
While in prison on Robben Island, Kathrada, being of Indian origin, was entitled to certain privileges ahead of his fellow black prisoners. But Kathrada refused to accept the entitlements until they were extended to his co-prisoners.
He is survived by his wife Barbara Hogan, a fellow ANC veteran.