Ahmed Mohamed, Muslim Teen Arrested for Homemade Clock, Withdraws From His Texas School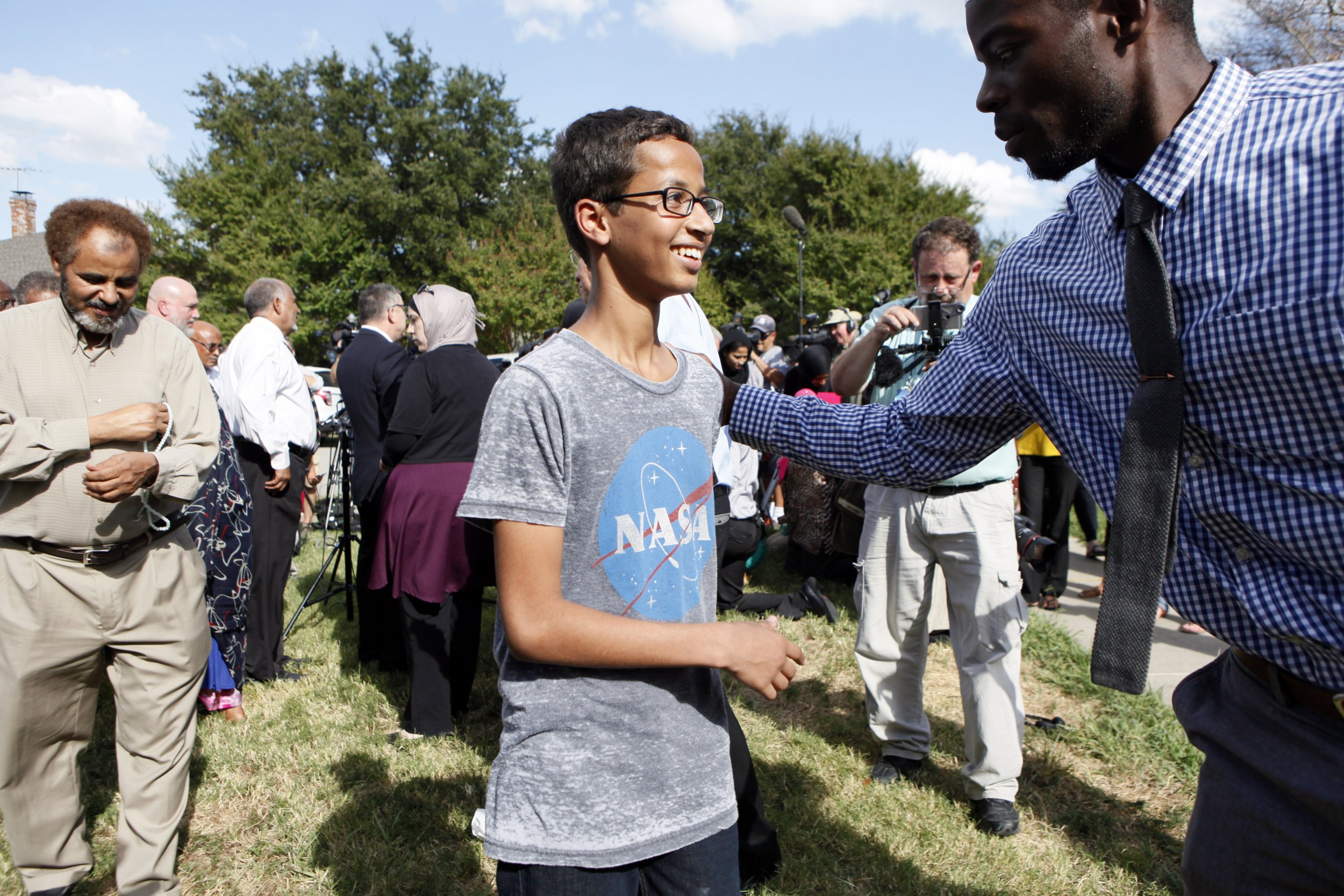 Ahmed Mohamed, a 14-year-old Muslim who was arrested after he brought a homemade digital clock to school last week, has withdrawn from his high school in Irving, Texas.
By bringing his clock to MacArthur High School, Mohamed said he had hoped he would impress his teachers. Instead, his English teacher reported the clock to the police, and Mohamed was handcuffed and taken to a juvenile center. Police said they thought the item was a hoax bomb, and took the clock from Mohamed as evidence.
The boy wasn't charged, but he was suspended from school for several days. On Monday, a week after the incident, Mohamed withdrew from MacArthur.
"Ahmed said, 'I don't want to go to MacArthur,'" the child's father, Mohamed El-Hassan Mohamed, told The Dallas Morning News. "These kids aren't going to be happy there."
The Irving Independent School District told the local newspaper that his father met with the superintendent on Monday to request his son be removed from classes.
On Tuesday morning, Mohamed, a ninth-grader, and his younger brother and sister technically still were enrolled at schools throughout the district, pending the completion of formalities.
Mohamed became an overnight celebrity, as the hashtag "#IStandwithAhmed," began trending on the Internet last week and people questioned the intervention of the teen. Mohamed received invitations to be a guest at the Google Science Fair on Monday, meet with dignitaries at the United Nations in New York City on Wednesday and join scientists for "Astronomy Night" at the White House next month. He has been asked to visit Facebook by founder Mark Zuckerberg, and to work at Twitter as an intern.
Multiple schools have offered to enroll Mohamed into their classes. The family allegedly is speaking with the Massachusetts Institute of Technology (MIT), where Mohamed has dreamed of attending college.