Jakarta Governor's Blasphemy Conviction Shows Democracy and Tolerance Under Threat in Indonesia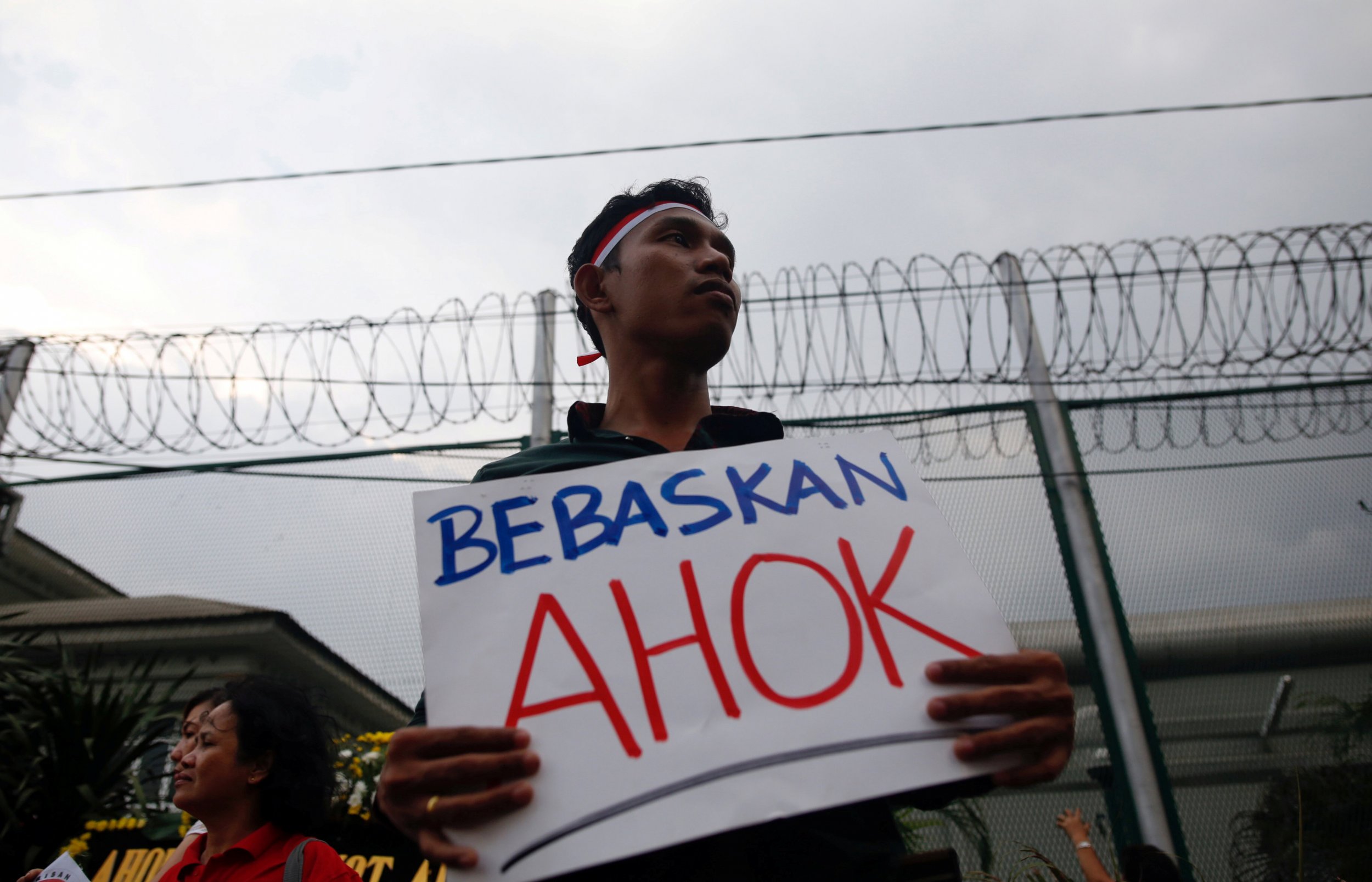 The surprise ruling by Indonesian judges against the incumbent governor of the Indonesian capital Jakarta has made international headlines. The blasphemy trial against Basuki Tjahaja Purnama—an ethnic Chinese Christian also known as "Ahok"—is symptomatic of the erosion of religious tolerance in Indonesia, which was considered a traditional characteristic of its plural society. But there is more at stake in the world's largest Muslim nation state.
This was Ahok's second setback in less than a month. In April, Ahok unexpectedly lost the city's gubernatorial elections to former education minister Anies Baswedan, who ran with the support of Islamic parties. Now adding insult to injury, a court has sentenced him to two years in prison for allegedly offending Islam. The judicial ruling and the outcome of the elections in Jakarta are not only a barometer of the country's political climate, but also a litmus test for the health of Indonesian democracy. On both accounts there are reasons for grave concern.
The lack of any credible evidence against Ahok for what were the flimsiest of charges to begin with, affirms once again that Indonesia's judiciary is rotten to the core. While the outcome of Ahok's trial bodes ill for the rule of law, his electoral loss spells not just an uncertain future for Jakarta, but also holds ominous political prospects for the country as a whole.
The victory of Anies Baswedan has not simply revealed him to be talented opportunist willing to make common cause with former political adversaries to further his own ambitions. More importantly is that it appears to replace Ahok's results-driven pragmatic policies, initiated by his predecessor and current president, the provincial outsider Djoko Widodo (Djokowi for short), with identity politics manipulated by (what I call Jakarta's) eternal elites.
A U.S.-educated political scientist and former university president, Anies Baswedan comes from a privileged family of Southern Arabian origin; his grandfather was one of the founding fathers of the Indonesian republic and a former minister of information. After working for two years in the Djokowi administration, Baswedan changed sides by accepting the nomination for governor of Jakarta from an alliance of opposition parties, led by former presidential candidate Prabowo Subianto.
Prabowo's shadow looms large over the whole Ahok affair. A retired special forces general with a very dubious human rights reputation following his role in East Timor and in the anti-Chinese riots that foreshadowed the 1998 fall of his then father-in-law, President Suharto, Prabowo is also the son of the late Sumitro Djojohadikusumo, Indonesia's most influential economic policy maker since independence.
Throughout his military and political career, Prabowo has built up a track record of orchestrating Islamist activism: Initially in the service of his father-in-law's New Order Regime, and later for his own purposes.
A case in point is the Islamic Defenders Front (abbreviated as FPI in Indonesian). This is a vigilante organisation founded in the initial chaos following the regime change of 1998 by Muhammad Rizieq Shihab. Although Shihab has a prominent Arab lineage, FPI's rank-and-file is predominantly composed of street thugs. As such it is the Islamic equivalent of the preman, the colloquial term for an Indonesian gangster, who rents out their "services" to political paymasters.
FPI has been at the forefront of a religious polarization that has intensified in the last decade. Taking full advantage of the unprecedented openness of Indonesia's political arena since the post-1998 Reformation Era, FPI has always driven an openly Islamist agenda. But it was the proclamation of a series of reactionary fatwas by the Indonesian Council of Islamic Religious Scholars in the summer of 2006 that emboldened the vigilantes even further. In these controversial rulings, Indonesia's pseudo-official religious establishment condemned the notions of secularism, liberalism and pluralism as "un-Islamic"; rejected interfaith prayers; and declared a Muslim minority group known as the Ahmadis as heretical.
FPI took this as a carte blanche to not only persecute the Ahmadis and obstruct Christians from worshipping, but also incite arson, and even mobilize lynch mobs against Indonesia's tiny Shia community. Gatherings of progressive-minded Muslims expressing solidarity with these minorities were violently disrupted as well.
The lack of decisiveness of the previous administration of President Susilo Bambang Yudhoyono, and the failure of police to maintain law and order did not help the situation. Although Indonesia is a signatory to international human rights conventions, it has a dismal record in enforcing the resulting obligations. While lip service is paid to the freedom of religion and expression, at the same time President Susilo lobbied for an international blasphemy protocol.
In the present Ahok case, FPI demonstrated its continued effectiveness by mobilizing crowds from far afield to gather in Jakarta for massive street demonstrations against the governor, which were also meant to intimidate current President Djokowi and put pressure on the judiciary. For the immediate future, it remains to be seen how Anies Baswedan repays his debt to Shihab and his FPI. In the longer run, they will also expect a reward from Prabowo if and when he turns out to be successful in the next presidential elections.
Carool Kersten is a historian of Islam at King's College London, and author of Islam in Indonesia: The Contest for Society, Ideas and Values.