Does Michael Kill Cordelia on 'American Horror Story: Apocalypse'? [SPOILERS]
Halloween night's episode of American Horror Story: Apocalypse revealed how Michael Langdon rose to power as the antichrist and also gave a sneak peek to what might be in Cordelia's future as she battles Michael to save the earth.
"I told Cordelia what I was going to do to all you," Michael (Cody Fern) says in the preview for next week's episode. In the following clip, Cordelia (Sarah Paulson) is shown convulsing on the bed. All season long Cordelia has said her powers were weakening, as another Supreme was getting ready to take her position. Viewers still don't know who the next Supreme will be, though many suspect its either Mallory (Billie Lourd) or Coco St. Pierre Vanderbilt (Leslie Grossman).
Wednesday's episode also brought back Michael's mentor, Ms. Miriam Mead (Kathy Bates). After revealing to a satanic cult that he is the antichrist, he's introduced to two tech billionaires, played by Evan Peters and Billy Eichner, who own a robotics company. Like other cult members, they've sold their souls to the devil and essentially get anything they want. They also are able to bring Ms. Mead back in the form of a robot after Cordelia burned her at the stake.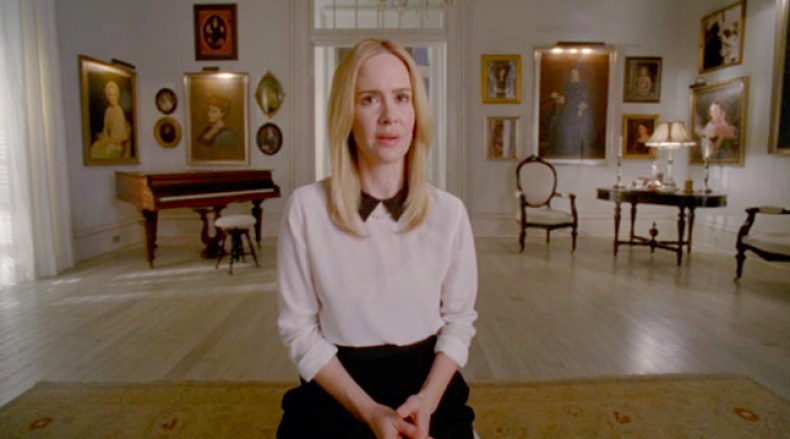 Throughout the episode, Michael is questioning his future. He stays in the forest for four days, refusing to leave until his father tells him what to do. With the help of the former Silicone Valley tech bros, Ms. Mead is able to advise Michael again. "It's time for you to do what you were put on earth to do," she tells him in the teaser for next week's episode, "Destroy it."
Viewers also saw the return of Paulson's Ms. Venable, who was killed earlier in the season at while running Outpost 3. She's a secretary for the tech bros and still has a penchant for wearing purple. "I am HR, bitch," she tells a worker who doesn't like her attitude, "and everything that matters. So do me a favor and get the f*** out of my sight."
One of the questions that might finally get answered next week is the cooperative. We're toward the end of the season and little is known about the group that selected Coco, Mallory and other members to be saved from the apocalypse in Outpost 3.
The season has been leading up to a battle of Michael vs. Cordelia, of good vs. evil. To find out what happens next, don't miss American Horror Story: Apocalypse when it airs Wednesday at 10 p.m. ET on FX.