Who Is Evan Peters's New Character on 'American Horror Story: Apocalypse'? [Spoilers]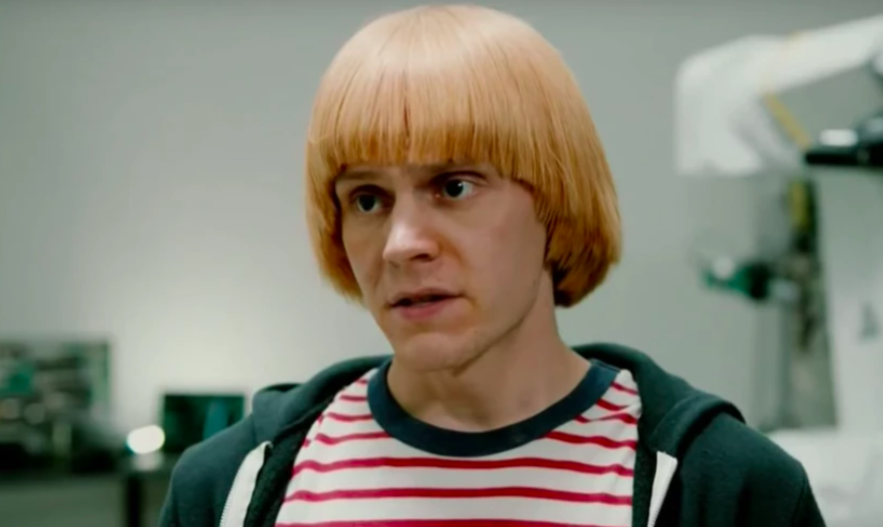 As if playing three different characters on American Horror Story: Apocalypse wasn't enough for Evan Peters, the acting is taking on a fourth role in Season 8. The teaser promo for episode 8 of Apocalypse showed Evans donning a horrible orange bowl-cut wig. Previously on this season, Peters played hairdresser Mr. Gallant, his revived his Hotel character James March and also brought back his Murder House role of Tate Langdon. He might also be the person in the Rubber Man costume, but his identity this season has not yet been revealed.
As based on the promo clip for episode 8, titled "Sojourn," Evans's new character is a devout follower of antichrist Michael Langdon (Cody Fern).
Michael expresses frustration with his new role as the antichrist. "I don't know what to do," he says. "Nobody gave me an instruction manual!"
The promo also teases the introduction of a new character, Sandra Bernhard as a fellow devil worshipper and as a priestess of the Satanic cult. "I need to feel some evil. I need to be repulsed," she says. Bernhard confirmed her appearance on next week's AHS via Twitter Thursday. "yes baby!" she wrote when a fan asked if she would appear.
The next part of the teaser is where Evans's character appears. "No offense but I thought you were going to be totally ripped like The Rock," he tells Michael. "We are your servants. How can we help?" Billy Eichner is slated to play the second bowl cut-wearing Satanic worshipper. He appeared earlier in the season as Coco St. Pierre Vanderbilt's husband, Brock, who later turned into a zombie of sorts.
The most telling part of the trailer comes when Cordelia Goode appears, telling Michael that his followers have been killed. In the last episode, she had John Henry (Cheyenne Jackson), who was brought back from the dead by Mallory (Billie Lourd) after some of the warlocks conspired against him, burn the two warlocks who betrayed him. She also had Miriam Mead, who raised Langdon and supported his evil ways, burned at the stake.
"It's over. We know who you are. Your allies are all dead," Cordelia tells Michael. "You failed." Michael lets out a blood-curdling scream.
The next episode will likely be the last flashback, tying up all the loose ends from the past. There are two more episodes left at 8 premiers, and they will probably take us back to Outpost 3 to see what happens after the apocalypse.
American Horror Story: Apocalypse airs Wednesdays at 10 p.m. on FX.