Aid Remains Locked in Syria As U.N. Urges Russia, Iran and Turkey to De-escalate Fighting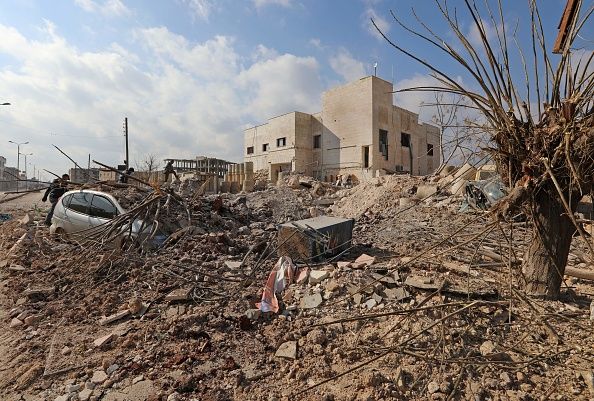 Amid the seven-year civil war that has plunged Syria into a humanitarian crisis, the U.N. warned on Thursday that aid delivery is "getting nowhere at the moment."
The announcement comes as Syrian President Bashar al Assad has intensified airstrikes while pushing deeper into a rebel-held province of Idlib. While Russian-sponsored peace talks were held this week, they were largely seen as a failure because fighting still continues.
"We cannot have conventional warfare in what is essentially a refugee camp," said Jan Egeland, the U.N. humanitarian adviser in Geneva, according to Reuters.
According to U.N. estimates, 13.1 million people require humanitarian assistance, including nearly 3 million people in hard-to-reach areas.
Calling the humanitarian flow "impotent," Egeland said that over the last three months "there hasn't been a single convoy of life-saving relief, medical supplies, food, to any besieged area."
The top U.N. advisor urged Russia, Iran and Turkey to aid in the de-escalation of fighting in the area, which has hindered the delivery of life-saving supplies. The last time the flow of aid reached this low was 2015, Egeland said.
Russia and Iran, close allies with Syria, and Turkey, who backs some Syrian rebel groups, have forged together to come up with a peace agreement. Known as the Astana Process, Turkish troops oversaw the so-called "de-escalation" zones of the last insurgent strongholds in Syria. The process sought to reduce fighting between pro-Syrian government forces and rebel fighters while monitoring any violations.
The deal established checkpoints in the zones that include Idlib Province and in Eastern Ghouta—the site of a recent alleged chemical attack by the Syrian government.
On Thursday, the Syrian opposition's Higher Negotiations Committee, which represents the rebels, said it would support a Russian-brokered constitutional reform initiative for the besieged country, but only if it was led by the U.N. However, the committee did not attend peace talks in Sochi, Russia, earlier this week because it was not under U.N. auspices. At the peace talks in Sochi, a commission was formed in order to draft up a new constitution for Syria.