'The Aid Suspension Had Become Linked': Top Diplomat Sondland Confirms Ukraine Quid Pro Quo and Other Testimony Revelations
The U.S. ambassador to the European Union, Gordon Sondland, told lawmakers spearheading the House impeachment inquiry that he told a Ukrainian official a White House meeting with President Donald Trump and U.S. military aid were tied to assurances that his country would investigate 2016 U.S. election interference and a Ukrainian company tied to the Bidens.
As House impeachment investigators continue to publicly release the closed-door testimonies from current and former Trump administration officials, the deposition transcripts of Sondland and former U.S. special envoy to Ukraine Kurt Volker were made available Tuesday.
Sondland's allegation of a quid pro quo was made in the form of an additional written declaration he provided to lawmakers on Monday after reviewing his and other officials' testimonies from last month. The confirmation made him the latest in a series of witnesses to corroborate that Trump sought to have a foreign entity investigate a potential political opponent, Joe Biden, in exchange for nearly $400 million in U.S. military aid meant to resist Russian aggression.
The issue of a quid pro quo tied to the aid and an investigation of Trump's political rivals is the crux of Democrats' impeachment inquiry.
Trump has repeatedly claimed to not know several of his own appointed officials and labeled them as "Never Trumpers." As someone who once donated $1 million to the president's inauguration committee and was appointed to his current position, Sondland is considered a Trump ally.
Below are the top takeaways from the testimonies of Sondland and Volker to members of Congress last month.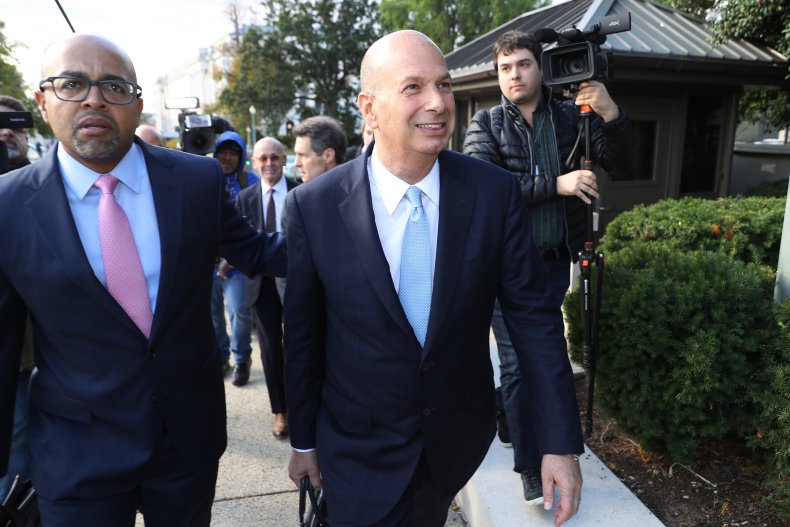 Sondland Confirms Quid Pro Quo
The EU ambassador told a top Ukrainian aide to President Volodymyr Zelenskiy on September 1 that "resumption of U.S. aid would likely not occur until Ukraine provided the public anti-corruption statement that we had been discussing for many weeks."
Sondland said he informed the Ukrainian aide of this after a meeting with Vice President Mike Pence and Zelenskiy, in which the Ukrainian president questioned why the congressionally-appropriated aid was being withheld.
The "anti-corruption" statement that Trump wanted was being pushed by himself and his personal attorney, Rudy Giuliani. It needed to include the terms "Burisma" and the "2016 election." Burisma is a Ukrainian energy company whose board once included Biden's son, Hunter, and the 2016 election reference is in regard to a debunked conspiracy theory that election meddling that year originated from Ukraine—not Russia. By promising a probe into the matters, Zelenskiy would be investigating a political foe of Trump.
"[I]n the absence of any credible explanation for the suspension of aid, I presumed that the aid suspension had become linked to the proposed anti-corruption statement," Sondland said in his additional written testimony. He added that the security of Ukraine was "in our vital national interest and should not have been delayed for any reason."
Sondland added that while he believed the withholding of aid was "ill-advised," he "did not know (and still do not know) when, why or by whom the aid was suspended."
Volker didn't buy Giuliani's and Trump's "anti-corruption" claims
The former U.S. special envoy to Ukraine said claims by Giuliani and Trump that they simply wanted assurances from the foreign country to tackle previous wrongdoing in an "anti-corruption" statement were, in his view, not truthful.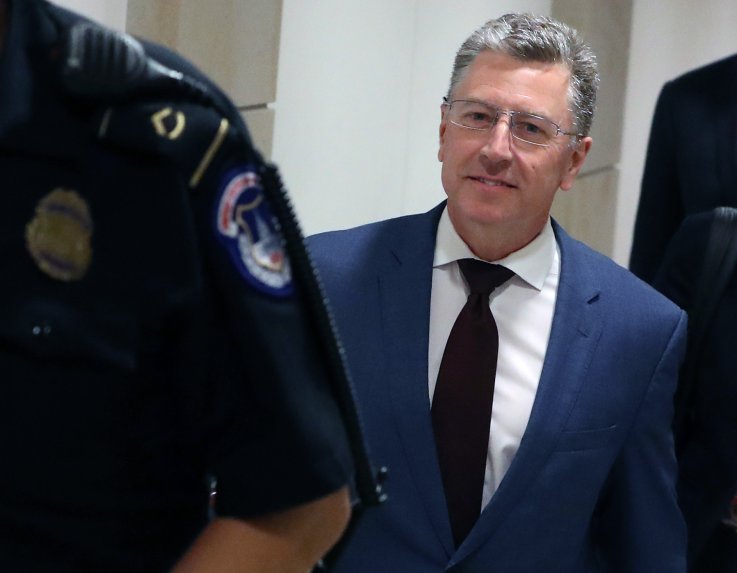 Former U.S. special envoy to Ukraine Kurt Volker after a closed-door meeting at the Capitol on October 16.
Getty/Photo by Mark Wilson
Volker said he believed Giuliani's desire for the Ukrainian government to investigate Burisma had nothing to do with potential money laundering or other criminal conduct.
"I believe that Giuliani was interested in Biden, Vice President Biden's son Hunter, and I had pushed back on that, and I was maintaining that distinction," he said. Volker further said that it was his understanding that a theory of corruption involving the Bidens had been debunked and that there was no evidence of criminal wrongdoing.
Sondland suggested it could be illegal for Trump to ask Ukraine to investigate the Bidens
"I'm not a lawyer, but I assume so," Sondland responded when asked by Representative Raja Krishnamoorthi (D-IL) if it would be illegal for Trump to pressure Ukraine to investigate the Bidens.
"Again, I'm not a lawyer. I don't know the law exactly. It doesn't sound good," Sondland said, adding that he believed such an act would be "improper."
Secretary of State Mike Pompeo was aware of Giuliani's involvement in U.S.-Ukraine affairs
Sondland told lawmakers that he spoke with Pompeo directly about Giuliani's involvement in trying to influence U.S. foreign policy on Ukraine.
"Pompeo rolled his eyes and said, Yes, it's something we have to deal with," Sondland said. "Again, people usually smiled when they heard Rudy's name, because he was always swirling around somewhere.... The State Department was fully aware of the issues, and there was very little they could do about it if the president decided he wanted his lawyer involved."
Giuliani, according to prior testimony from witnesses, was largely responsible for Trump souring on his former U.S. ambassador to Ukraine, Marie Yovanovitch, and pressuring the State Department to oust her. The personal attorney also pushed conspiracy theories and false information, according to witness testimonies, about corruption in Ukraine, distorting the president's opinion of the country.
Sondland speculated that Pompeo and other State Department officials "hit a brick wall when it came to getting rid of Mr. Giuliani."