Ailing Jenna Jameson Declares Support for Joe Rogan Amid Spotify Backlash
Jenna Jameson has spoken out in defense of Joe Rogan after accusations that he shared COVID misinformation on his Spotify podcast.
A number of musicians—including Neil Young, Joni Mitchell and Nils Lofgren—and podcasters are removing their content from Spotify in protest at the streaming giant keeping The Joe Rogan Experience on the air.
Former adult film star Jameson, who has been in hospital for weeks with a mystery ailment, posted a message to her Instagram Story on Thursday that read: "I stand with @joerogan. Don't let them silence you!"
The 47-year-old was initially diagnosed with the autoimmune disorder Guillain-Barré syndrome, but her partner later revealed that this was a misdiagnosis and doctors were conducting more tests.
When Jameson first told her Instagram followers about the GBS diagnosis, commenters asked whether it was connected to the COVID vaccine. GBS has been recorded as a "very rare" possible side effect of the Johnson & Johnson shot. However, Jameson declared in a follow-up video: "I did not get the jab or any jab."
The Centers for Disease Control and Prevention states that COVID-19 vaccines are "safe and effective," advising that people "get either Pfizer-BioNTech or Moderna (mRNA COVID-19 vaccines). The mRNA vaccines are preferred over Johnson & Johnson's Janssen COVID-19 vaccine in most circumstances."
The row over Rogan's podcast, which is Spotify's most popular show with an estimated 11 million listeners per episode, has been rumbling for weeks.
Hundreds of scientists and medical professionals signed an open letter to the streaming giant in January, accusing him of "repeatedly spread[ing] misleading and false claims"—particularly in episodes featuring vaccine skeptics such as Dr. Robert Malone and Dr. Peter McCullough.
Amid the fallout, Rogan posted a video statement to his Instagram account on Sunday, in which he described Malone and McCullough as "very highly credentialed, highly intelligent, very accomplished."
He also admitted that his show had become an "out-of-control juggernaut that I barely have control of."
The New Jersey-born star added that he agreed with Spotify's new policy of adding "content advisory" warnings on shows discussing COVID, saying: "Sure. Have that on there. I'm very happy with that."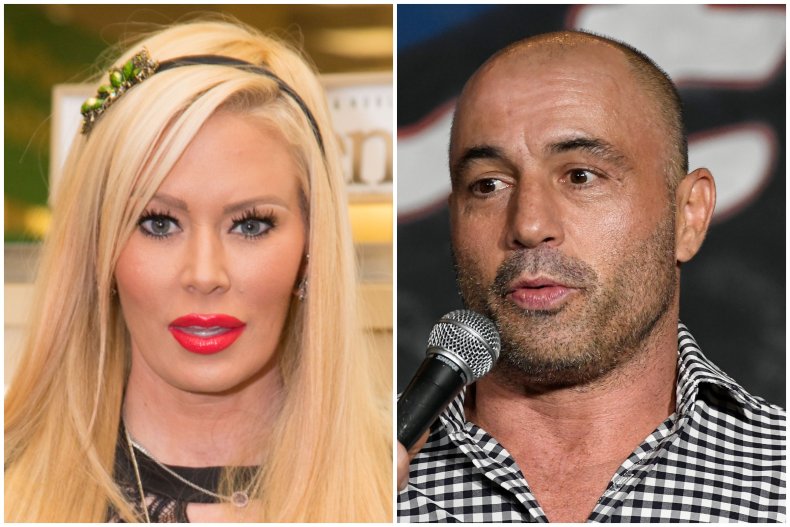 Rogan also vowed to book a more balanced roster of guests, saying: "If there's anything I've done that I could do better, that is to have more experts with differing opinions right after I have the controversial ones. I would most certainly be open to doing that.
"I would like to talk to some people that have differing opinions on those podcasts in the future. We'll see. I do all the scheduling myself. I don't always get it right."
"These podcasts are very strange because they're just conversations," he went on. "Oftentimes I have no idea what I'm going to talk about until I sit down and talk to people and that why some of my ideas are not that prepared or fleshed out because I'm literally having them in real time. But I do my best.
"They're just conversations and I think that's also the appeal of the show—it's one of things that makes it interesting."
He also made a vow to his audience: "My pledge to you is that I will do my best to try to balance out these more controversial viewpoints with other people's perspectives so we can maybe find a better point of view.
"I don't want to just show the contrary opinion to what the narrative is. I want to show all kinds of opinions, so that we can all figure out what's going on—and not just about COVID, about everything. About health, about fitness wellness, the state of the world itself."
Rogan also insisted that he had no hard feelings toward Young and Mitchell—and had a message for his "haters."
"Thank you to the haters, because it's good to have some haters. It makes you reassess what you're doing and put things into perspective," he said.