RIP Aimee Stephens: Woman at Center of Landmark Supreme Court Case For Trans Rights 
A Michigan woman fired for being transgender, leading to landmark and pending U.S. Supreme Court case, died Tuesday. Aimee Stephens, 59, died of kidney disease while in hospice care at home.
"Aimee is an inspiration. She has given so many hope for the future of equality for LGBTQ people in our country, and she has rewritten history," Stephens' wife, Donna, said in a statement released to Detroit News. "The outpouring of love and support is our strength and inspiration now."
In 2013, Stephens informed her boss, Thomas Rost, of her transition and was fired a few weeks later, admitting in a deposition that he had done so because Stephens "wanted to dress as a woman" and would no longer "represent himself as a man."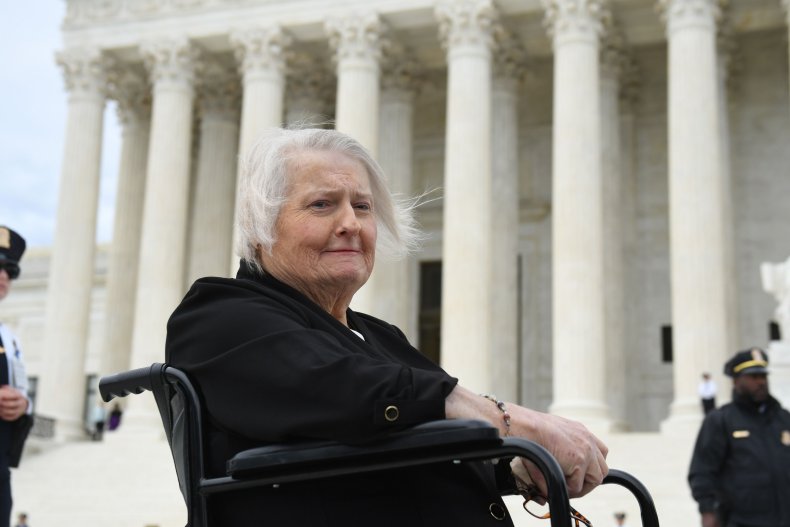 Stephens took her case to the Supreme Court, with a ruling anticipated by July on whether Title 7 of the federal civil rights law covered discrimination against transgender people under its prohibition on workplace discrimination based on sex. She was the first transgender person to have a civil rights complaint heard in front of the Supreme Court.
In a wheelchair when oral arguments were heard by the Justices in October, Stephens' kidney conditions deteriorated further and she discontinued dialysis in the days leading up to her death.
The ACLU celebrated Stephens' life as a "hero and a trailblazer."
"Sadly it appears that Aimee will never see the result of her valiant and difficult fight for transgender rights," her brother-in-law John Pedit wrote on a GoFundMe page raising funds for funeral expenses and hospice care.
"I believe in what I'm doing. I've stood up for myself to make sure that it happens. That's what keeps me going," Stephens said, in regards to her ongoing legal battle. "If you're part of the human race, which we all are, we all deserve the same basic rights. We're not asking for anything special. We're just asking to be treated like other people are."