'Ain't Happening With a Kamala-Biden Ticket': Joe Buck and Troy Aikman Caught on Hot Mic Describing Military Flyover
Fox Sports broadcasters Joe Buck and Troy Aikman were caught on a hot mic on Sunday describing a military flyover, and Aikman appeared to suggest that they wouldn't happen with Democrats in office.
At the start of Sunday's game between the Tampa Bay Buccaneers and the Green Bay Packers, several military aircraft flew over Raymond James Stadium in Tampa, Florida.
In a video obtained by Defector Media, Aikman can be heard saying, "That's a lot of jet fuel just to do a little flyover."
In response, Buck said, "That's your hard-earned money and your tax dollars at work."
"That stuff ain't happening with the Kamala-Biden ticket, I'll tell you that right now, partner," Aikman said at the end of the video, referring to the Democratic presidential candidate Joe Biden and his running mate, California Senator Kamala Harris.
Military flyovers are popular before a number of big games, such as the Super Bowl or the College Football Playoff championship game, but Aikman, the former three time Super Bowl champion, made his remarks during a game that was limited to just 25 percent fan capacity amid the novel coronavirus pandemic.
While it is unclear how much the military flyover for the game between the Buccaneers and the Packers cost, several reports have shown the ceremony is expensive. According to a report from The Washington Post, a squadron of military fighter jets cost at least $60,000 per hour, but a senior military official told the publication the cost of the flights will come from money already within the Pentagon's budget.
This is not the first time military flyovers have been criticized as a waste of money, as after the 2011 Super Bowl in Dallas jets flew over the a closed roof stadium for a reported cost of $450,000.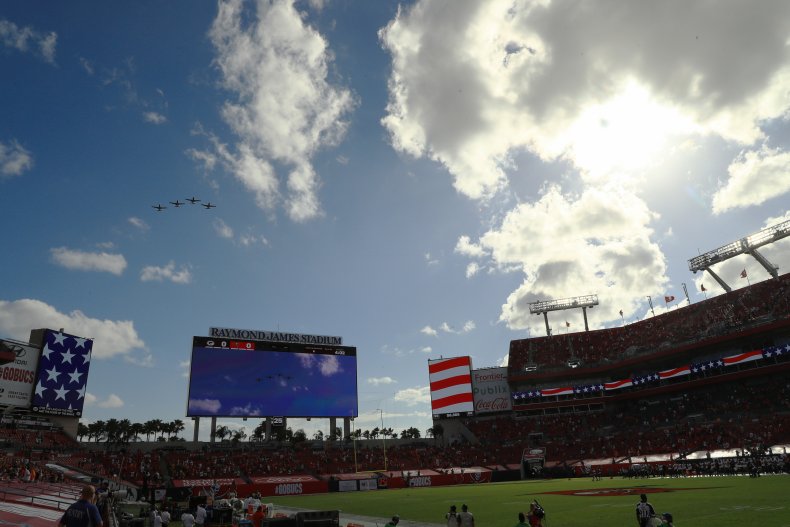 Shortly after Aikman's comments were heard, people across social media took to their preferred platforms to discuss how they felt.
"Troy Aikman and Joe Buck are caught on a hot mic questioning the government's expenditure of doing a military flyover of a football stadium that's almost empty due to COVID. I don't see controversy in their statements. It's fair to question a $100,000+ taxpayer cost there," Twitter user Patrick Scott Patterson wrote.
American country singer John Rich also chimed in, with a different stance, writing, "I'm a lifelong @dallascowboys fan, but hearing @TroyAikman belittle our military as they flew over the stadium has officially twisted my mind into a knot. #Disappointing."
During Sunday's game, the Buccaneers, led by recently added quarterback Tom Brady, trounced the Packers 38-10.
Newsweek reached out to Fox Sports for comment but did not receive a response in time for publication.