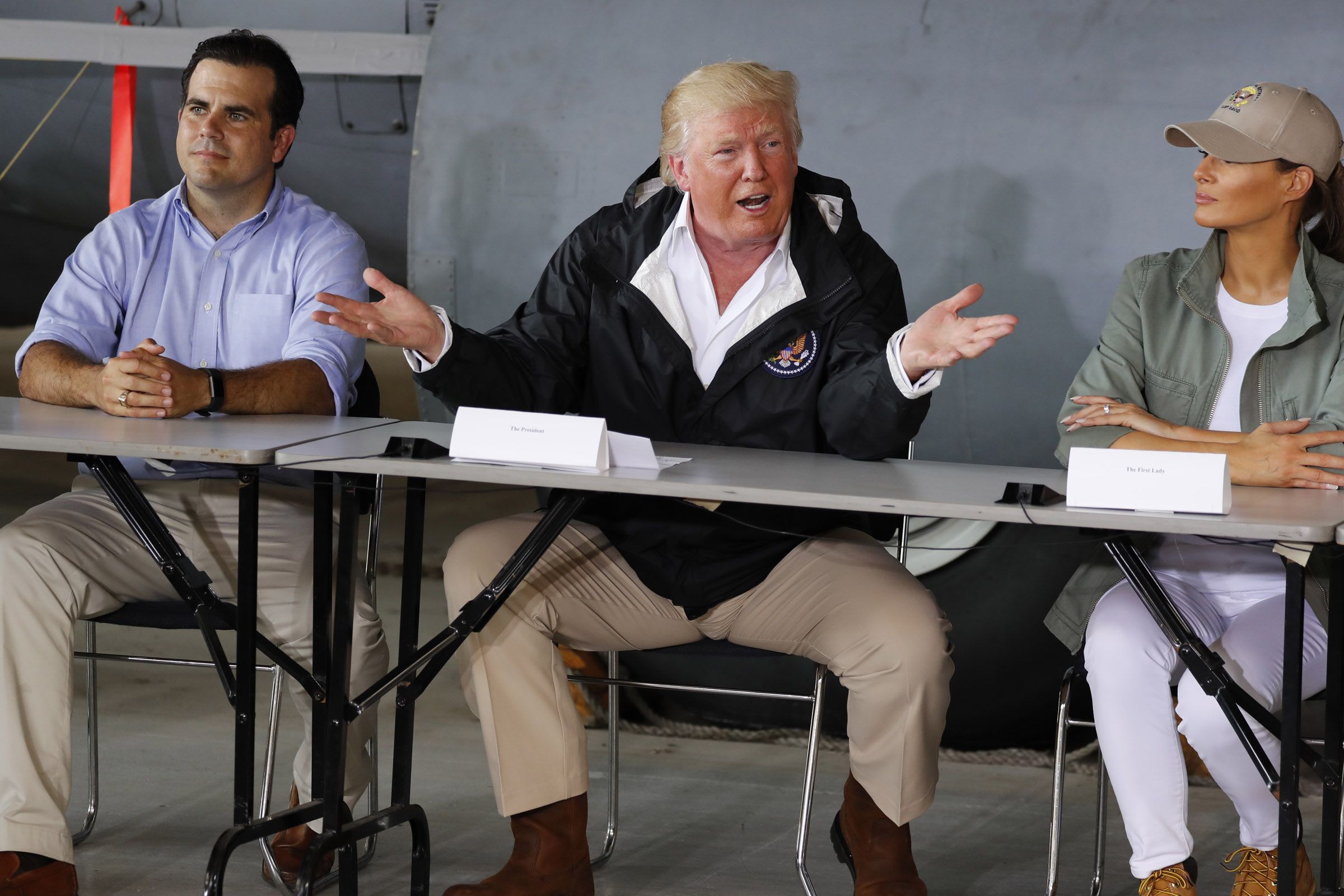 Well, they do both wear blue.
President Donald Trump lavished the Coast Guard with kudos during his Tuesday visit to storm-ravaged Puerto Rico, piling on the praise until being politely informed he was actually addressing a representative of the Air Force.
"A lot of people got to see the real Coast Guard during this incredible trouble, and especially I think here and in Texas was incredible what they did. So thank you all very much.... We appreciate it. Really appreciate it," Trump said during a briefing on hurricane recovery efforts held at the Luis Muñiz Air National Guard Base.
"Would you like to say something on behalf of your men and women?" the commander in chief then asked.
"Sir, I'm representing the Air Force," came the response.
The following line is from an official White House transcript: THE PRESIDENT: No, I know that.
The Air Force official reported to Trump that since Hurricane Maria's landfall in Puerto Rico, which led to the deaths of at least 16 people and left thousands without homes, power or even access to drinking water, four major runways have been fully opened to accommodate air traffic during the recovery effort.
"Amazing job. Amazing job," cheered the president, who attended the private New York Military Academy boarding school as a teenager.
"So amazing," Trump continued, "that we're ordering hundreds of millions of dollars' worth of new airplanes for the Air Force, especially the F-35. Do you like the F-35?"
The Air Force rep complimented the "game-changing technology" of the F-35 fighter jet, spurring Trump to announce, "You can't see it. Literally, you can't see it. So it's hard to fight a plane that you can't see, right?"
Shortly after Trump began enthusing about the phenomenally expensive F-35, which is technically not invisible, Bloomberg News noted that Trump's chief of staff, retired Marine Corps General John Kelly, headed over to whisper in the president's ear.
It was one of several moments described as slightly awkward during the president's visit to Puerto Rico, where he also kiddingly informed the weather-ravaged commonwealth, "You've thrown our budget a little out of whack."
Trump, who's tangled with the mayor of San Juan over the progress of recovery efforts on the storm-lashed island, also praised the military and first responders during a visit to a chapel, where, per a press pool report, he was greeted with cheers and signs reading, "Proud Americans" and "Let's Make Puerto Rico Great Again."
The report went on to say: "In a surreal scene, Trump handed some packages of 'Arroz Rico' brand bags of rice to members of the crowd."
The next moment was preserved for posterity:
"Then in his best Stephen Curry impersonation," the pooler wrote, "Trump held up his arm and softly shot paper towels into the crowd, which they enjoyed."