Air Force Officer Tried to Bribe EMT to Give Him Vaccine Card Without Shot: Police
Tucson, Arizona police are looking into an incident in which an Air Force officer allegedly used force and attempted bribery to receive a COVID-19 vaccine card without getting vaccinated.
EMT Mariella Carrasco, who was administering vaccines at a Rescue Me Wellness site, received the Air Force officer and gave him his paperwork to fill out, per standard routine.
"Everything was going good," Carrasco told local news station KOLD.
While she was getting the vaccine prepped, the officer, who is stationed at the nearby Davis-Monthan Air Force Base, allegedly produced a stack of money and looked at Carrasco, she said.
According to the police report, "he had not directly offered her money to fill out the paperwork falsely, but he had a wad of hundred dollar bills that he was flipping through in his hands as he asked her to do it." Carrasco estimates it was a total of $400 to $500.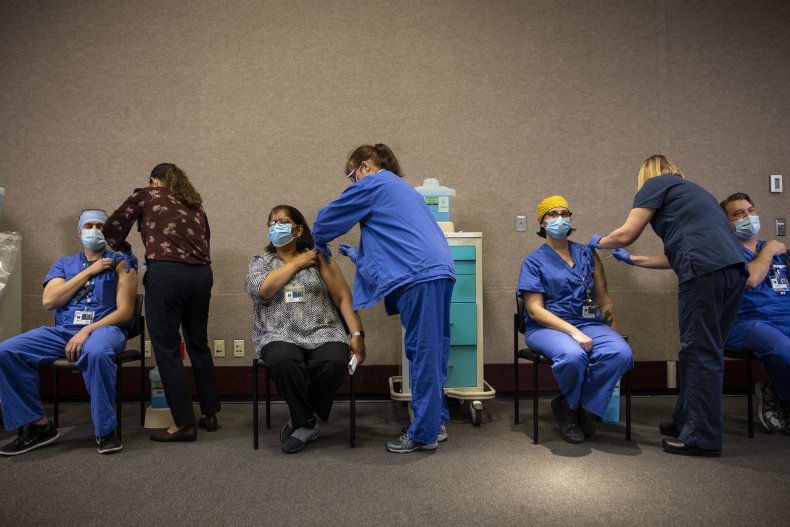 Carrasco claimed that when she refused "multiple times" to fill out his card without giving him the vaccine, he took the syringe from her and "pretend[ed] to administer the vaccine."
"He went around to the backside of his arm, kind of grazed his arm," Carrasco told KOLD. "Every time I was moving closer, he moved his arm back and as his arm was back, he shot the liquid down so it hit the table."
Carrasco took the vaccine away. When she reported the incident to a provider at Rescue Me, the officer followed her and apparently tried to convince a nurse that he had given himself the vaccine.
The man was not given a vaccination card at that time, but he did wind up getting a vaccine later.
Sergeant Richard Gradillas of the Tucson Police Department told Newsweek that the incident was called in as an assault but was cleared as "disturbing the peace." No arrests have been made, and the victim has chosen not to prosecute.
Police told local news station WLBT News in an email that, "because no specific conduct was discussed, no documents were exchanged and Carrasco is not a public official, 'the criminal violations of solicitation, bribery or forgery did not meet the statutory requirements.'"
Davis-Monthan Air Force Base has begun its own investigation and said in a statement to KOLD that the officer's conduct "[is] not in line with our service's core values."
"The Air Force fully supports the Department of Defense's requirement for all U.S. service members to be vaccinated against the COVID-19 virus," said Elias Small, chief of public affairs for Davis-Monthan. "Vaccinations not only protect the health and welfare of our Airmen, but also ensure our readiness and the combat capability needed to defend our nation."
Update 10:24 a.m. 9/24/2021: This story has been updated with a comment from Elias Small.