Air Force Senior Airman Confronted Outside Starbucks for Speaking Spanish: 'It's Distasteful'
A bilingual member of the Air Force was confronted by a woman who told her she "shouldn't be speaking Spanish."
On July 17, Xiara Mercado was talking with a friend on the phone in Spanish as she waited for her order at a Starbucks in Hawaii. After she hung up and got her drink, Mercado felt a tap on her shoulder as she walked outside.
"You shouldn't be speaking Spanish, that's not what that uniform represents," an unnamed woman told her. "It's distasteful."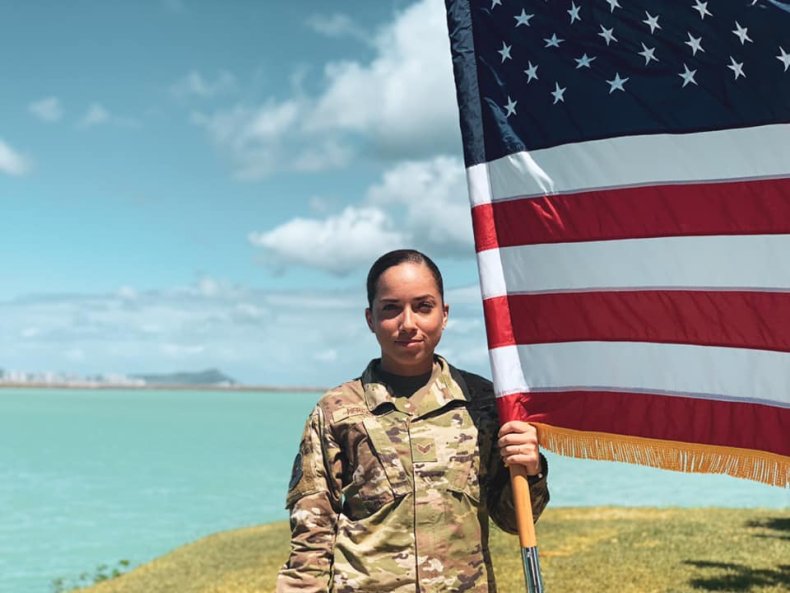 When Mercado, a senior airman stationed in Pearl Harbor, asked her to clarify, the stranger replied, "You speaking another language that does not represent America and that uniform you are wearing. That's distasteful."
In a post on Facebook later that day, Mercado admitted she was shocked by her comment. Taking a moment to collect her thoughts, she replied, "I'm sorry, ma'am, the only distasteful thing here is that you are clueless to your discrimination. Please educate yourself."
She told the woman to have a nice day and began walking away, when her antagonist barked, "I don't know how you are allowed to wear that uniform."
Mercado stopped, turned around and said, "I wear it proudly" before continuing on her way.
In her Facebook post, Mercado admitted the incident saddened her, "but above all I am disgusted. Even though I wanted to say a lot more I have respect for people and the uniform I wear. That's the best I could do in that situation."
She revealed that one person told her she should have "smiled and apologized."
"Um, I'm sorry—what!?" she wrote in response to the suggestion. "If you don't see what is wrong with my story you are part of the problem."
Mercado's post, which was accompanied by a photo of her in uniform, has been shared more than 30,000 times and received more than 2,300 comments—in Spanish and English—mostly commending her for her service and her cool head.
"Sorry she disrespected you but ignorance comes in different sizes and shapes unfortunately," wrote one woman. "You did right—don't [stoop] to their level. Be proud of who you are and represent."

"Thanks for keep calm with the ignorance of the ignorant," added another. "God bless you and protect our troops from where ever they come."
Mercado says he intention wasn't to incite divisiveness, and she intentionally decided not to mention that that woman was white.
"All I want from this post is for people to be aware of the ignorance out there and that we should take the time to address it, not let it go, but to do it in a tactful way and not stoop down and be bullies like they are," she told DeadState. "This is not a post about language. This is about America and respect for others with different religions, backgrounds, ethnicities, sexual preferences... America is about freedom and respect. That's what I fight for—for everyone."
Correction: This article has been updated to reflect the proper formatting for DeadState.
Correction: This article has been updated to indicate Mercado is a senior airman, not an officer.