Air Force Told Mother of Drone Critic That ISIS Is After Her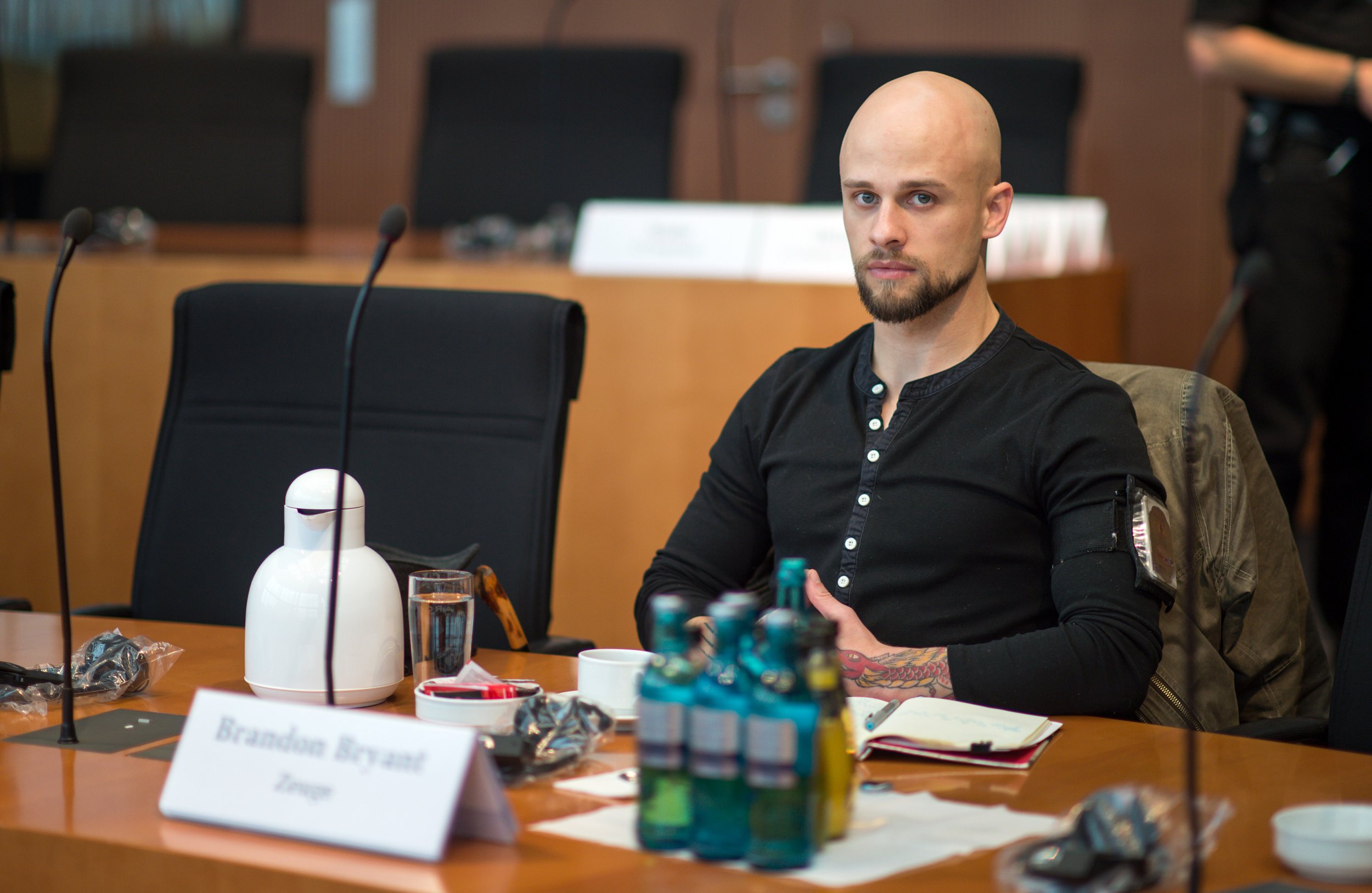 Updated | On October 15, former U.S. drone operator Brandon Bryant testified before the German Parliament about the role the U.S. air base in Ramstein, Germany, plays in the U.S. drone program. Hours later, Shadowproof reported, two American Air Force officers showed up at the house of Bryant's mother in Missoula, Montana, to inform her that she was on the "hit list" of the Islamic State militant group (ISIS), which Bryant's attorney is calling a clear sign of whistleblower intimidation.
Bryant, now an outspoken critic of the U.S. drone program, left the Air Force after what he described as a moment of moral clarity. "We were hunting for Anwar al-Awlaki, an American citizen," he told a German parliamentary inquiry committee last week. "I suddenly realized that by doing what I was doing I was going against the American Constitution which I had sworn to protect. That was when I decided I had to get out."
He went on to describe the integral role the U.S. military base in Ramstein plays in the U.S. drone program. "Ramstein is absolutely essential to the U.S. drone program. All information and data go through Ramstein. Everything. For the whole world. Also for the CIA operations," he said.
A classified U.S. Intelligence document, obtained by the Intercept in April, confirmed that the Ramstein air base hosts "a satellite relay station" for drone flight control data, allowing operators sitting in bunkers in the Nevada desert, for instance, to control drones more than 7,000 miles away in countries like Afghanistan, Pakistan, Yemen and Somalia. Following the document's leak, a Yemeni family who lost two relatives in a U.S. drone strike brought a lawsuit against Germany for its role in the deaths. A German court in Cologne rejected the lawsuit, saying it had no legal grounds to control how the U.S. uses the base.
On the day of his testimony, the Intercept also published a cache of secret military slides, called "The Drone Papers," obtained from an unnamed source within the U.S. intelligence community. The documents shed new light on the U.S. military's covert, lethal drone operations in Afghanistan, Somalia and Yemen between 2011 and 2013, detailing how the U.S. decides who to target and how the government conceals unintended deaths. Radack thinks Bryant may be under investigation for being a potential source in the Intercept's Drone Papers.
In the hours after the Intercept published its damning report and Bryant gave his testimony in Germany, two men from the Air Force Office of Special Investigations (OSI) visited his mother's home in Missoula. The men allegedly told his mother that her personal information was compromised in the massive Office of Personnel Management (OPM) systems hack, which occurred earlier this year, and that they were required by law to inform her.
Later, Michael Crunk, one of the OSI employees who visited LanAnn, told Bryant's attorney, Jesselyn Radack, that ISIS had purchased the OPM information—which was allegedly accessed by China—on the black market.
The two men also reportedly told LanAnn, Bryant's mother, that she was on an ISIS "hit list," handed her a brochure on how to protect herself on social media, and told her to call 911 if she saw suspicious vehicles or people, or received strange phone calls.
Radack, whose clients also include Edward Snowden and Thomas Drake, says this is a clear case of whistleblower intimidation. In March, Radack explains, Brandon and another one of her clients, also a former drone operator who has written anonymous articles critical of the U.S. drone program, were also told that they were on an ISIS list and needed to lower their social profiles.
"[T]his had absolutely NOTHING to do with whistleblower intimidation!!!" OSI spokeswoman, Linda Card, told Radack in an email shared with Newsweek. Card went on to explain that the FBI collects names of people who are found on ISIS-linked lists, and sends any Air Force–affiliated names to OSI, which has a "duty to inform."
But Radack thinks the Air Force's claims about LanAnn seem unrealistic, pointing out the unlikelihood that "ISIS culled through 22 million names and their contacts...found Brandon's name and put his mother's name on their list."
The Air Force did not respond to Newsweek's request for comment by time of publication. But speaking to U.S. News, Card said, " When you start talking leaked documents and security interests and drones in the same sentence, you're going to raise ISIS's interest…[Brandon's] in the news. If he hadn't done that and got in the news, she probably never would have gotten on a list."
"I am aware of the danger that I had thrown myself into," Bryant said in an email to Newsweek. "That has been the most difficult to deal with because I knew that it would put those that I love in danger."
But Radack sees the notifcation as an attempt to silence her client. "The Air Force is delivering death threats from ISIS," she says."They're essentially saying that if you're talking publicly about what you did in the drone program, if you exercise your first Amendment rights in talking about this, you're going to wind up on an ISIS hit list. That is a very intimidating message."
This article has been updated to include comment from Brandon Bryant.