'I'm Using Air Guitar To Get Through Lockdown In New York'
I'm an air guitarist who lives in Brooklyn, New York—currently the city at the heart of the U.S. COVID-19 pandemic.
We're on lockdown, so my husband, my son and I don't really leave home at the moment—except just once a week to get groceries.
Back in 2008, a few years after I moved to New York, I was at a party and met an air guitarist called Taryn "Bettie B. Good" Kapronika. I've always sung karaoke, and I love being on stage, and she said to me, "If you love being on stage, and you love metal, you need to do air guitar!" So I started competing in 2009.
I was sold from day one. I get to wear ridiculous clothes and perform on stages at venues like The Bowery Ballroom and The Brooklyn Bowl. The U.S. Air Guitar Championships happen each year—the national champion, and a few other qualifiers, go on to represent the U.S in the annual Air Guitar World Championships in Oulu, Finland. In 2014 I was one of those representatives, although Nanami "Seven Seas" Nagura from Japan won that year.
I have a main air guitar character—Mother FeathAIR—who is based on the band Mother Feather. That character actually has an evil twin sister called Twisted SistAIR, who is even more hard-core. Air guitar characters often evolve over time—they have their own "lives" and some have extensive back stories.
Since our family went into lockdown in New York on March 17, air guitar has become an even bigger part of our lives, because we're trying to find more joy in small things. I'm the digital marketing director at a book ideas club, Next Big Idea Club, my son Lorenzo is homeschooling, and I'm managing both. Music is our biggest escape right now.
We practice air guitar every day in the apartment, and when we need a little reprieve, we go to the roof and play music—there's a lot of air guitar, dancing and high kicks. Lorenzo is an energetic seven-year-old and he's grown up thinking that all moms do air guitar—that when there is guitar music playing, you are doing something ridiculous.
Air guitar is partly about improvisation and character development, and improvisation can come in many different forms. During lockdown it might be going with the flow of the day, trying not to get frustrated when you had a plan and it didn't happen.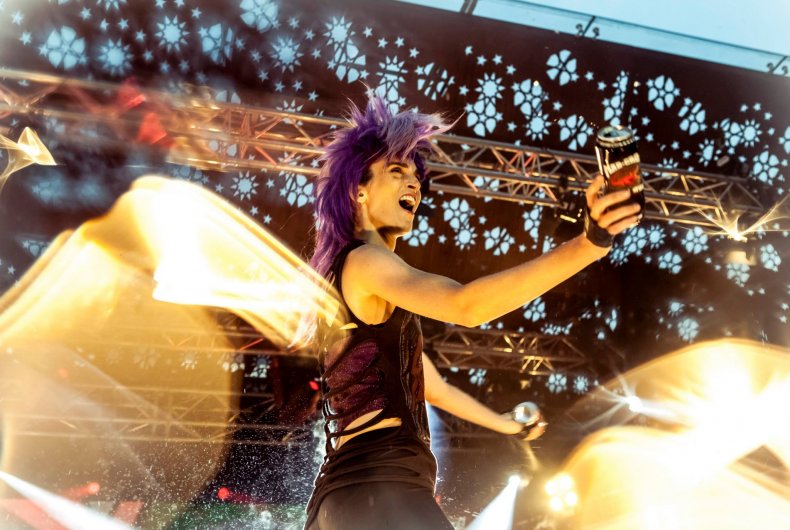 At the moment I'm mostly in "mom mode," but of course sometimes I still want to have "fun mode." Often as an air guitarist, you'll spot ridiculous clothes and think, "oh, that's an air guitar costume!" But then they don't quite work, so I currently have a bin of failed stage outfits.
Recently I've been pulling some of those clothes out and wearing them—like unicorn leggings and steam punk pieces. Or, I'll find the brightest colored item and a put on some lipstick just to feel a little more "up."
Every Saturday night I take part in Zoom video dance parties, playing air guitar. And I've been taking a heavy metal yoga class online twice a week—they fully encourage yoga and air guitar at the same time. I'm so glad that's a thing.
Since lockdown, a lot of my friends have been struggling with their businesses. So as well as my main job, I've been doing digital marketing 101s with people—including a yoga teacher, a bakery owner, and a dentist—to help them and transition their businesses online.
Those have been video calls, so I'll put music on at the end and suggest we dance or air guitar. Some people think it's too silly, but if they're open to it, I'll usually say, "do you want to dance with me?" and I'll be doing some air guitar.
Recently I was on a call with an author friend of mine named Tania Katan, and we spent some time playing air guitar together. That was how we ended our call—it was a really good release.
In late April, air guitarist John "Jesse Isengard" Humphrey released a video of a bunch of us air guitarists from all around the world, including myself, performing remotely to What a Wonderful World. It's definitely something creative that's come out of the pandemic.
John said to us, "I want to do this compilation, what have you got?" He was the "talent wranglair" and then another air guitarist, John "Shreddy Eddy" Hauser, was the video's "editor extraordinaire."
We're a family of weirdos, I know 100 people minimum, maybe 150, around the world because of my participation in air guitar.
But there was a point, after becoming a wife and a mom, where I thought that I really shouldn't be an air guitarist anymore. I thought, this is silly, I have to be professional. And what does a professional look like? Not like this.
Then I went through treatment for breast cancer in 2015 and 2016, and I found that I was using techniques I learned from air guitar to cope—the improvisation, the character, the way you can change your small space, just by adding some music and attitude.
That's really what it's about, now and then. Whether in the chemo chair five years ago, or in my apartment for the many weeks that we've now been indoors, it's still the same principles I've been tapping into.
That's what's made me start competing again in 2017. Because I thought, what brings me joy? I got into air guitar because all I want to do is be on stage and be a quirky lady wearing costumes and dancing. I want to listen to great music and make friends—I'm never leaving that again.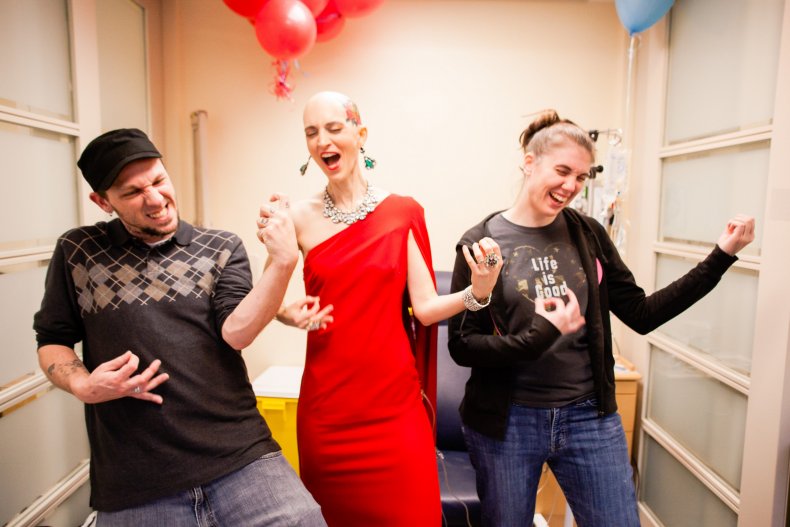 The whole point of air guitar is that anyone can do it. You don't have to know the guitar to play air guitar—it's almost better if you don't. If you enjoy guitar music there's no reason not to just tap into that 14-year-old child inside you during lockdown—jump up on the bed and rock out.
And if you're inside with younger kids, try Caspar Babypants—children's music by Chris Ballew, the lead singer from the band Presidents of the United States of America.
Every album is good—they help when young kids want to get some crazy energy out. It saved us when Lorenzo was a toddler—he would play air guitar while I would be practicing air guitar to be in a show.
It is sad that the U.S. Air Guitar National Finals are postponed until August this year. I think everyone's disappointed, but we know we can be "together-apart"—that's why we all took part in the compilation video.
Air guitar is broader than just being goofy on stage—it's all about creative expression, and fun. The air guitar community is an incredibly diverse group. And politically diverse too, so we have strong friendships and very honest conversations about different topics.
It really allows connection, release and for each of us to be accepted by a global community of people that you can draw on in times of need.
Another air guitarist, Kara "Picante" Muir, has been going through cancer treatment for a while now. Though I have only met her once, I feel like she is a close friend because of the air guitar community. She received her diagnosis a while ago, but now we're in lockdown it feels even more important to reach out, so we connect a lot.
The air guitar community was there for me when I was sick, just like we're there for Kara now. And it works out, music brings us together.
My tips for playing air guitar during lockdown:
Whether you're right-handed or a left-handed, put one arm out like you're holding a "there" guitar. With your other hand, make an OK sign with your fingers and relax it a little bit—that's your picking hand. Then just strum to the beat, making sure your high notes are close to your body, and the low notes are further away.
From there, what's really exciting is to remember that you don't actually have a guitar. So, on a break when there's no guitar, you can throw that guitar up in the air, or boomerang it around the room!
Sometimes people pretend to swallow the guitar and dance with it inside their stomach and bring it back out. You also can smash a fake guitar—that can be very therapeutic. Air guitar is not about perfection, it's about creative expression, so there are no boundaries.
Marquina Iliev-Piselli is a wife, mother, digital marketer, TEDx speaker, breast cancer survivor, competitive air guitarist, insufferable karaoke singer, and all-round goofball living in Brooklyn, New York.
As told to Jenny Haward