Air National Guard Serviceman Killed in Roadside Stabbing, Police Search for Suspect
Updated| A Missouri man killed in a roadside stabbing Saturday night has been identified as a member of the state's Air National Guard.
Cody Harter, 23, was found dead on the side of a highway after being stabbed. Police said that witnesses saw two cars pulled over on the shoulder of a highway and two men engaged in what appeared to be an argument. Police said the two men ended up behind the cars where they believe that Harter was stabbed.
The stabbing happened near the interchange of Missouri 291 and Interstate 470.
Police said that Harter then stumbled back roadside and into traffic where he was found dead.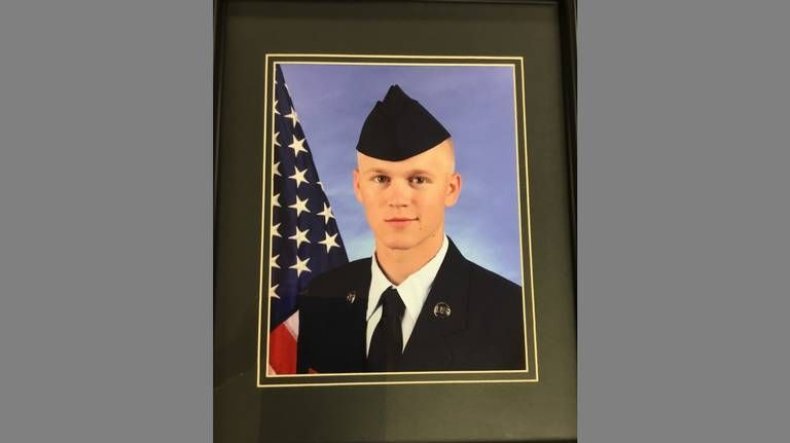 "We think it's truly just one of those stupid incidents of road rage where someone lost their temper and did something really stupid," said Sgt. Chris Depue, a spokesperson for Lee's Summit Police Department, during a Sunday press conference.
The man's mother, Kerrie Harter, spoke about her son's service during Sunday.
"He did a tour over in Iraq and he was in Qatar," she said during the press conference. "He helped with hurricane relief in Houston and Puerto Rico. He loved everyone. He would help anybody. He only had one semester left until he graduated with an engineering technology degree."
She spoke about Harter and his life, fighting through tears.
"He was not just a number," she said. "He was a person."
Lee's Summit Police Department told Newsweek that they are collecting surveillance footage, analyzing the crime scene and are continuing the investigation. They asked that anyone who has any information in the case to call 816-474-8477.
In a statement to Newsweek, the Missouri National Guard confirmed that Cody Harter had an overseas deployment that included being stationed in Qatar. Cody Harter earned several awards and decorations during his service.
"Our thoughts and prayers are with [Cody] Harter's family and loved ones, as well as his fellow Guardsmen who served alongside him," said the Missouri National Guard.
This story was updated to include a statement from the Missouri National Guard.