Air Passengers Dropped 60% in 2020, but Gun Seizures Increased to All-Time High
Although airline travel saw a major decrease in 2020 with the spread of the coronavirus, the Transportation Security Administration said the number of guns found in carry-on baggage at airport security checkpoints, mostly loaded, was the highest seen in TSA history.
2020 gun seizures at checkpoints doubled from 2019, as the TSA saw a record number—about 10 firearms per million passengers screened—while people traveled by air 60 percent less than in 2019, the lowest rate since the mid-1980s, according to U.S. Bureau of Transportation Statistics.
"The vast majority of people who bring guns to checkpoints claim that they forgot that they had their guns with them. Last year, 83 percent of the firearms brought to airports were loaded, so that means people were telling us that they forgot that they had a loaded gun with them," Lisa Farbstein, a TSA spokeswoman, told Newsweek. "If you own a firearm, you need to know where it is at all times."
The 3,257 total firearms found at checkpoints in 2020 compares with the 4,432 firearms seized in 2019, with 87 percent of them loaded, the TSA said in a press release. However, it is important to note that 2020's number of checkpoint gun seizures is a historic high because around 557 million fewer people flew in 2020 compared with 2019, according to Bureau of Transportation Statistics.
TSA regulations allow passengers to bring an unloaded firearm and ammunition on a plane within checked baggage, according to guidelines specified online.
"It was extremely disappointing to see an increase in the number of firearms that travelers brought to the checkpoints in 2020," Farbstein said. "Pack it in a hard-sided case. Lock the case. Take the locked case with the unloaded gun to the airline check-in counter and declare that you want to fly with it. The airline will make sure it gets placed in the belly of the plane, never in the cabin of the plane, where someone might have access to it during a flight."
The airport with the most firearm seizures at checkpoints in 2020 was at Georgia's Hartsfield-Jackson Atlanta International Airport, with 220 apprehensions, the TSA reported.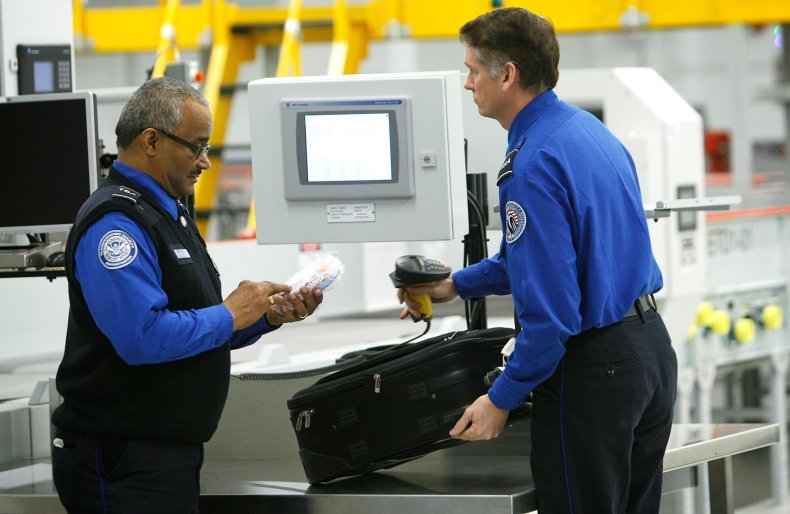 When a firearm is detected by X-ray on a conveyor belt at the airport's security checkpoint, the TSA immediately calls the police and the weapon is confiscated, Farbstein said. Then the police decide whether the gun's owner will be arrested, cited or allowed to continue into the airport without the weapon. As for the actual gun, Farbstein said it is up to law enforcement in each jurisdiction to decide how to deal with it.
The TSA may impose civil penalties for bringing prohibited items on planes, and they can be quite costly. The agency's website lists prohibited items at checkpoints and their penalties.
BB, pellet and compressed-air guns, realistic replicas of firearms and "other shocking devices" could warrant a fine of $360 to $2,090. Unloaded guns can cost someone $1,500 to $2,475, plus a criminal referral.
For loaded guns and unloaded guns with accessible ammunition, the fine is $3,000 to $10,000 along with a criminal referral. If this offense is repeated, the violator would face a $10,000 to $13,910 fine and another criminal referral.
"This applies to travelers with or without concealed gun carry permits," Farbstein said.
It remains to be seen how many TSA gun apprehensions at checkpoints will occur in 2021, but the agency has already reported many instances of offenses this year.
The TSA found an unloaded, 9 mm handgun inside carry-on luggage at Newark Liberty International Airport in New Jersey on Tuesday. The woman who took responsibility for the weapon was arrested.
The day before, the TSA found a man's 9 mm handgun, loaded with 10 bullets, at a checkpoint at New York's John F. Kennedy International Airport. The man was arrested.
"People who want to travel with their firearms should do some homework so that they know the gun laws in the jurisdictions they are flying to and from," Farbstein said.
She noted that the total number of 2021 TSA gun seizures at checkpoints will be provided at the end of the year.