Air Pollution Pandemic Kills More People Prematurely than Smoking, Malaria and HIV/AIDS, Study Finds
An air pollution "pandemic" shortens the lives of more people than smoking, malaria and HIV/AIDS, a study has found. Using a newly developed model, scientists have shown air pollution wipes almost three years off people's lives on average, accounting for 8.8 million premature deaths in 2015.
In comparison, smoking was found to shorten people's lives by 2.2 years on average, while HIV/AIDS cut 0.7 years off the average life expectancy. Parasitic diseases like malaria were responsible for losing 0.6 years of life, while violence—including war—cut the average life expectancy by 0.3 years.
Jos Lelieveld and Thomas Münzel, from the Max Planck Institute for Chemistry and the University Medical Centre Mainz, Germany, and colleagues, published their findings in the journal Cardiovascular Research.
Exposure to air pollution for prolonged periods increases the risk of respiratory and heart diseases. In their study, the team created a Global Exposure Mortality Model (GEMM) by incorporating information from other studies looking at the impacts of air pollution. They applied this model to mortality rates that could be attributed to air pollution, then compared them to other factors that shorten people's lives. They were also able to look at the effects of different air pollution sources, from the burning of fossil fuels to natural wildfires, to work out how they impact mortality rates.
East Asia was found to be most affected by air pollution-related mortality rates, with 196 deaths per 100,000 per year attributed. In Europe, it accounted for 133 deaths per 100,000 per year. Fossil fuel emissions were behind a large proportion of air pollution-related deaths, with the findings suggesting life expectancies would increase by between 1.1-1.7 years if all anthropogenic emissions were removed.
In North America, air pollution on average shortened people's lives by 1.4 years, most of which could be prevented by fossil fuels being phased out. The researchers say air pollution can be seen as a pandemic because of the way it is spreading, along with its associated impacts on health.
Lelieveld told Newsweek they were surprised at their findings. "We had not expected that air pollution mortality is so dominant compared to other, more accepted health risk factors, including smoking," he said. "The comparison with violence, being an order of magnitude less of a risk factor, is telling."
He said other related research they have carried out shows the states most affected by air pollution, with eastern areas seeing the biggest losses in life expectancy.
"In North America, about 85 percent of the avoidable (i.e. not natural) air pollution is due to fossil fuel use," Lelieveld said. "Of course, any reduction would help, but a phase-out would be needed to avoid this 85 percent."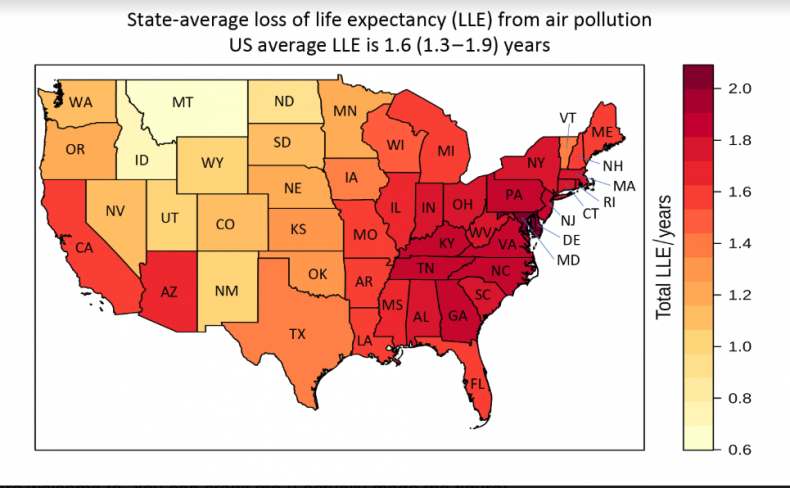 The team also looked at the effects of air pollution on death rates using six categories relating to diseases. These include lung cancer, heart disease, cerebrovascular disease, chronic obstructive pulmonary disease, lower respiratory tract infection, and non-communicable disease, such as diabetes and high blood pressure.
Heart disease and cerebrovascular disease were found to account for the biggest proportion of shortened lives from air pollution, making up 43 percent of the loss of life expectancy.
The paper has limitations. Because their findings are based on estimates, there is a level of uncertainty. However, the team says any uncertainties about air pollution deaths would also apply to the other risk factors. They say their model can be improved to make it more accurate. They also note that the chemical composition of different sources of air pollution are not the same in terms of toxicity.
However, they conclude that the study shows the impact of air pollution on lowering life expectancy.
In a statement, Münzel said: "Since the impact of air pollution on public health overall is much larger than expected, and is a worldwide phenomenon, we believe our results show there is an 'air pollution pandemic,'" Munzel said. "Policy-makers and the medical community should be paying much more attention to this."
Samuel Cai, Senior Epidemiologist at the George Institute for Global Health, University of Oxford, who was not involved in the study, said the findings provide the most up-to-date estimations on air pollution deaths. "This study once again shows that air pollution is a leading risk factor for health worldwide," he said in a statement. "It is not a secret that air pollution is the 'new tobacco', so the public health implication is very clear—authorities need to act swiftly/comprehensively to protect their citizens from air pollution through science-based policy and healthcare communities should be fully aware of this and act accordingly to advise and protect the most vulnerable groups. I sort of agree that this is a 'pandemic' if this is the trendy term, as WHO put it, 9 out 10 people in the world affected by harmful levels of air pollution. So by definition, and the fact that millions of people indirectly die from it every year, it sounds like the word 'pandemic' qualifies."