Trouble Sleeping? Air Pollution May Be to Blame, Study Says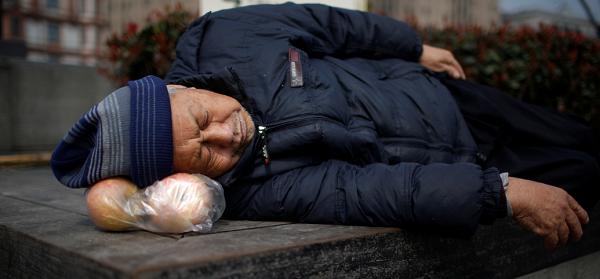 Air pollution doesn't just have a negative impact on the environment. The toxins emitted into the atmosphere from hazardous gases also can create harmful situations for humans. Air pollution alone is responsible for 7 million deaths a year, according to the World Health Organization, and now a new study has found that air pollution may be a predictor of poor sleep.
During the American Thoracic Society's annual international conference Sunday, researchers from the University of Washington presented a study linking air pollution to sleep efficiency, which is determined by comparing the amount of time participants spend sleeping at night to the time they spend awake. After collecting air pollution data in six U.S. cities over the course of five years, researchers analyzed the sleeping patterns of 1,863 participants—all of whom lived near those cities—over a span of seven days and found higher levels of nitrogen dioxide and particulates called PM 2.5s were linked to lower sleep efficiency.
Participants were asked to wear a watch-like device on their wrist for the duration of the study. It provided insight regarding the number of hours they spent awake or asleep. The watch also monitored participants' movements while they slept.
In their results, the researchers found the top tier of participants received about 93 percent sleep efficiency, while the bottom tier received only 88 percent. Following this, the researchers broke up the participants into four groups based on their level of exposure to air pollution. After filtering out factors like age, smoking habits and sleeping conditions like obstructive sleep apnea, the researchers found that people exposed to the most air pollution over a five-year period were more likely to fall in the lowest tier of sleep efficiency.
Further examination found that the highest levels of nitrogen dioxide increased the participants' chances of suffering from low sleep efficiency by nearly 60 percent. The highest levels of PM 2.5s increased the odds of poor sleep by nearly 50 percent. Researchers also found the more participants were exposed to air pollution, the more hours in a day they spent awake.
"Prior studies have shown that air pollution impacts heart health and affects breathing and lung function, but less is known about whether air pollution affects sleep," the study's lead author, Dr. Martha Billings, who is an assistant professor of medicine at the University of Washington, said in a statement. "We thought an effect was likely given that air pollution causes upper airway irritation, swelling and congestion, and may also affect the central nervous system and brain areas that control breathing patterns and sleep."
Researchers noted more needs to be done to explore the connection between other air pollutants and sleep, especially since data collected from a week of sleep may not accurately reflect a person's sleep pattern. However, Billings said, the study did indicate that improved air quality in a city with the most pollution could be beneficial for city dwellers.
"These new findings indicate the possibility that commonly experienced levels of air pollution not only affect heart and lung disease but also sleep quality. Improving air quality may be one way to enhance sleep health and perhaps reduce health disparities," she said.
Poor air quality can have effects on the respiratory system, causing environmental-related respiratory ailments like asthma, which killed more than 3,600 Americans in 2016, and carbon monoxide poisoning, suffered by 20,000 to 30,000 people in the U.S. each year, according to the Centers for Disease Control.