Air Quality Alert: 'Unhealthy for Sensitive Groups' Meaning, Pollutants Measured
Freezing-cold temperatures well below zero that gripped New York City and much of the East Coast last week gave way to temperatures in the 50s on Monday—but the conditions still weren't the best for everyone to head outside.
Many people in the areas around New York City and parts of New Jersey and Connecticut noticed that when they opened their weather apps Monday there was a note on air quality. "Unhealthy air quality for sensitive groups," read the alert in the app around midday.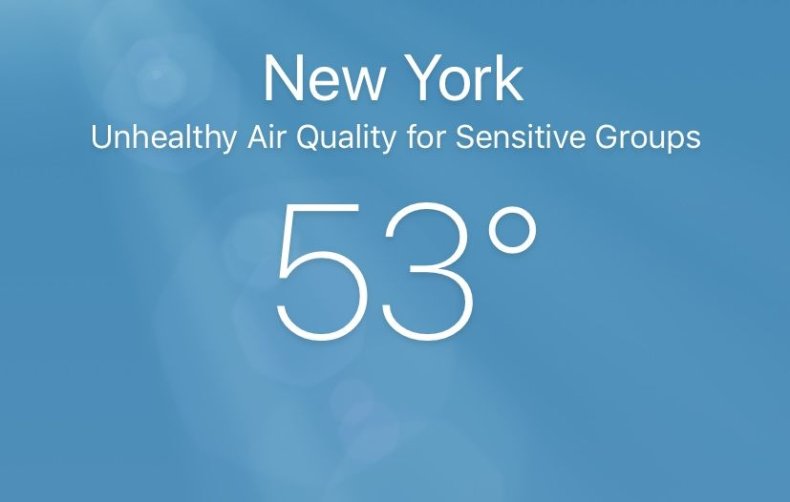 The air quality was even worse in other states. While most of New York and New Jersey had what was rated "moderate" or "unhealthy for sensitive groups," parts of Pennsylvania had "unhealthy" air quality ratings on Monday.
The Environmental Protection Agency's AirNow website, which tracks the air quality across the country every day, had all of the quality levels listed Monday. A moderate air quality index level, assigned a numeric value of 51 to 100, is characterized by acceptable air quality that can be a "moderate health concern for a very small number of people who are unusually sensitive to air pollution."
The air quality index, or AQI, is a measure of five pollutants that are regulated by the Clean Air Act, according to AirNow. Those pollutants are ground-level ozone, particle pollution (also known as particulate matter), carbon monoxide, sulfur dioxide and nitrogen dioxide.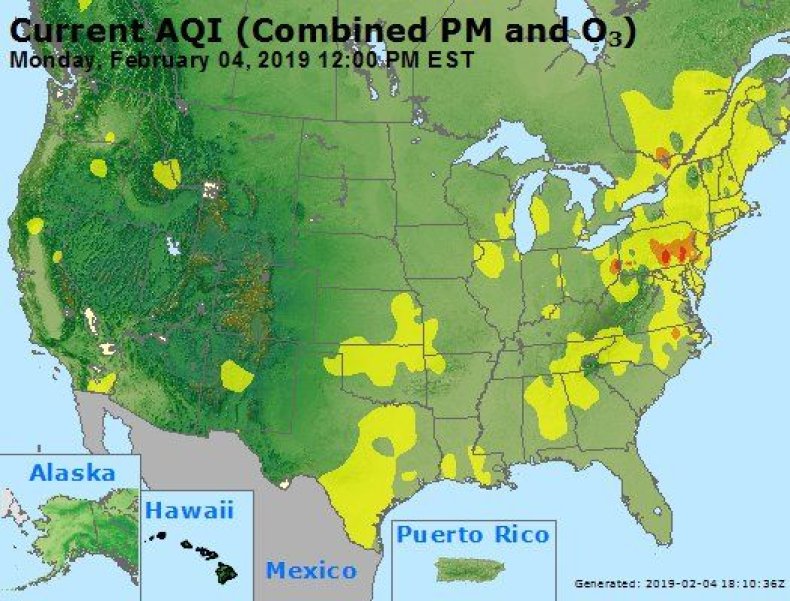 On February 4, the air quality in New York City and other parts of the state, as well as New Jersey and parts of Pennsylvania, was "unhealthy for sensitive groups." That rating falls between 101 and 150 and is generally safe for healthy members of the general public but may be unsafe for members of "sensitive groups," including people with heart or lung disease, the elderly and children. Those people should avoid exertion outdoors for an extended period of time, according to AirNow.
The more severe and dangerous AQI, like that happening in parts of Pennsylvania, was the "unhealthy" one, tanked between 151 and 200, and can impact the general public. "Everyone may begin to experience health effects; members of sensitive groups may experience more serious health effects," according to AirNow.
The areas with the worst air quality index on Monday were Susquehanna and Lehigh valleys in Pennsylvania, along with Fort Lee, New Jersey. The map on the AirNow website has the worst areas color-coded for easy viewing.
Those in the areas where the AQI was considered unhealthy should take precautions when being active outside and should keep their windows closed. In other areas where the index was lower, most people likely would not feel the effects of the poor air quality.