Air Quality Alerts: Spokane, Washington, and Other Places Under Advisory Amid Wildfires
The wildfires raging across California, Oregon and Washington are sending smoke billowing into the air along with small particles that trave with the wind. The result is decreased air quality in areas across all three states and beyond.
A map from AirNow, run by the Environmental Protection Agency, shows where the air quality is the worst across the country, and also has a list of the five places in the country where the air quality is poorest each day. On Monday morning, the air quality was deemed beyond unhealthy and given the rating of "hazardous."
This week, the places with the worst air quality as classified by their AQI, or air quality index, in the United States were all centrally located near the fires.
The highest AQI level was detected in Chelan, Washington, where the AQI was 411. The second highest AQI was in Spokane, Washington, where the level was 349. Both ratings are "hazardous," meaning there would be health warnings about emergency conditions and that most of the population, regardless of their age or health status, would likely be impacted by the air quality.
The bottom three locations rounding out the top five were all rated "very unhealthy," meaning anyone who is breathing the air could experience adverse health effects. Following Spokane, in second place was Pendleton, Oregon, with an AQI of 278; and Moscow, Idaho, with 264. In the fifth spot was Colville, Washington, with an AQI of 252.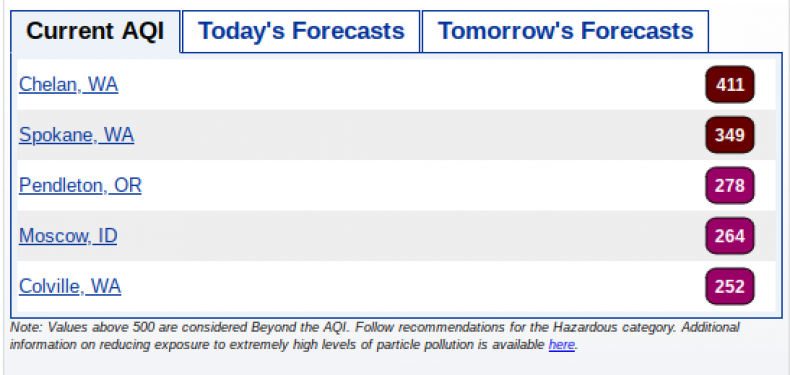 Other areas in those states were also seeing severe AQI scores in the unhealthy and the unhealthy for sensitive groups ranges, the AirNow map showed. The site calculates the ratings using data collected constantly across the country, measuring the levels of ground-level ozone, particle pollution or particulate matter, carbon monoxide, sulfur dioxide and nitrogen dioxide, according to the site.
"Much of WA has smoky air from wildfire. Take extra care for infants and children or if you have a heart or lung condition, diabetes, are pregnant or over 65," read a message on the Washington State Department of Health's website. The Oregon Health Authority tweeted about the smoke instructed those in the area on how to check the AQI levels nearby.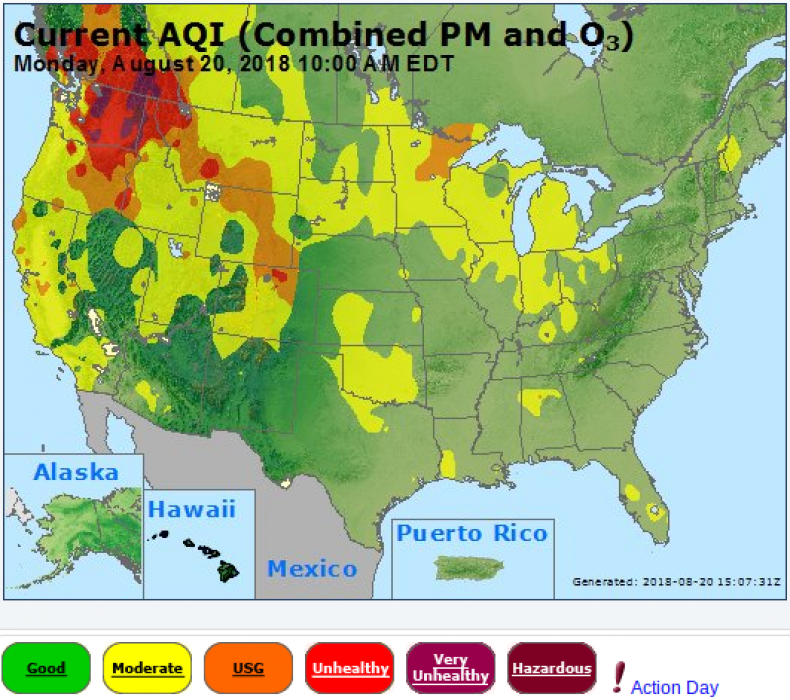 Poor air quality can cause respiratory issues such as trouble breathing and tightness in the chest, in addition to increased phlegm production and a cough for some.