Air Quality in Portland, Seattle as Wildfires Rage in Oregon and Washington
Smoke from the wildfires on the West Coast is resulting in low air quality across Oregon, Washington, and California.
Portland, Oregon, and Seattle, Washington, are experiencing dangerous air quality levels, but the areas closest to fires, such as Salem, Eugene, the Rogue Valley, and Roseburg in Oregon, and Woodland in Washington, are the worst impacted by the smoke.
Portland, Oregon Air Quality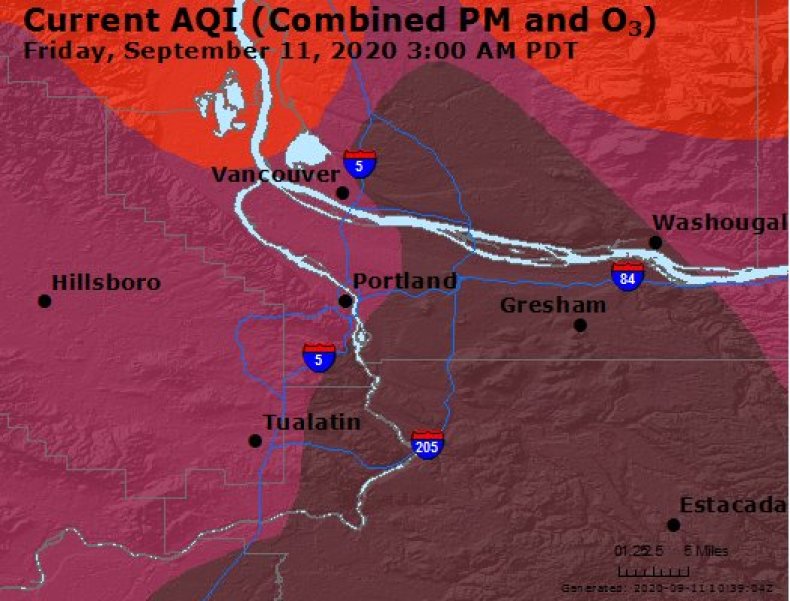 The air quality in and around Portland ranges from very unhealthy to hazardous, and though the air quality is forecast to improve today, it will remain at unhealthy levels. Thick smoke and very poor air quality is expected to last into the weekend.
On Thursday NWS Portland said that visibility is down to a mile or even less in areas around Salem, and Eugene.
People with heart or lung disease, older adults, and children should remain indoors and keep activity levels low. Everyone else should avoid all physical activity outdoors.
On Thursday, the Mayor of Portland, Ted Wheeler, issued a City of Portland Emergency Order "due to the extreme wildfire conditions threatening lives and property, including wildfire threats to the City of Portland and the greater Portland Metropolitan area."
Mayor Wheeler also said that the City of Portland has "offered police and fire resources to the Governor to help the state respond to the devastating fires."
Seattle, Washington Air Quality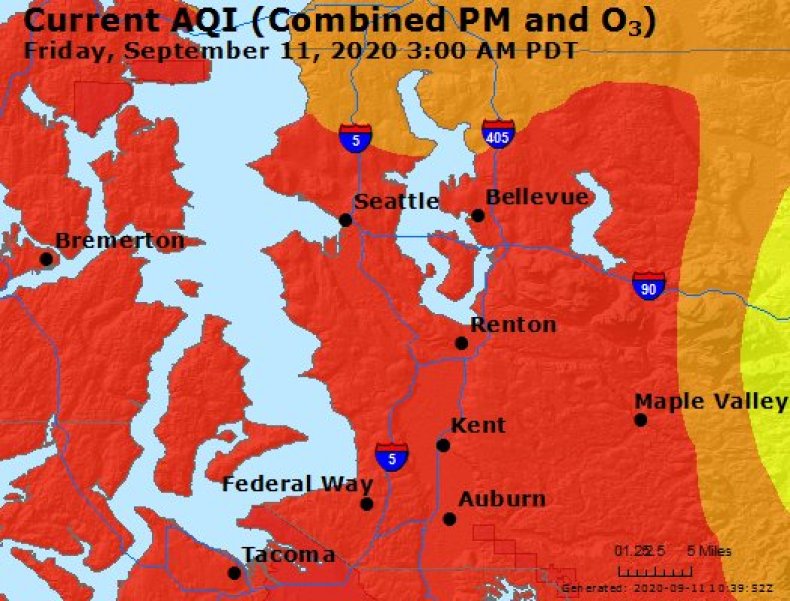 Seattle and its surrounding areas are suffering from unhealthy air quality levels. Areas to the northwest, west, and southwest of Seattle are currently experiencing air quality conditions that are unhealthy for sensitive groups, but these areas are forecast to worsen to unhealthy conditions today.
NW Seattle said: "2 a.m. [PDT] trip to the roof. The smoke has arrived in Seattle. Noticeable change in what the air smells like from a couple of hours ago."
The current advice for residents of Seattle and nearby areas is that people with heart or lung disease, older adults, and children should avoid prolonged or heavy exertion, and everyone else should reduce prolonged or heavy exertion.
On Thursday, the Mayor of Seattle, Jenny Durkan, said on Twitter: "Reports indicate a super-massive plume of smoke may be heading our way. Go shopping for essentials today. Stay indoors if you are able. Keep your windows closed and put fans or air conditioners on recirculate."
Mayor Durkan also encouraged people to limit their time and activities outdoors and to check on family and neighbors who are elderly or have underlying health conditions.
More than 300,000 acres have been burned in Oregon, with hundreds of structures destroyed and thousands more threatened. Hundreds of thousands of acres in Washington have been burned by numerous wildfires. At least six people, including a one-year-old boy, have died in the fires on the West Coast.