Air Quality in San Francisco, Los Angeles As California Wildfires Rage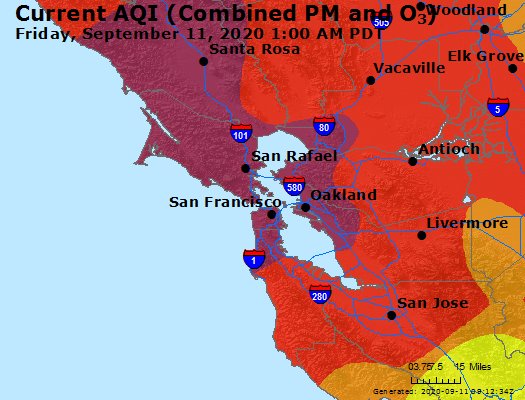 Wildfires on the West Coast are producing smoke resulting in hazardous air quality in parts of California. The fires have collectively burned millions of acres and destroyed thousands of structures.
The air quality in the San Francisco Bay Area ranges between very unhealthy and hazardous, while Los Angeles and the surrounding areas are also facing unhealthy air quality.
The smoke can be seen as far away as Ohio and Hawaii and is now producing grey skies over northern California.
San Francisco Air Quality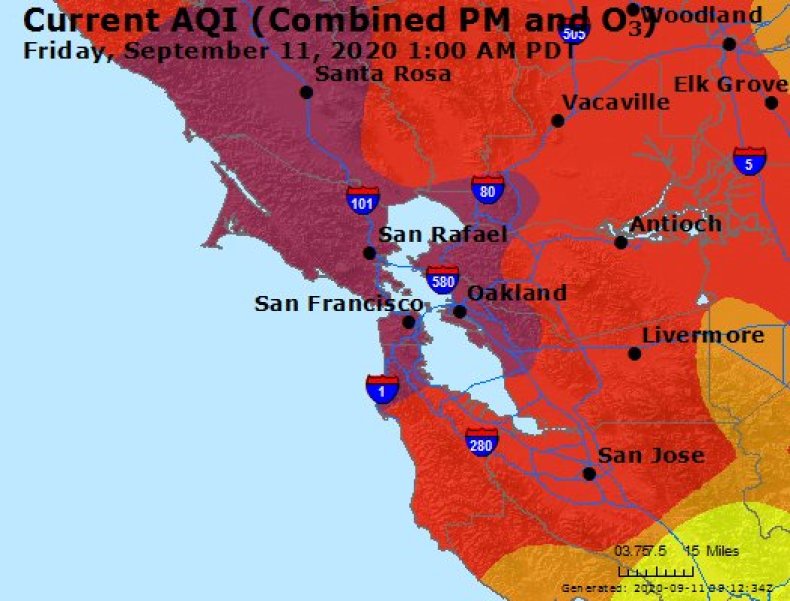 The air quality in San Francisco, Oakland, San Rafael Santa Rosa and the surrounding areas is hazardous, while the air quality in Vacaville, Elk Grove, Antioch, Livermore, San Jose, Woodland and the surrounding areas is very unhealthy.
Skies over San Francisco now appear grey, as the Bay Area Air Quality Management District explains: "The difference today is more water vapor in the air at higher altitudes, changing the way light shines through the smoke particles. When sunlight is scattered through smoke and water vapor, we get grey skies."
A Spare the Air Alert is in effect in the San Francisco Bay Area due to fine particulate pollution. This means that it is illegal to burn wood, fire logs, pellets or other solid fuels in fireplaces, wood stoves, outdoor fire pits and other wood-burning devices.
Los Angeles Air Quality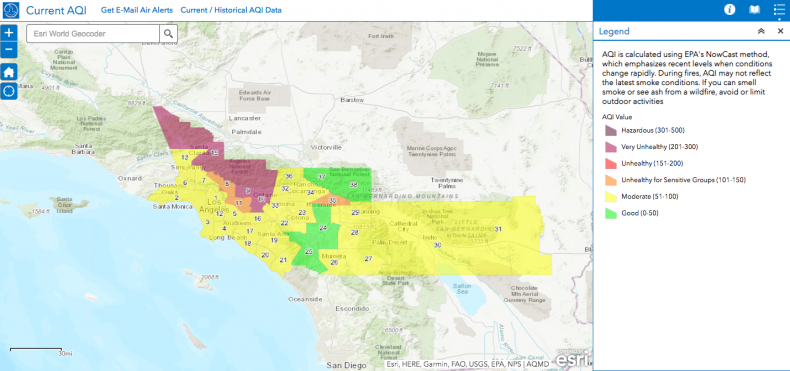 The air quality in the San Gabriel Mountains is very unhealthy while the air quality in the South San Gabriel Valley is unhealthy for sensitive groups.
Much of the Los Angeles area currently has moderate air quality, except for the East San Bernardino Valley, where the air quality is unhealthy for sensitive groups.
The South Coast Air Quality Management District (SCAQMD) says that on Friday morning, areas south of the Bobcat fire along the I-210 corridor from Pasadena to Rancho Cucamonga will likely see the highest PM2.5 levels.
The smoke impacts from the El Dorado fire are predicted to be confined to the area between Yucaipa to Banning, with some smoke moving into western Riverside County and the Coachella Valley. Additionally, portions of Los Angeles County could see moderate smoke impacts on Friday morning.
On Friday afternoon, onshore winds will start around noon and move smoke to the east and northeast towards the San Gabriel Mountains, San Bernardino Mountains, and San Bernardino Valley.
Poor Air Quality and Health Risks
Poor air quality can produce health risks, especially for sensitive groups.
The SCAQMD warns Californians: "If you smell smoke or see ash due to a wildfire, limit your exposure by remaining indoors with windows and doors closed or seeking alternate shelter, and avoiding vigorous physical activity."
In areas with unhealthy air quality, people with heart disease, pregnant women, children, and older adults, and people with lung disease, such as asthma, should especially avoid spending prolonged time outdoors.