Air Raid Sirens Sound Across Ukraine Today Amid New Missile Strikes
Air raid sirens are sounding across Ukraine, as the country is being rocked by missile strikes for the second consecutive day following an attack on the Kerch Bridge to Crimea.
According to local news outlets, air alerts are sounding in Ukraine's capital Kyiv, and the Sumy, Kharkivska, Poltava, Dnipropetrovsk, Zaporizhzhia, Luhansk, Donetsk, Vinnytsia, Mykolaivska, Odesa, Chernihivska, Zhytomyrska, Cherkasy, Khmelnytskyi, Chernivtsi, Volynska, Lvivskaya, Zakarpattia, Rivne, Ivano-Frankivsk and Kherson regions.
This comes after Russian strikes on Monday morning killed at least 19 people and injured 105, also disrupting electricity in several regions.
Russian President Vladimir Putin said the strikes were in retaliation for an explosion on a key bridge to the annexed Crimea Peninsula. Kyiv hasn't claimed responsibility for the attack.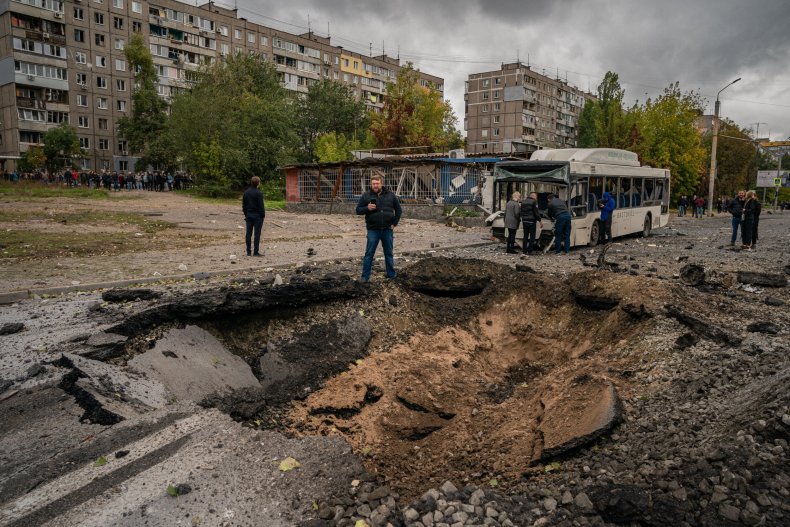 On Tuesday, fresh blasts were reported in several regions, including Zaporizhzhia, Mykolaivska, Odesa and Vinnytsia.
Sergei Borzov, head of the regional administration in the Vinnytsia region, said two Iranian-made Shahed-136 kamikaze drones struck on Tuesday morning.
In the early hours of the morning, Russian troops launched another missile attack on the city of Zaporizhzhia, the head of the regional military administration, Alexander Starukh, said, noting that infrastructure facilities were targeted.
Anatoly Kurtev, the secretary of the Zaporizhzhia city council, said that a school, a hospital and residential buildings were damaged as a result of the Russian attack. He published images on his Telegram channel showing the destruction caused by the missile attack.
Other local officials reported power outages and fires in several Zaporizhzhia districts.
The city has been struck four times over the past week. According to Ukrainian President Volodymyr Zelensky, at least 43 people have died in Zaporizhzhia since October 3 as a result of the strikes.
Ukraine's Armed Forces shot down eight Shahed-136 kamikaze drones over the Mykolaiv and Odesa regions early on Tuesday morning, Operational Command Pivden said on Facebook.
Ukraine's Defense Ministry said on Twitter Monday that Russia's missile strikes on cities and civilian areas were an attempt to "compensate" for recent setbacks in Putin's flagging war.
Valerii Zaluzhnyi, commander-in-chief of the Armed Forces of Ukraine, said on Monday that Russia had launched 83 missiles, of which 45 were shot down by air defenses.
Explosions were reported in Kyiv, as well as in the southern Kharkiv region, where Ukraine conducted a successful counteroffensive in September, Dnipro in central Ukraine, Lviv, Odesa, Zaporizhzhia, Zhytomyr, a city in the Sumy region, Khmelnytskyi, Ternopil, Obukhiv, Kryvyi Rih, Poltava and Vinnytsia.
Some of the blasts were the work of Ukraine's air defenses, Ukrainian authorities said.
"You just don't get it do you—your terrorist strikes only make us stronger. We are coming after you," the ministry tweeted.
As many as 301 settlements in Kyiv, Lviv, Sumy, Ternopil and Khmelnytskyi remain without power as a result of Monday's strikes, Ukrinform reported.
Newsweek has contacted Russia's foreign ministry for comment.