Canadian Air Traffic Controllers Send American Counterparts Pizzas Amid Trump Government Shutdown
Air traffic controllers based out of Canada sent pizzas to their American counterparts to the south, hoping to boost morale as they work without pay.
ATC unions and workers in Moncton, New Brunswick, and Gander, Newfoundland, joined several of their coworkers in directing pizzas to be flown into American air traffic control stations in New York state and several other airports in a show of solidarity. The government shutdown being led by Republican President Donald Trump entered its third week this weekend and became the longest federal closure in U.S. history. The Canadian kindness represents one of the few feel-good tales amid the chaotic Trump-led transportation crisis continuing across American skies.
The Moncton (YQM) and Gander (YQX) air traffic controller's association left a "PIZZA!!" note explaining they'd ordered 32 pizzas from Gino's in Ronkonkoma, New York that were delivered Saturday evening to help feed the workers amid the government shutdown.
Air traffic controllers joined tens of thousands of security and aviation workers across the country who are not receiving paychecks as Trump seeks $5.7 billion for a partial border wall against America's other neighbor.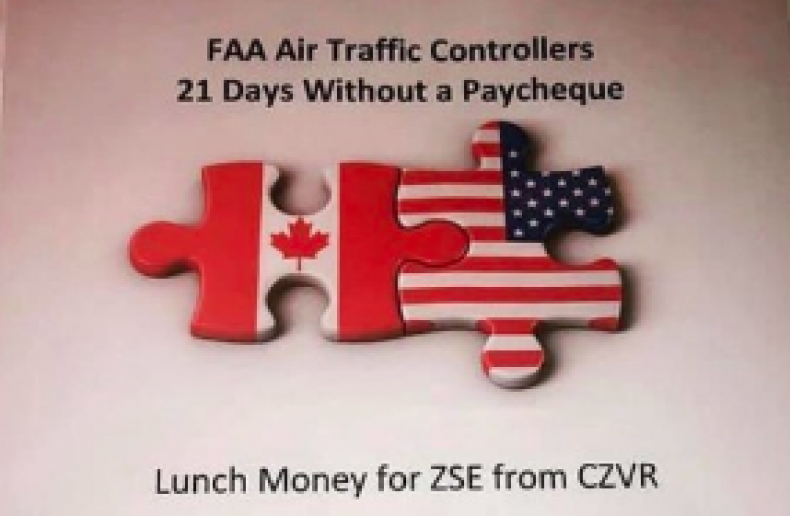 "It's been so overwhelmingly negative and it's nice to see that there's solidarity out there. There's people out there who are just saying, 'Hey, I work with you as a friend or a colleague and here's a nice gesture of friendship, that we care,'" said David Lombardo, a former air traffic controller who lives in Long Island and runs the "ATC Memes" Facebook group, in an interview with Huffington Post Canada. He said controllers from the ZNY towers during shutdown forwarded him the pictures of the Canadian hospitality.
All seven of Canada's regional control centers sent pizza to about 40 control towers throughout the country.
Comment posters in the "ATC" subreddit community also began offering to fly "Mexican food or something else" into Phoenix and Scottsdale airports. "I have seen some guys bringing pizzas in, pizza can get boring," read one offer. Another note showed two interconnected puzzle pieces with Canadian and American flags jokingly offering the controllers "lunch money."
Deputy director of public affairs with the National Air Traffic Controllers Association (NATCA) told CBC Canada there are currently 14,000 controllers working without pay at airports across the U.S.
"It's just a really good shot in the arm of positive energy and positive emotion to know that, 'Hey they've got our back,'" Church told CBC Canada. "On behalf of the entire NATCA and air traffic control around this country, we extend our thanks and our gratitude."