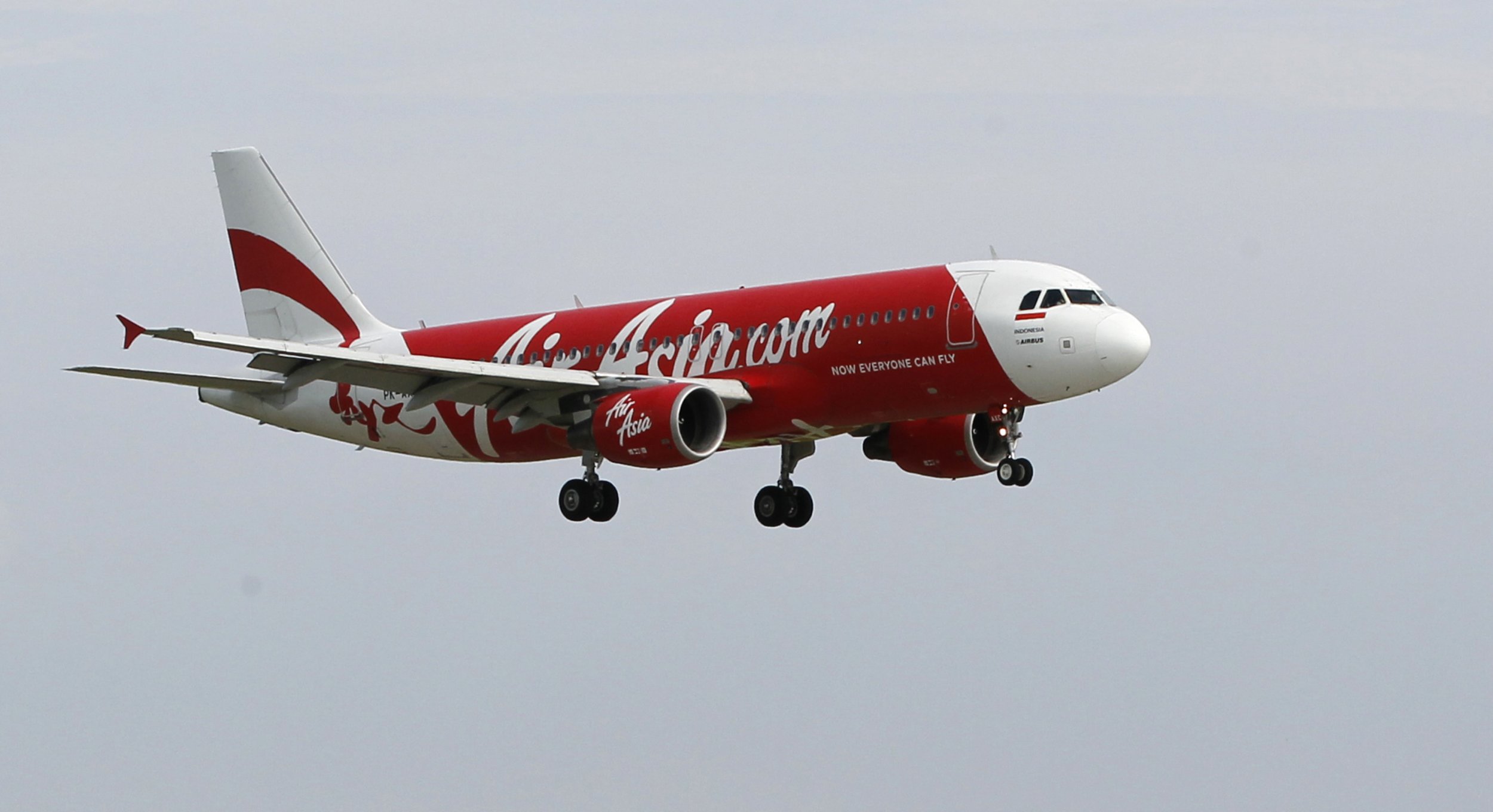 Updated | An AirAsia flight traveling from Surabaya, Indonesia to Singapore has gone missing. The Indonesia Transport Ministry is reporting that the flight, QZ 8501, lost contact with air traffic control shortly after 6 a.m. local time. Hadi Mustofa, an official with the ministry, noted the plane requested to take an unusual path before contact was lost. AirAsia confirmed the unusual path was requested "due to enroute weather."
There are 162 passengers on the flight, including two pilots, four flight attendants, one engineer, sixteen children and one infant, AirAsia said in a statement. The captain has 6,100 flying hours and the first officer 2,275 hours. AirAsia created an emergency call center for friends and family members of those on board the flight. The majority of the passengers are Indonesian, along with three Koreans, one Singaporean and one Malaysian.
The aircraft is an Airbus A320-200, and is just over six years old. "We have been informed of an event and all efforts are now going towards assessing the situation," Airbus said in a statement.
AirAsia said in its statement that "search and rescue operations are being conducted under the guidance of The Indonesia of Civil Aviation Authority." The Civil Aviation Authority of Singapore (CAAS) and Changi Airport Group crisis management centers were also activated following the news, including the Singapore Air Force and Navy. According to CAAS, the plane was "more than 200 nm [nautical miles] southeast of the Singapore-Jakarta FIR boundary" when contact was lost.
Satellite images seem to indicate there was poor weather in the area the plane was traveling when it lost contact. Trikora Raharjo, the general manager of the Juanda airport in Surabaya, noted the weather was cloudy in an interview with the Associated Press and Reuters cited one Indonesian official saying the plane had requested to fly an earlier altitude to avoid clouds.
Jason Rabinowitz, a flight expert, determined the plane's last known altitude was 32,000 feet, traveling at a speed of 469 knots (about 540 miles per hour.) According to Flight Radar 24, a flight tracking service, this may have been the final known movement of flight QZ 8501:
Flight Radar 24 also noted several other planes were in the area when QZ 8501 lost contact:
United States President Barack Obama was briefed on the missing flight at 11:56 p.m. Eastern Time. "White House officials will continue to monitor the situation," White House spokesperson Eric Schultz told reporters.