Drake and Kendrick's Airbnb Shout-Outs Don't Silence the Company's Discrimination Complaints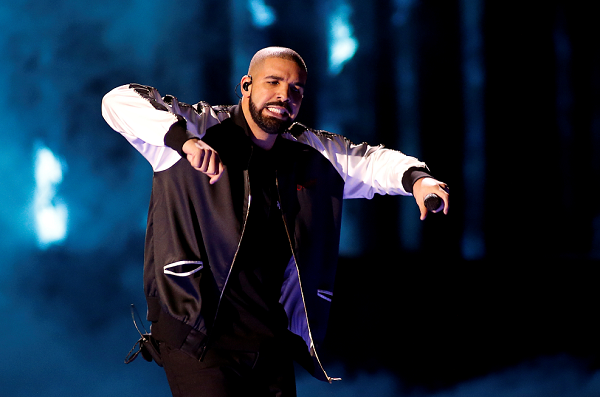 Drake struck up a social media sandstorm recently when he complained about lodging at the "most offensive place" he's ever stayed at in his 30 years—The Madison Club—while in Palm Springs for the Coachella festival.
In an Instagram post, the More Life rapper told his 36.1 million followers that the country club's staff "pick and choose who they are going to accommodate based on racial profiling," which launched an all-out crusade against the swanky golf club by the rapper's legion of adoring fans.
RELATED: Airbnb aims to curb 'widespread racism' with new policy
Flash forward just a few days later, and The Champagne Papi was back in Los Angeles living in the lap of luxury—minus the discrimination—while residing in an insanely lavish Airbnb home, which he proudly promoted with yet another Instagram post Monday.
Of course, Drake had no worries about encountering racial profiling at the extravagant Villa Grande Bellezza estate, probably because the $10,000 per night home was a gift from Airbnb. More than likely, rappers Kendrick Lamar and Wiz Khalifa didn't experience any prejudices either while enjoying the opulence of their gifted Airbnb rentals during Coachella weekends—which they also thanked the company for on Instagram.
Luckily for those guys, they weren't Dyne Suh, a Southern California woman who allegedly was recently racially profiled by an Airbnb host who she said blatantly told her that her previously confirmed rental was canceled because she was Asian. Drake, Kendrick and Wiz also weren't among the slew of people who had been discriminated against by hosts on Airbnb's site in 2015 and 2016 either.
No, Drake, Kendrick and Wiz aren't the average U.S. citizens looking for a cool cabin to stay in during a weekend getaway with friends, like in Suh's case. They're celebrities.
If it doesn't seem all that coincidental that the three rappers—all men of color—are apparently promoting Airbnb following almost two years of the company battling complaints of discrimination and racism, that's probably because it's not. None of their posts made mention of an Airbnb sponsorship, and they didn't include the commonly used hashtag #Sponsored to indicate their photos were an advertisement, but their structured photos and sweetly written shoutouts to the short-term rental service all just a few days apart from each other was more than enough to raise suspicion.
"It's a powerful tool, celebrity social media is, and if used properly it can effect change in good and bad ways," said Coltrane Curtis, founder and managing partner of Team Epiphany, an award-winning consumer marketing agency in New York City that specializes in brand strategy, event production, social media and public relations.
While speaking with Newsweek on a phone call, Curtis explained that brands and business will use celebrities and social influencers to engender trust and amplify a company's message and abilities in the midst of a media storm, like the one Airbnb has been dealing with since Howard University released a study in December 2015 that determined it was harder for people with African-American sounding names to be accepted for rentals through the site. That study snowballed into a plethora of a people sharing their encounters with racism on Airbnb, which eventually led to a lawsuit citing the startup's prejudiced housing practices.
But through celebrity social media, companies are not only able to be endorsed during their challenges, re-establish trust and connect with seemingly outcast demographics of people, they're able to do all three things at once with just one simple post, Curtis said. In some cases, social media engagement from a celebrity platform can nearly cause consumers to forget why they were upset with a company or brand in the first place.
"You have to think about Americans and our bad memory. Time heals all wounds, and part of the PR process is to accelerate that process so we actually forget about the real issues. I think in this instance that's ultimately what they're trying to do. They're trying to cloud [consumer] vision through celebrity chatter, noise, and put this in the rear view as quickly as possible," Curtis said.
Airbnb did institute a non-discrimination policy, in which the rental website pledged its commitment to inclusion and respect by implementing rules that prohibit users from rejecting a renter based on race, color, ethnicity, nationality, sexual orientation, gender, marital status, disability and religion. As of November 2016, the company even forced Airbnb users to agree to its "community commitment" in order to list their homes on the site.
Nonetheless, a host of black people have continued to share their accounts of social injustices faced while using the service, and #AirbnbWhileBlack, a Twitter hashtag that went viral following Howard University's study, persists.
Even after Drake, Kendrick and Wiz promoted Airbnb on their social media, people used the hashtag to slam the company, highlighting the fact that Drake and any other famous rapper Airbnb tapped to promote the brand were more than likely not facing similar instances as everyday working people of color who use the service because they are superstars.
Stefan Grant, founder and CEO of Noirbnb, a black-owned competitor to Airbnb that launches in May, told Newsweek via email that using brown celebrities like Drake, Kendrick and Wiz could certainly have an impact on the way consumers respond to a rental service facing discriminatory backlash, but if their approach isn't genuine, it's pointless.
"Not only are rappers tastemakers and culture leaders but hip-hop overall is one of the most potent and powerful cultures in current existence. I think their goal is to tap into that and hope the black community will follow, but it's a bit of a catch 22. Our community is smarter than given credit for. We've seen the response, or lack thereof [to discrimination], and people remember that," he said.
That's why, Grant said, services like Noirbnb and Inclusive, another black-owned rental site, were created.
"We were created not solely as a response to discrimination but to genuinely create a global home sharing community where everyone can be themselves and build meaningful connections," Grant said.
Despite Airbnb's community commitment, willingness to ban hosts who discriminate against renters and the site's newfound use of brown celebrity endorsements, Curtis said the company's efforts to promote inclusion and diversity among people of color will fall flat if changes aren't made within Airbnb's actual infrastructure.
"To engender change or to create change at a company like Airbnb, that change needs to happen way, way, way up high in the organization, from investors to the board to the c-suite level. That's where these brands kind of find their direction and their backbone. So the reality is, has any change happened? No, it's a perception of change," he said. "The brand has been tackling their strategic issues with tactical tools, which is social media and celebrity. But to really affect who they are at the core, none of this does that. This just gives us [people of color] the comfortability that they're actually doing something, but it's not affecting much."
Newsweek's request for comment from Airbnb was unanswered.