Airbnb Says Guests With Bad Ratings Can't Rent on July 4 Amid House Party Fears
In anticipation of Fourth of July house parties, Airbnb will not allow guests with negative reviews to make one or two-night reservations during the long weekend.
The policy, which goes into effect Monday, will prohibit guests who do not have a history of positive reviews from hosts to make reservations in entire home listings in the U.S. that weekend. The restriction will not apply to guests who have a good track record or who have already booked their reservations.
"As the July 4 weekend approaches, we are deploying more stringent restrictions on one and two-night reservations that may pose heightened risk for parties," the vacation rental company wrote in a blog post. "For example, we will leverage our technology that restricts certain local and last-minute bookings by guests without a history of positive reviews on Airbnb and also block reservations within an expanded radius."
Airbnb's global ban on parties, which wan announced last year, will remain in effect. Currently, gatherings of more than 16 people—including both overnight guests and visitors—are prohibited, regardless of host authorization, due to public health concerns. Violations could result in account or listing removals by Airbnb.
The company previously blocked one-night stays for New Year's Eve, but will be bolstering its policy to apply to two-night stays for Fourth of July weekend.
"That said, there will always be those who attempt to break the rules, which is why we've implemented consequences for hosts or guests who try to skirt them—including bans from our community and even legal action," an Airbnb spokesperson wrote to Newsweek. "We will keep taking steps to try to reduce the number of large gatherings, including unauthorized gatherings."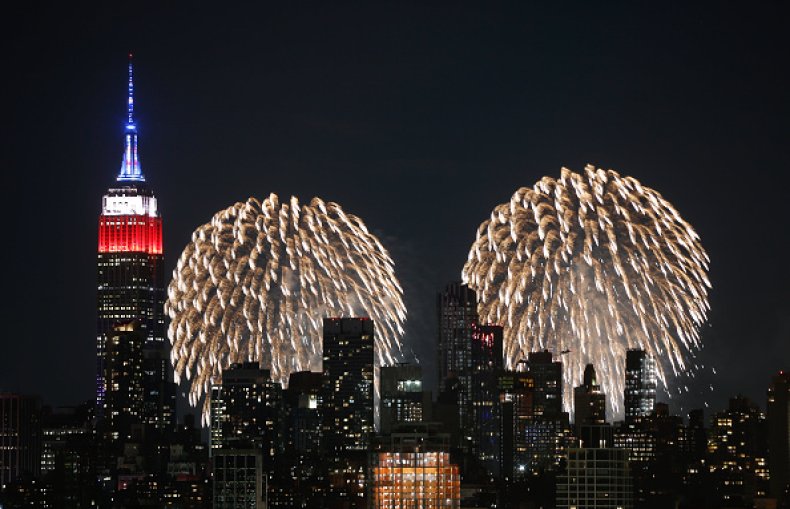 While vaccinations continue to ramp up across the nation with nearly 22 percent of the U.S. population already fully vaccinated, the Centers for Disease Control and Prevention is still recommending that large gatherings indoors be avoided, particularly those in which social distancing is not possible.
An NPR projection on the country's vaccine rollouts indicates that less than 70 percent of the population will be vaccinated by July Fourth, if vaccinations continue at their current rate. The proportion of the population that must be vaccinated against COVID-19 to reach herd immunity remains unknown, but most scientists have estimated the figure to be near the 70 percent benchmark.
Airbnb also rolled out other new rules, similar to ones previously implemented for Halloween and New Year's Eve, aimed at preventing "unauthorized parties" over the July weekend.
For example, superhosts, who are "experienced hosts" who provide "extraordinary experiences for their guests," will have access to discounted noise-detection devices, which flags hosts if decibel levels reach a certain level. The company's "neighborhood support line," a 24/7 hotline in the U.S. that allows neighbors to flag parties to Airbnb, will also be expanded to include additional languages.
"While experts like the CDC have already recognized that some short-term rentals may offer a safer travel experience relative to hotels, without the risk of common spaces like lobbies or dining halls, we are committed to doing even more to serve our community," Airbnb said Monday.