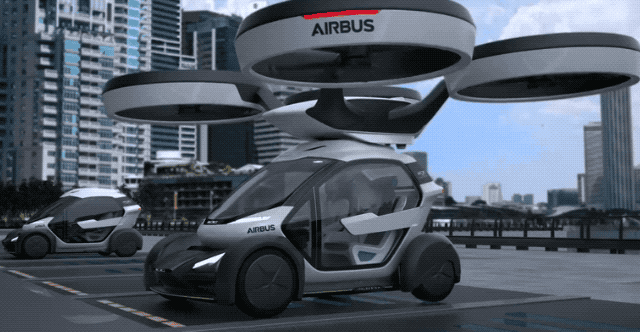 Airbus has revealed a concept for a self-flying car capable of operating both on the ground and in the air, and plans to test it later this year.
Airbus unveiled its Vahana autonomous flying vehicle concept, developed in partnership with Italdesign, at the Geneva Motor Show in Switzerland Tuesday. The idea is that taking to the skies is the best way to alleviate urban congestion—at least on the roads.
"Adding the third dimension to seamless multi-modal transportation networks will, without doubt, improve the way we live and how we get from A to B," Mathias Thomsen, the general manager of Urban Air Mobility at Airbus, said in a statement.
"Successfully designing and implementing solutions that will work both in the air and on the ground requires a joint reflection on the part of both aerospace and automotive sectors, alongside collaboration with local government bodies for infrastructure and regulatory frameworks."
Several major technology firms are currently working on self-driving car technology, including Google and Tesla. Much fewer are working on self-flying car technology, but Airbus is not alone.
Last year, Uber's chief product officer, Jeff Holden, published a 99-page white paper detailing his futuristic vision of an "Elevate" network of vertical take-off and landing (VTOL) aircraft.
"Recently, technology advances have made it practical to build this new class of VTIL aircraft," Holden's paper stated. "The publication of this white paper marks the start of that journey."
Tesla CEO Elon Musk is yet to propose a self-flying vehicle concept, but he has put forward other futuristic transportation ideas. Most notably, Musk came up with the idea for a vacuum-tube network called Hyperloop, capable of traveling close to the speed of sound.
More recently, Musk has suggested his next endeavor will involve tunnels. A tweet in December stated: "Traffic is driving me nuts. Am going to build a tunnel boring machine and just start digging... It shall be called 'The Boring Company.'"