Aircraft Carriers Won't Solve China's Energy Crisis, Taiwan Premier Says
A senior Taiwanese official sanctioned by China earlier this month called on Beijing to renounce war in favor of dialogue as President Joe Biden and Chinese President Xi Jinping held a virtual summit late on Monday.
Taiwan Premier Su Tseng-chang told legislators on Tuesday morning Taipei time that more communication between countries was conducive to regional peace and stability.
"We hope all countries can replace conflict with dialogue. Everyone in the world hopes for peace. Regional peace matters to Taiwan, so we hope to maintain peace in the Taiwan Strait, in the region and in the world," said Su, who responded positively to leader-level talks between the United States and China at a time of heightened political and military tensions across the strait.
"I'm sure China's 1.4 billion citizens don't want war," Su said, before referencing the country's recent energy crunch, which has forced a significant increase in coal production and plant expansion. He suggested Beijing's military resources would be better spent elsewhere.
"The Chinese government should be capable of taking care of its citizen," Su added. "Aircraft, no matter how large or numerous; no matter how many aircraft carriers it has, it can't solve these livelihood issues."
Su said Taiwan "would never attack China," adding: "We hope China won't attack Taiwan."
The official urged Beijing to value the human rights of Taiwan's residents. "Don't always say 'you belong to me' and objectify Taiwan. These are 23.5 million living people."
"Please respect the wishes of these 23.5 million people," he said during the parliamentary session.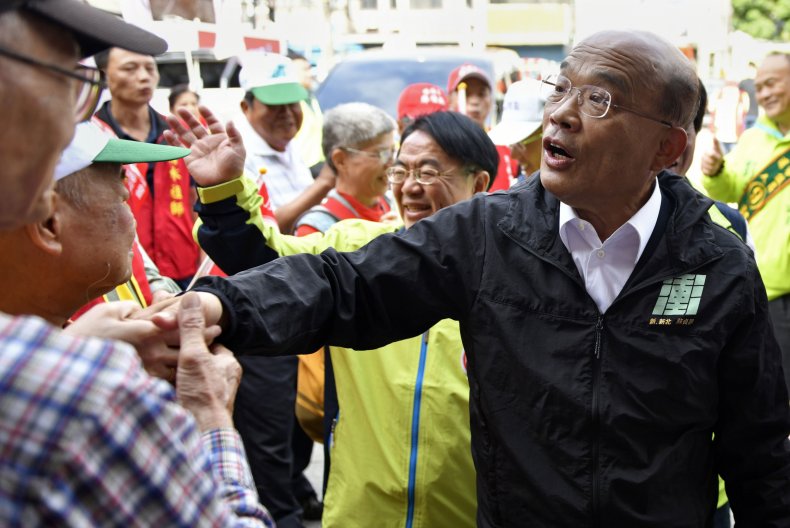 One of three officials blacklisted by Beijing on November 5, the Taiwan premier said his country was briefed by U.S. counterparts on relevant elements of the Biden-Xi summit.
In his opening remarks before the closed-door summit, Biden told Xi "all countries have to play by the same rules of the road." The president said Washington and Beijing needed to ensure that competition between the two countries did not "veer into conflict."
Biden said the U.S. "strongly opposes unilateral efforts to change the status quo or undermine peace and stability across the Taiwan Strait," according to a readout released by the White House.
Xi, meanwhile, told Biden that China would remain patient with regard to Taiwan, warning that it could be "compelled to take resolute measures" if Taipei crosses its red lines.
The two leaders concluded their first summit of the year by agreeing to maintain dialogue in order to minimize misunderstanding and avoid conflict.