United States Air Force aircraft with combat troops and special forces on board took off from bases on the East Coast Thursday night after President Donald Trump ordered a drone strike that killed a top Iranian general, military officials told Newsweek. The officials could not say where the transport aircraft were headed.
U.S. military Patriot anti-Missile batteries also were put on alert in Bahrain, headquarters of the Navy's 5th Fleet. The Green Zone in Baghdad, where the U.S. embassy is located, is on lockdown, sources told Newsweek.
The president was briefed at Mar-a-Lago and ordered the strike from the Florida resort, sources told Newsweek.
It was unclear Thursday whether Congress was notified of the strike or the deployment. A spokesperson for Senate Majority Leader Mitch McConnell declined by email to answer whether McConnell was notified.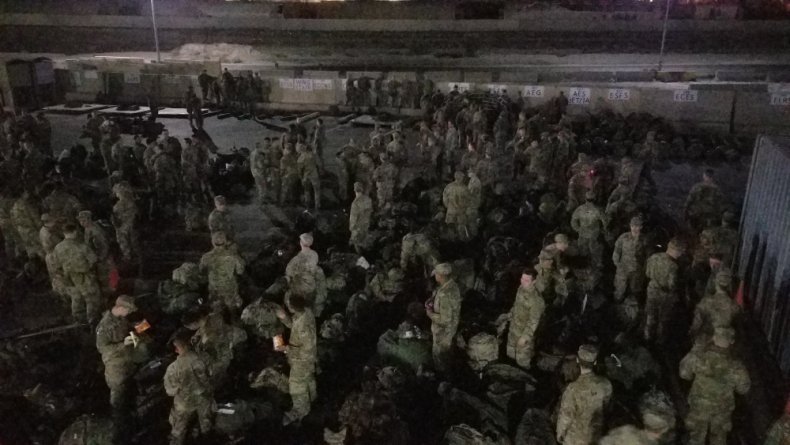 The move comes after Thursday's airstrike that killed General Qasim Soleimani, the head of Iran's elite Quds Force. The Department of Defense has taken responsibility for the airstrike.
"At the direction of the President, the U.S. military has taken decisive defensive action to protect U.S. personnel abroad by killing Qasem Soleimani, the head of the Iranian Revolutionary Guard Corps-Quds Force, a U.S.-designated Foreign Terrorist Organization," the department said in a statement acknowledging its attack.
"General Soleimani was actively developing plans to attack American diplomats and service members in Iraq and throughout the region," the statement said. "General Soleimani and his Quds Force were responsible for the deaths of hundreds of American and coalition service members and the wounded of thousands more."
Secretary of State Mike Pompeo and Secretary of Defense Mark Esper had warned earlier Thursday that the U.S. would respond to any attacks on American interests.