'Aircraft One?': Trump Deletes Fourth of July Tweet Flubbing Name of Air Force One
President Donald Trump's Independence Day tweet included mention of "Aircraft One," a comment that left many users a bit confused. The president later deleted the tweet and replaced it with one that identified the aircraft as Airforce One.
Celebrated annually on July 4, Thursday's festivities drew more attention than previous years because of Trump's decision to host a parade, pulling funds from the National Parks Services. Criticism of Trump's event did little to lessen the president's excitement for the celebration, which he expressed in a Thursday morning tweet.
Trump posted on Twitter that people were coming from "far and wide" to join his administration for "what is turning out to be one of the biggest celebrations" in America's history. Salute to America, the name of the parade, Trump said, would be an all-day event at the Lincoln Memorial that culminated in a "large scale flyover." The grand finale would feature the "most modern and advanced aircraft anywhere in the world" and a great "to put it mildly" fireworks display.
"Perhaps even Aircraft One will do a low & loud sprint over the crowd," Trump posted on Twitter.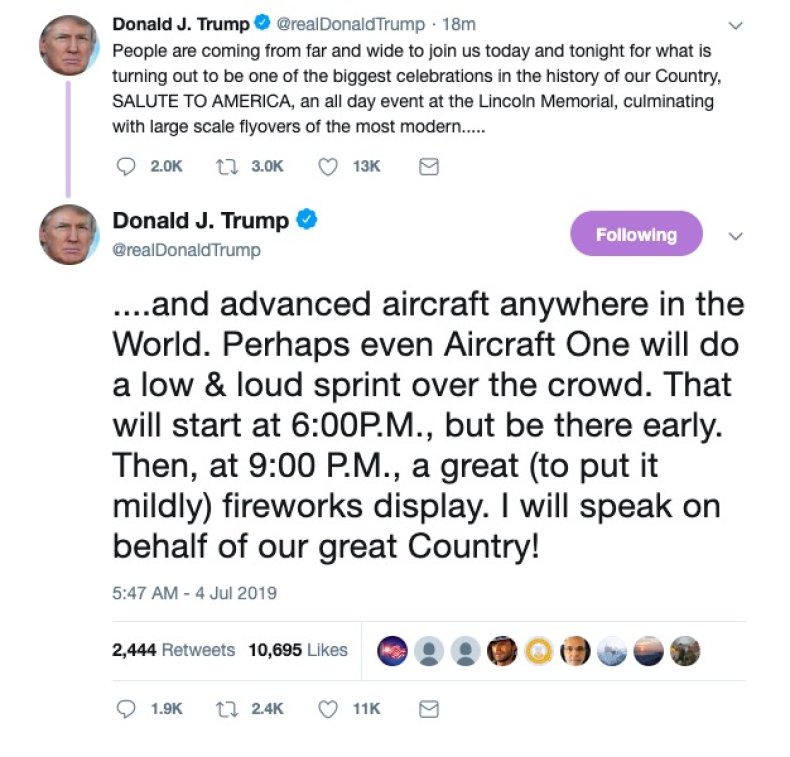 The incorporation of "Aircraft One" was confusing for the president's followers, including multiple journalists who speculated that Trump was possibly referencing Air Force One, the name used for the plane transporting the president.
Former United States Ambassador to Russia Michael McFaul wondered if Trump was unaware what his own plane was called or if there was some new plane being presented on Independence Day.
Others joked that it isn't "Aircraft One" if the president isn't on board, which is true for Air Force One. If the vice president is aboard a presidential plane, it takes on the name Air Force Two and if no one is on board, it's just referenced by its aircraft number.
Aviation analyst Alex Macheras was also confused what the president was referencing when he said "Aircraft One" and noted that regardless of whether Trump is on board or not, the presidential plane is never called Aircraft One.
A few people also referenced the 1997 thriller movie Air Force One starring actor Harrison Ford. In the film, Ford portrays the role of the president and attempts to save the plane from hijackers.
The Navy's Blue Angels, an elite flight demonstration squadron, are expected to participate in the flyover, as well as, Air Force One, according to USA Today.